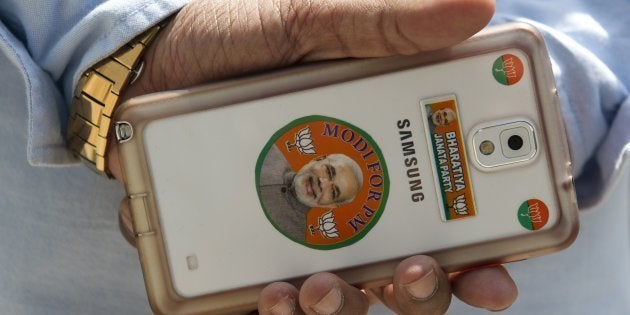 The BJP is hiring in Uttar Pradesh and it reportedly has 2 lakh jobs on offer. According to Press Trust of India, the UP unit of the party is looking to expand its IT cell by 1.5-2 lakh new members, to set up a 'cyber sena' for the general elections in 2019.
"The Internet and social media have become an effective and efficient tool to take various welfare measures to the masses. They have also evolved as a viable medium to communicate the party's thoughts to the masses. The party is mulling to prepare an army of 1.5 lakh to 2 lakh trained workers across the state,"JPS Rathore, BJP's vice-president in UP told PTI.
Among other things, Rathore told PTI that the party should be making efforts to reach educational institutions to 'link students supporting the BJP through NaMo app and with the state party unit's IT cells.' He also suggested that the social media team of the BJP could also reach out to 18-year-olds and people slightly older than that and enlist them to vote, thereby making it clear that the party's IT team is being considered instrumental in targeting first time voters.
He said that this 'army' will be fully trained in the next three months.
"Election preparation and creative work for the organisation continue simultaneously," Rathore said. While it is not clear what 'creative work' comprises, there have been several allegations of spreading fake news, manipulating information, targeting critical voices against the party's IT cell. The national head of the IT cell, Amit Malviya, has been himself caught spreading wrong information on various occasions by portals like AltNews. Last year, Malviya circulated pictures of Nehru with his sisters and nieces, making a snide remark that Hardik Patel -- whose was filmed having sex with a woman -- could be related to him. He then claimed that a Nobel Laureate had applauded the Prime Minister's demonetisation move, which was denied.
In 2015, Prodyut Bora, who had founded the party's IT cell, quit and said the party was in the throes of 'madness'. "Madness has gripped the party. The desire to win at any cost has destroyed the very ethos of the party. This is not the party I joined in 2004," Bora said.
In an article published on Newslaundry on how the IT cell helped BJP win in Uttar Pradesh, it was reported that the party's IT cell occupies an entire cell in the Lucknow headquarters. A few years back, they used to operate out of just one room. The article outlines how the party managed to reach to at least 1.3 crore voters who were then bombarded with WhatsApp messages criticising Akhilesh Yadav's government and hailing the BJP. Rathore had then told Newslaundry: "Humari rajniti thi ki chunav ke pehle voter ke dimag ko capture kar lo. Subeh-shaam message bhejo. Jab dekhe, humara chehra dekhe, humari baat sune (Our aim was to capture the mind of the voter. To message them night and day. Whenever they look, they should see us, hear our message)."
Over the last few months, BJP lost several bypolls, three crucial ones in Uttar Pradesh. In March, BJP lost Gorakhpur -- CM Adityanath's hometown from which he has won several times -- to Samajwadi Party. Political observers commented that these losses could point towards a decline in BJP's popularity.
Popular in the Community