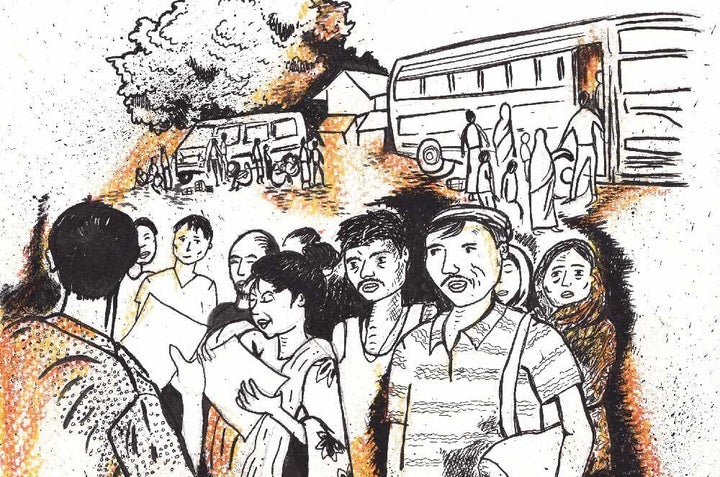 GUWAHATI, Assam — A few weeks before July 31 2019, the SC agreed to push the deadline for the publication of the final version of Assam's National Register of Citizens by a month.
The list will now release tomorrow, on the August 31. Yet on the eve of the deadline, the NRC appears to be making everyone nervous — not just the 4 million people who were left off the previous draft released a year ago in July 2018, but also the Assam state and central government.
On August 1, the Bharatiya Janata Party government released a district wise break-up of the numbers of people excluded from the 2018 draft. The BJP government highlighted particular demographic trends in the draft: Bangladesh bordering districts of Assam such as Dhubri, South Salamara and Karimganj, that are believed to have a high percentage of Muslims, had a higher rate of inclusion in the draft, as compared to indigenous dominated districts.
This pattern data, the government claimed, meant illegal migrants (presumably from Bangladesh) had colluded with local NRC staff, rendering the entire exercise suspect. They slammed the NRC coordinator Prateek Hajela for supposedly allowing 'illegal migrants' to enter the rolls, and called for a fresh round of verification of those already on the rolls.
The Supreme Court, however, did not buy this argument, noting that 27 percent of the people on the NRC list had already been "re-verified".
Yet days after the release of this data in the assembly, and the BJP's fuminations, a strange set of events unfolded.
People in lower Assam, in regions such as Barpeta and Kamrup (rural), received summons for NRC verification, despite having faced several hearings already. Most of the people who received these urgent summons, activists said, were Muslims from Char or islands in the Brahmaputra river, whose names featured in the draft NRC list of July 2018.
These regions are still recovering from a season floods, yet in this most recent round of verification, the hearings were scheduled in far away districts in upper Assam such as Dibrugrah, Golaghat, Sibasagar and Jorhat. Some people were given barely 24 hours notice to make it to their NRC appointment, a few hundred kilometres away. Often, close relatives within a family received notifications for hearings in different districts.
Most people had no acquaintance with upper Assam or any network of kinship, and often didn't have enough money for the journey.
A network of activists came about to support these people in their hurried, desperate journeys. Many in this network have since had police cases filed against them. They have been trolled and harassed on social media, targeted in anonymous documents.
The journey of these NRC applicants are a testimony to the cruelty of the NRC process, the pain and suffering inflicted upon innocents, and the resilience of people who have no choice but to keep hoping that this too will pass.
We compiled a brief glance of the journeys through social media announcements, interviews and real life experiences.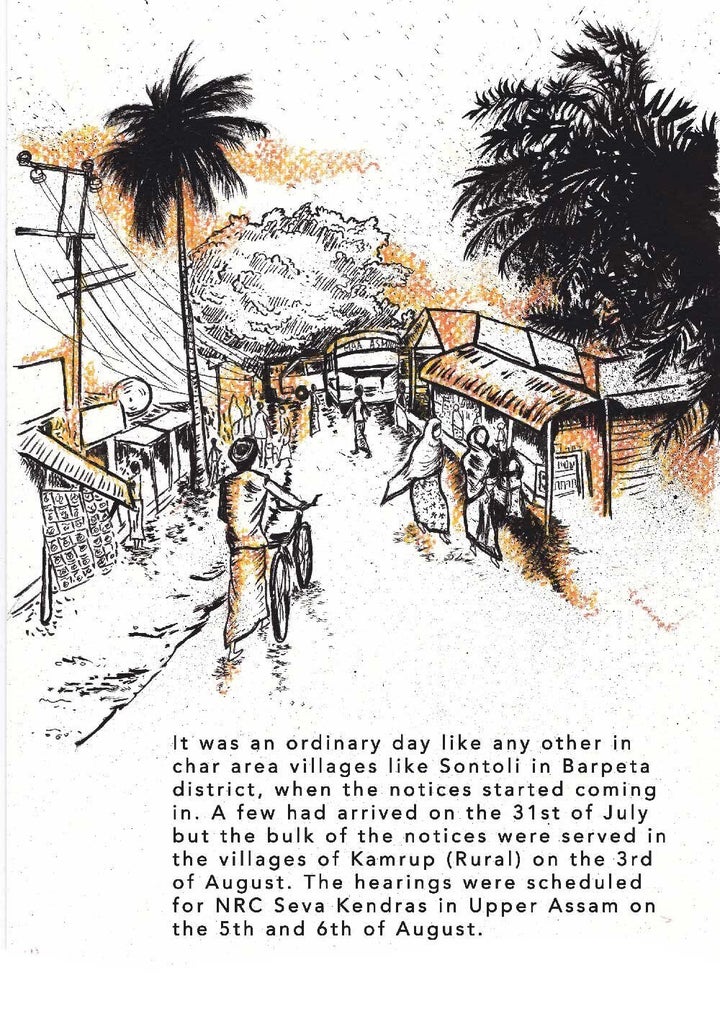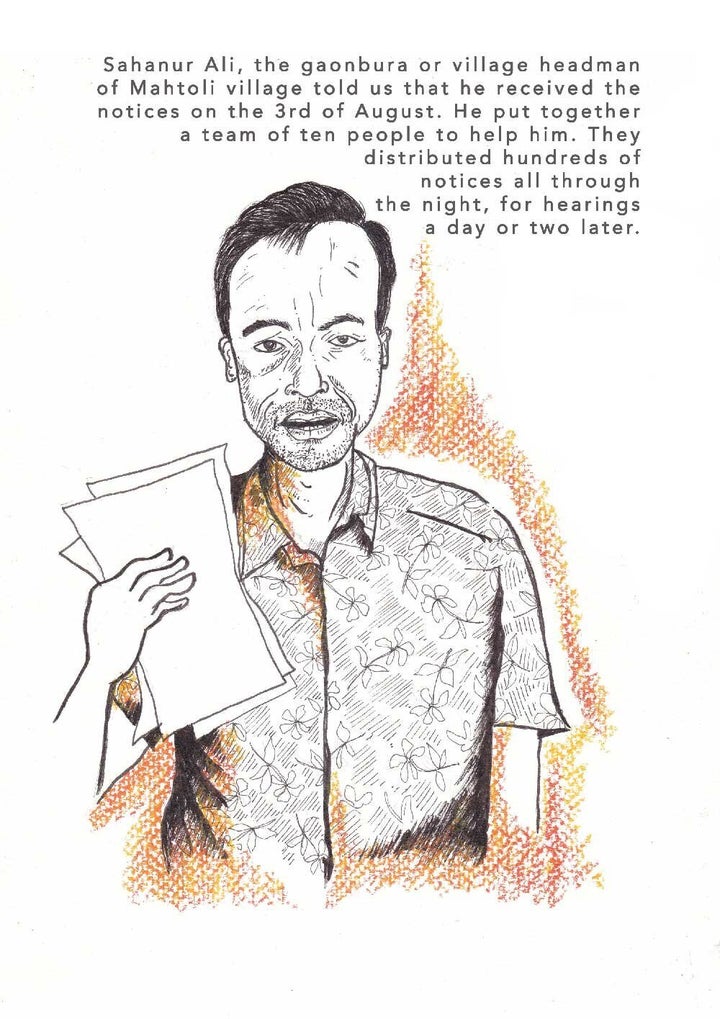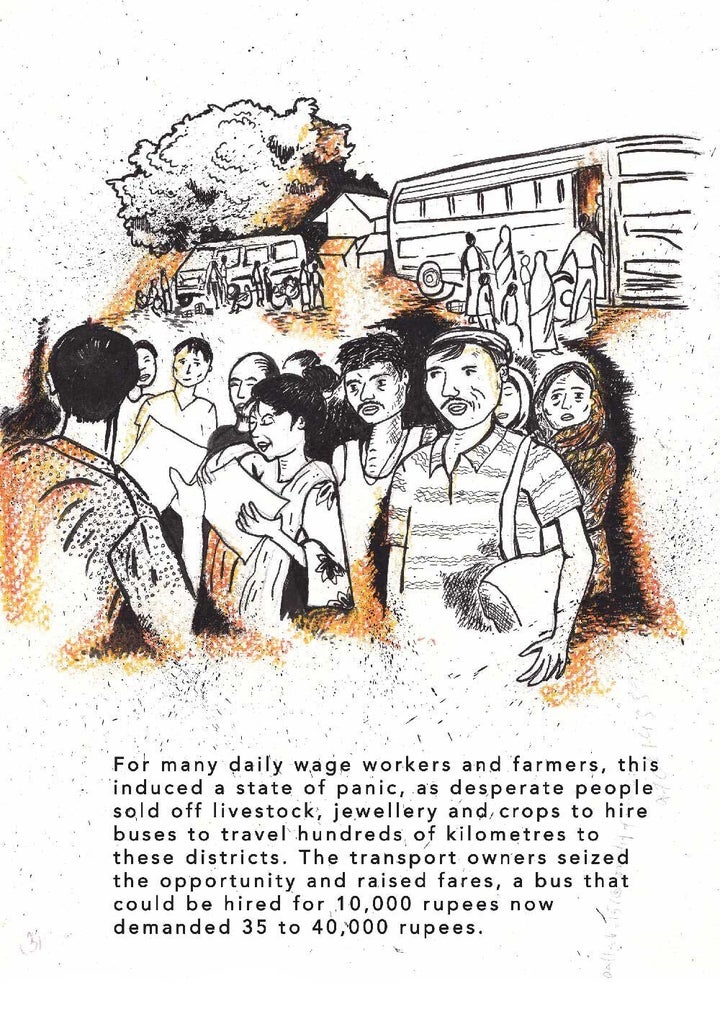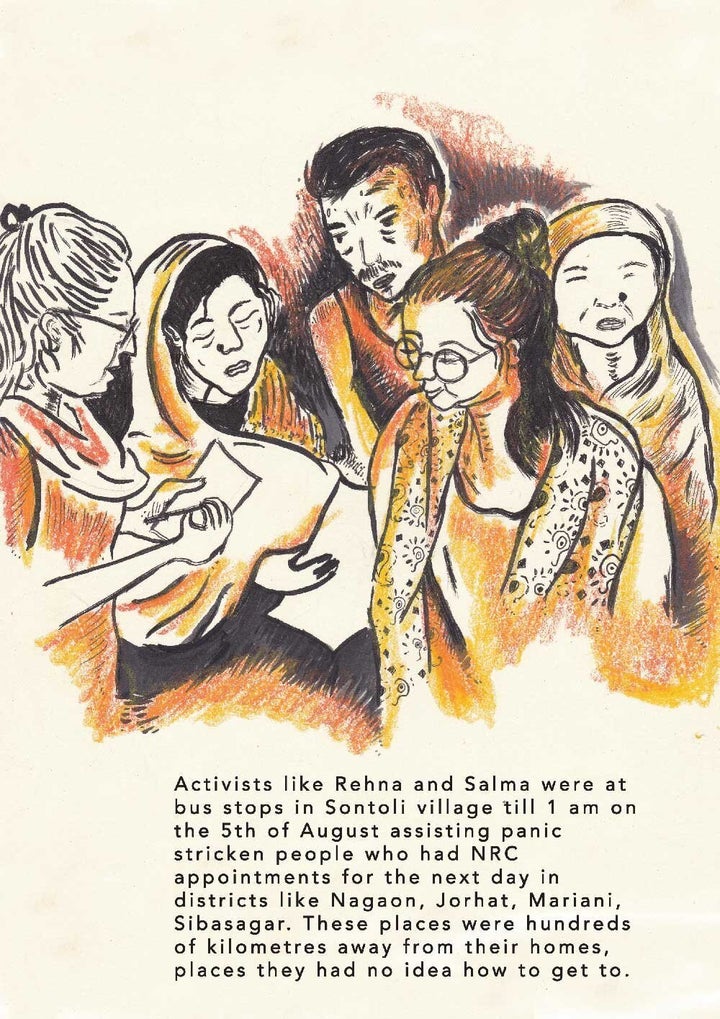 In Dakhsin Gudhoni Char (Barpeta ), an island in the middle of the river Brahmaputra, most of the villagers had already left for NRC verification, when the notices for three people of a family arrived. It was afternoon and their NRC summons announced their hearing for Jorhat on the next day. This was not unusual. Sometimes, notices came in around midnight adding to the panic. Gaonburas or village headmen worked round the clock serving these notices.
Ashraful, Rehna, Salma and others had put out their phone numbers as an impromptu emergency helpline for those seeking help for the sudden NRC summons, and the people of Dakshin Gudhoni char reached out to them.
Ashraful and his team decided that their boat should come to the Peradhora paarghat in Nalbari district because there was less rush for vehicles there. The family informed them that they would travel by night after arranging their papers and the boat would arrive by 1 am.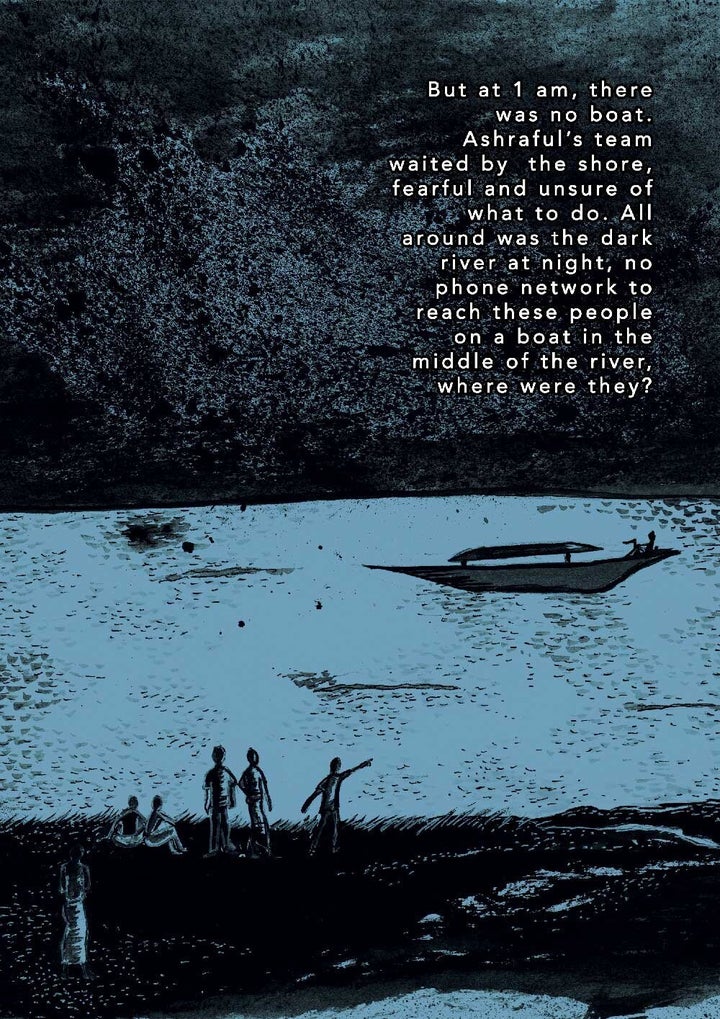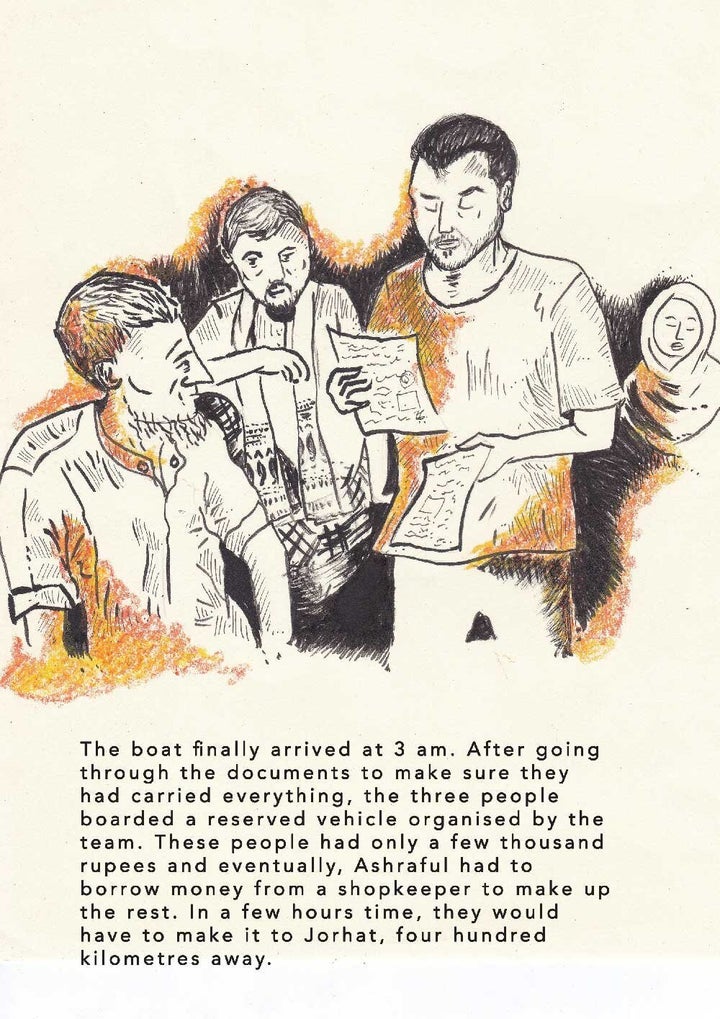 But how would these people manage in Jorhat and Sibasagar? What would people who spoke little standardised Assamese with no links of kinship or familiarity do there?
Appeals were sent out to friends in Upper Assam for assistance.
August is peak summer in Assam with very high humidity and unbearable heat. Bondita Acharya, an Jorhat-based activist with this network, speaks of the inadequate provisions and sheer callousness of the administration.
Women, she said, suffered particularly. Those would couldn't speak standardised Assamese were panic stricken by these proceedings, which could potentially see them removed from the NRC lists. On a visit to the Dhekorgora block, Acharya found three women collapsed from dehydration. There were mothers with infants, the whole situation was traumatic.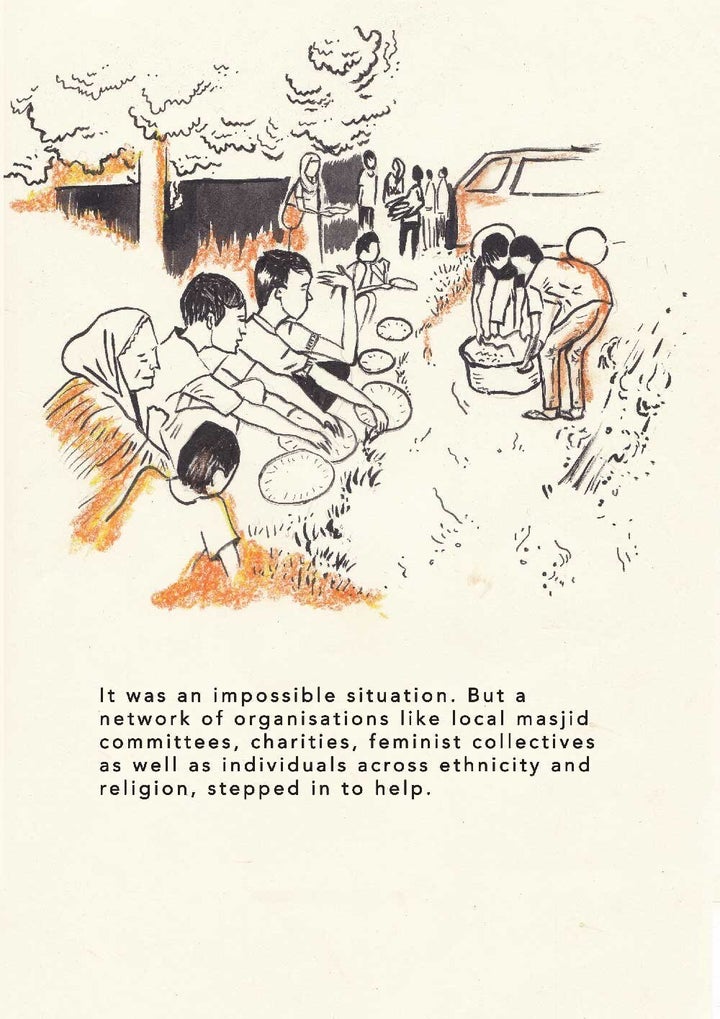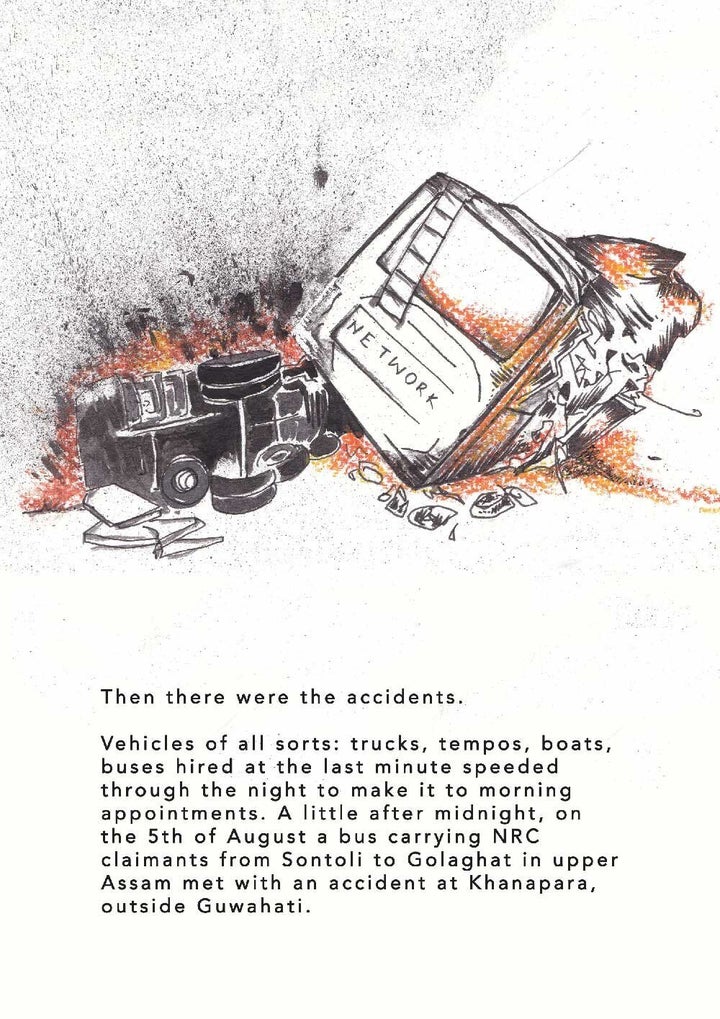 A tipper truck carrying hot bitumen crashed into the rear of the bus and turned turtle. The tar burnt many of the passengers, with its thick black grains embedded in their skin. At the Gauhati Medical College and Hospital, where they were taken, the first impulse of the traumatised passengers was to huddle with their families and check if the valuable papers proving their citizenship had been spared by the bitumen.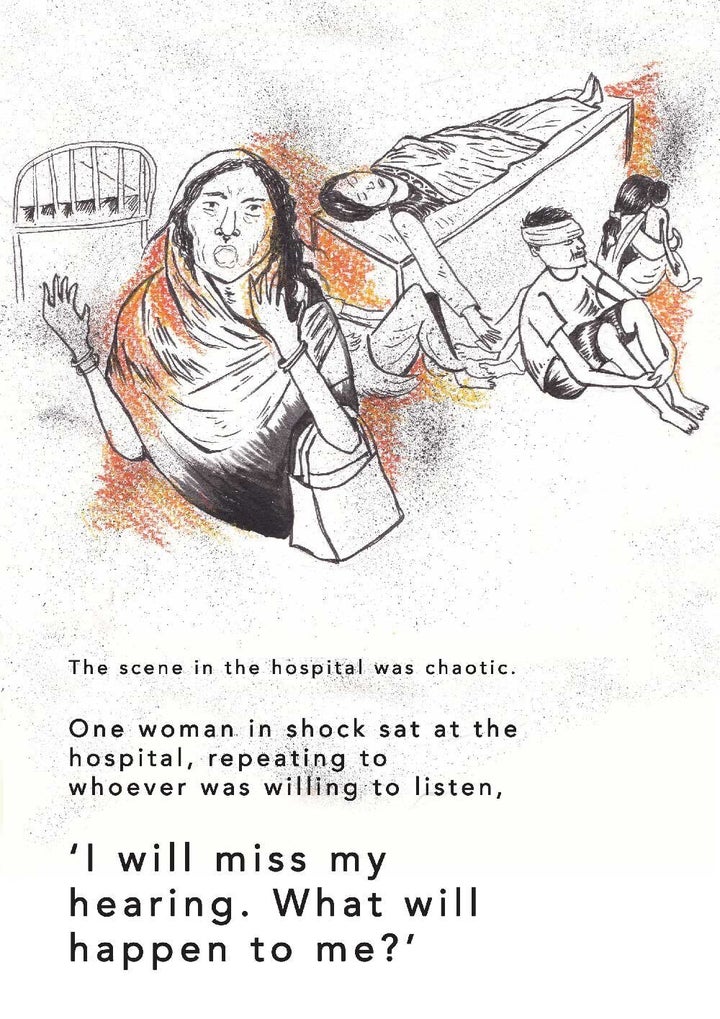 These accidents created more chaos. And once more, appeals on social media were sent out for basic assistance to those injured and languishing in hospitals in Guwahati. The people of Sontali were fortunate enough to have not lost anyone. Four people died in two separate accidents in Sibasagar and Golaghat. Often family members even in their grief, continued with their NRC verification in other parts.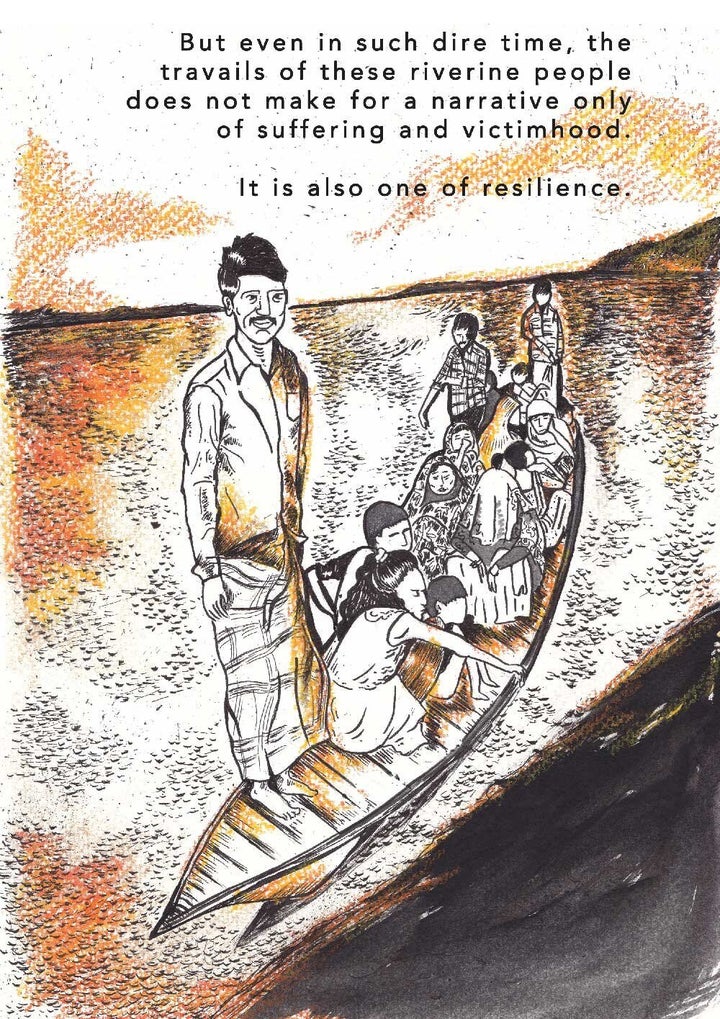 Design inputs from Joel Rodrigues