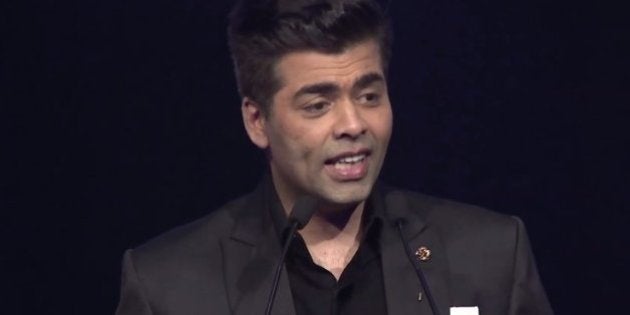 Facing a government probe for allegedly using 'vulgar' language during a show in Mumbai, India's top comedians were forced to pull out a series of videos from YouTube last night, sparking a debate online on the threats to freedom of expression challenging artists in India.
Following their initial tweet about taking the video down, the comedy group has just followed it up with a detailed note on Twitter, claiming that no one forced them to take the video down. They also added to this saying that the AIB Knockout was their attempt to "bring a Roast format to a country where celebrities aren't often known to laugh at themselves." They have also thanked their supporters for standing by them saying "you guys make the struggle worth it."
This was their initial tweet:
Have taken down AIB Knockout for now. We will speak soon.

— All India Bakchod (@AllIndiaBakchod) February 3, 2015
A mass of tweets started pouring in, expressing solidarity with the comedians.
Maharashtra Chief Minister Devendra Fadnavis said his government would act against the organisers of show AIB Knockout if it had violated any law.
"If the programme was vulgar and was in violation of law, then action will be taken against the organisers," Fadnavis told reporters in Kolhapur.
The AIB Knockout, a roast featuring actors Arjun Kapoor and Ranveer Singh, hosted by filmmaker Karan Johar and organised by AIB in December 2014 at Worli in south-central Mumbai went viral after the group released three videos on YouTube.
The Maharashtra Navnirman Sena had threatened to stop films of Johar, Kapoor and Singh from releasing in the state unless they tendered an "unconditional apology" for participating in the controversial show.
Amey Khopkar, President of the MNS film wing, said the organisers of the AIB Knockout too must tender unconditional apology. He also demanded that the state government should ban such programmes from being organised.
Maharashtra Culture Minister Vinod Tawde said the government did not intend to do any "moral policing."
"On #AIBRoast, will only enquire if the AIB had taken appropriate certificate. No moral policing... if they are allowed by law, I can't stop them," Tawde tweeted.
Tawde had told reporters that "officials of the Culture Department will examine the (AIB show) videos for the content. If found vulgar, an action will be initiated."
According to a written complaint by Akhilesh Tiwari, president of Brahman Ekta Seva Sanstha in Mumbai, filed at Sakinaka police station, Johar, Singh and Kapoor, along with other performers, had allegedly passed abusive and offensive remarks against one another and at the audience.
Opposition Leader in Maharashtra Legislative Council Dhananjay Munde also demanded a criminal case against the producers, organisers and actors.
"A criminal case should be immediately registered against the producers, organisers and actors for the offensive language used in the 'AIB Knockout' comedy show," Munde told reporters here. Mumbai Police have also initiated an inquiry.
Not your cup of tea...don't drink it!!!

— Karan Johar (@karanjohar) February 3, 2015
Thanks MNS for pulling the kind of opportunistic politics that make me ashamed of being a Maharashtrian, AGAIN #AIBRoast

— Anuya J (@effyourstylist) February 4, 2015
Don't let the moral police win.

Next they'll come after our thoughts.

#AIBRoast must be allowed back on YouTube

— Shruti Seth (@SethShruti) February 3, 2015
The #AIBRoast being pulled off YouTube is the WORST kind of moral policing .

You don't find it funny, feel offended DON'T WATCH IT, simple!

— Shruti Seth (@SethShruti) February 3, 2015
RT if you are watching the #AIBRoast on some other random youtube channel because it now ALL over the internets.

— José Covaco (@HoeZaay) February 3, 2015
#AIBRoast Shouldn't our politicians be worried about larger issues than victimising people who give you a laugh and that too for charity.

— Harsh Goenka (@hvgoenka) February 3, 2015
I don't understand the logic behind people acting like morons just because an adult comedy has entertained this much of people...#AIBRoast

— Satyam Singh (@satyamzhcet) February 4, 2015
I didn't watch #AIBRoast last week, too bad it was taken down.

Mad respect to #AIB irrespective of what happens here.

— Shruthi Malur (@nonstopbakbak) February 4, 2015
Banning #AIBRoast will only increase AIB's fame. You've started a revolution guys. Stand tall.

— Shruthi Malur (@nonstopbakbak) February 4, 2015
Thank God I watched the #AIBRoast last night before anyone blocked it, and I thought it was hi-larious. Such a pity we can't be grown up

— sunetra choudhury (@sunetrac) February 4, 2015
(With inputs from agencies)