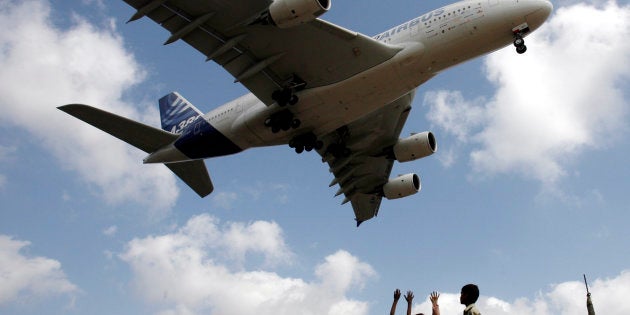 It's getting increasingly unsafe to fly in the world's fastest growing aviation market.
Air safety incidents that prompted regulatory action reached 280 this year, beating the 275 all of last year, data from the Directorate General of Civil Aviation showed. At this pace, the number may rise to more than 400 by the end of 2016, making it the worst in three years for aviation safety, according to New Delhi-based DGCA.
The DGCA is cracking down on safety violations by airlines in recent months, including a slew of offenses such as aircraft getting too close to each other, overworked staff and inebriated pilots and crew. In the latest incident, the DGCA ordered Jet Airways India Ltd. and state-owned Air India Ltd. to file police complaints against pilots who were found drunk, seeking legal action for the first time ever in such cases.
The Indian aviation market, which saw air traffic grow 20 percent last year -- double the pace of China's, according to International Air Transport Association -- is struggling to find enough officials to ensure safety of flights. That was one of the reasons why the U.S. Federal Aviation Administration downgraded India's aviation safety rating in 2014, before restoring it a year later following some corrective measures.
Drunk Pilots
This month, two commandeers from Jet Airways and Air India were found drunk minutes after they both piloted international flights, although without any incident. The regulator also asked Air India to initiate police action against a crew member for the same offense. If found guilty by a court, all three of them face a year in jail, or a fine of 500,000 rupees ($7,480), or both. Their licenses remain suspended for four years.
Air India spokesman G.P. Rao and Jet Airways spokesman Manish Kalghatgi didn't respond to requests for comments.
Incidents at Jet Airways jumped to 55 in the first half of this year, compared with 78 in 2015, while Air India saw incidents fall to 26 from 62 last year, the data showed. Market leader Indigo had 25 incidents, compared with 51.
Indonesia, an aviation market with one of the world's worst safety records, said Monday it had its air-safety rating upgraded by the U.S. Federal Aviation Administration following an assessment in March. In 2007, the FAA had cut the country's rating to Category 2, citing serious concerns about the local civil-aviation regulator's safety oversight and operational control systems.
Popular in the Community