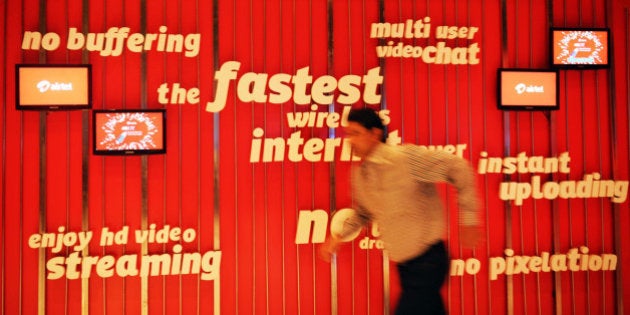 Bharti Airtel stock tanked today as Flipkart decided to pull out of its Airtel Zero platform after Net neutrality campaigners carried on a sustained campaign against the company's policy.
Airtel shares were down 3.21 percent at 11.30 am today on the benchmark Bombay Stock Exchange, before paring losses later. It was still down 9.45 percent at 2 pm.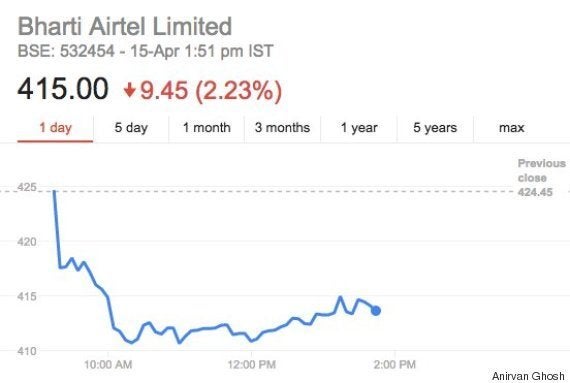 Investors dumped Airtel shares after Flipkart's change in stance. Flipkart, India's largest e-commerce portal, had earlier tied up with the 'Zero' platform that allows Airtel subscribers to use certain apps — with which the operator has a tie-up — for free, i.e., without any data charges. SaveTheInternet campaigners say it is against net neutrality, and will hit smaller companies who might not be able to pay Airtel for this service.
After facing backlash from online campaigners and users on social media, Flipkart decided to call off plans to join 'Zero'. SaveTheInternet's campaign resulted in over 300,000 emails sent to India's telecom regulator in just three days, after it had released a consultation paper on net neutrality with 20 questions up for discussion. Such questions include whether users on chat services like WhatsApp, WeChat and Viber should be charged over and above data charges paid by them.
The backlash from online users also prompted the government to act — it is now reviewing whether the Zero plan violates principles of net neutrality.
However, not everyone thought this campaign was against net neutrality. "As long as you are not throttling anyone else's speed, there is no threat to net neutrality there. Airtel Zero is perhaps the same as offering a discount coupon to your users," said Suchi Mukherjee, founder and CEO of online fashion retailer LimeRoad.
Read:

Net Neutrality Campaign Goes Viral As Netizens Answer Clarion Call To Save The Internet

All India Bakchod Weighs In On The Net Neutrality Debate

Blow To Net Neutrality As Airtel Launches Marketing Platform

Act Now: India's Telecos And Regulators Are Trying To Kill Open Internet

Indian Regulator Invites Consultation To Regulate WhatsApp, Viber, Other OTT Services

Blog: Mandating US-Style Network Neutrality Makes Little Sense For India

Blog: Is Net Neutrality More Important Than Internet Access? Why Babajob Is On Internet.org

Odisha MP Tathagata Satpathy Writes Letter To TRAI Chairman Supporting Net Neutrality



Popular in the Community