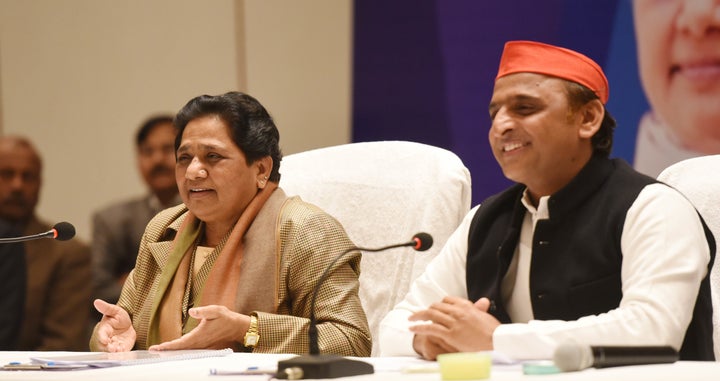 The Samajwadi Party (SP) and the Bahujan Samaj Party (BSP) on Thursday announced the details of their seat sharing arrangement for the upcoming Lok Sabha election.
In Uttar Pradesh, the SP will contest 37 seats and the BSP 38 out of the total 80 Lok Sabha seats.
The parties had announced their tie-up in Uttar Pradesh for the 2019 polls last month.
The seats of Amethi and Rae Bareli, according to NDTV, have been left untouched for Congress as promised by BSP chief Mayawati. The remaining three seats are expected to go to Ajit Singh's Rashtriya Lok Dal.
The 37 seats in the SP quota include Kairana, Moradabad, Sambhal, Rampur, Mainpuri, Firozabad, Badaun, Bareilly, Lucknow, Etawah, Kanpur, Kannauj, Jhansi, Banda, Allahabad, Kaushambi, Phulpur, Faizabad, Gonda, Gorakhpur, Azamgarh, Varanasi and Mirzapur.
The BSP will contest from Saharanpur, Bijnor, Nagina, Aligarh, Agra, Fatehpur Sikri, Dhaurahara, Sitapur, Sultanpur, Pratapgarh, Kaiserganj, Basti, Salempur, Jaunpur, Bhadohi and Deoria, among other constituencies.