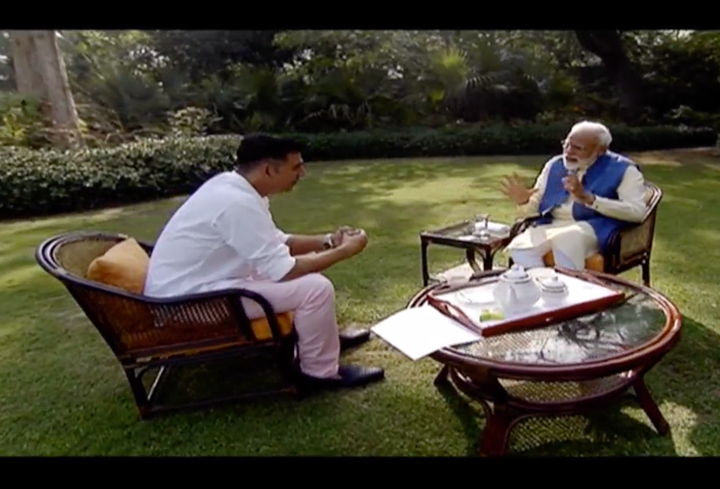 Kya aapke toothpaste mein namak hai? This pretty much sums up Akshay Kumar's very long "NON POLITICAL" (his caps, not ours) interview with Prime Minister Narendra Modi in this very politically charged moment.
Elections are in full swing, voters are dying in clashes in many parts of the country between party cadres, but the prime minister and Kumar sat in this pristine garden with peacocks cooing in the background to discuss a few of Modi's favourite things.
When Kumar said his interview would have nothing to do with politics, little did anyone realise all his questions were inspired by a teenager's slam book.
Here are some of the inane questions that Kumar asked Modi that will make you go WTF! But beware, while they do appear silly, they seemed like they were meant for the prime minister to showcase his personal achievements and characteristics.
1. Aaj aapka bank balance kitna hai (how much money to you have in your bank)?
2. Aapko agar kabhi Aladdin ka chirag milta hai, toh aap jinn ko kya poochhenge (If you ever find Aladin's lamp, what will you ask the djinn)?
3. Did you always want to be a PM?
4. Is ghar ke andar sabse valuable cheez kya hai (What is the most valuable thing inside this house)?
5. Narendra Modiji ko jab zukaam lagta hai tab kya karte hain (What does Modiji do when he has a cold)?
6. Aapka fashion aapne khud ne kiya hai (Do you style yourself)?
7. Why do you wear your watch the other way round?
One hour of air-time and many such questions later we knew that Modi ironed his clothes by putting hot coal in a metal pot, that he has been requested by everyone he knows to sleep more and that he is extremely hard-working. This a narrative the prime minister parrots each time he's given the chance.
So what was the point of this interview?