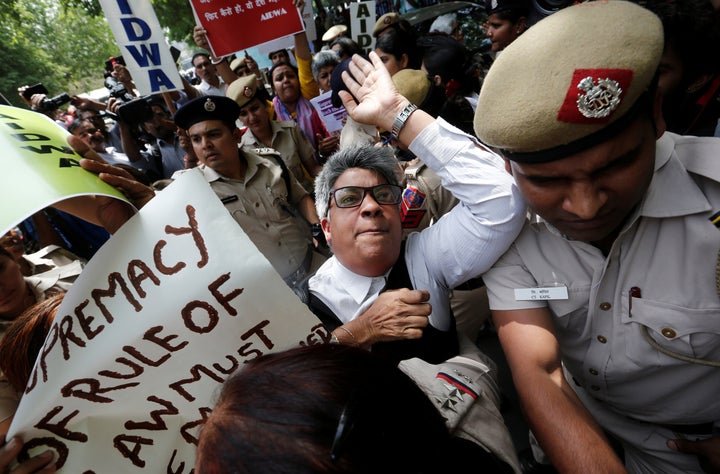 Activists from women's groups and members of civil society have written an open letter to retired judges urging them to speak "on the side of justice and fairness" over the allegations of sexual harassment against Chief Justice of India Ranjan Gogoi.
In a letter, the full text of which has been reproduced in Scroll, they said, "Unfortunately, today we are facing unprecedented crisis of credibility of Supreme Court, as the Court in dealing with the complaint of sexual harassment against the Chief Justice has acted not only in utter violation of principles of natural justice but also in contravention of Vishakha Judgment and the Sexual Harassment of Women at Workplace Act 2013. "
Gogoi, on Monday, got a clean chit from the Supreme Court's In-House Inquiry Committee which "found no substance" in the allegations of the former woman employee of the apex court.
Immediately after the office of apex court's Secretary General came out with the findings of the committee, the woman issued a press statement saying that she was "highly disappointed and dejected".
The activists, in the letter, said that the woman had been denied a copy of the report, which was in violation of her right as a complainant. "This in our understanding is a clear violation of any procedures of a fair and independent enquiry," the letter read.
The three-member Supreme Court committee, which completed its task in 14 days, proceeded ex-parte as the woman had opted out of the inquiry on 30 April after participating for three days.
She had issued a press statement describing as "very frightening" the atmosphere of the panel and raised various objections including denial of her lawyer's presence.
The activists appealed to the retired judges "to lend your support to the complainant's right to unbiased, impartial enquiry proceedings and urging them to call upon the Supreme Court to take measures to correct the prevailing situation, by establishing proper procedure to enquire into the allegations".
"What is at stake is not only the rights of women but also the credibility of the Supreme Court," the letter read.
Over fifty protesters, mostly women lawyers and activists, were detained outside the Supreme Court on Tuesday while they were protesting against the procedure adopted to deal with the sexual harassment case against Chief Justice Gogoi.