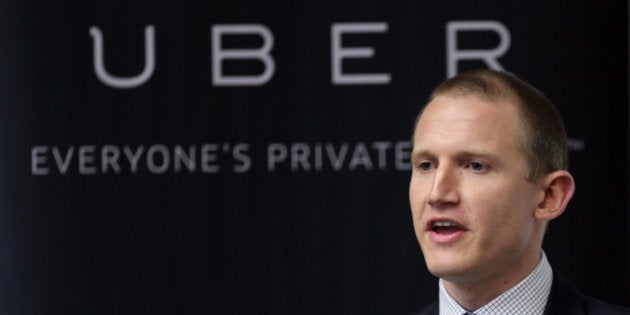 Allen Penn is the head of Asia operations at Uber, the San Francisco-based technology company that has changed the face of transportation in cities around the world. This week, the company finds itself in the eye of a maelstrom of controversy in India after a woman passenger was raped by an Uber driver on Friday night. Delhi government has banned the company and the Union home ministry has advised all state governments to ban Uber. It has since emerged that the driver was a repeat sexual offender with a horrifying criminal record. HuffPost India met Penn to talk about the developments and the company's future in India. This interview has been edited for clarity.
Can you give us an update on the last few days from your point of view?
To start with — it's been a tough few days for us. Obviously it's been a much more difficult time for the victim and her family. I think that's where our thoughts really first and foremost are. We're really sad about what happened. We are sorry that Uber was involved. We're sorry for the victim for what she had to go through. We're committed to do whatever we can for Uber to be helpful to assist her and her family at this time.
We were contacted by the police Saturday morning. They came up to our office, they had some information they hoped that we could provide. They had a phone number. They had a name. We were able to match that phone number to a driver account in our system — that of Shiv Kumar, the driver. We were able to pull up that information very quickly. We were able to give his full name, correct name based on legal documents which matched the phone number they gave us.
Your office in Gurgaon was able to give them some information? Because the cops say that for many crucial early hours after the crime was reported, they were in the dark because the Gurgaon office said that they had no information and they had to get the information from New York and that took a while.
No, look. It was Saturday morning so our team wasn't sitting at the office at nine o clock on Saturday morning. We got there as fast as we could. Met the police and I think that by 11:00-11:30 they had the information. For us to turn over information, our privacy policy requires that to disclose driver information we have to see some kind of official document.
We have provided a full record of the trip based on the GPS tracking that exist for every single Uber trip. There is a GPS that tracks that information and it produces very accurate time data and location data with time stamps at each point. So we will be able to mine that information to know for instance how long was the car at a particular spot. We hope that is helpful.
So the Delhi government announced on Monday that they were banning Uber from providing any service. But as we speak (late evening on Tuesday) people are still able to book and ride Uber cabs in Delhi. This means you have not complied with the Delhi government order.
No, look I think there is some... As I look at the news right, I see quotes like the one from the national transport Minister saying I don't think that banning Uber is the answer. One of the things that we see in the markets all around the world where we operate is that sometimes there is education needed about the model, which is to say that before Uber existed all the drivers that work with Uber now were existing commercial licensed drivers.
They were doing trips when someone called them and wanted them to do it, be it a tourist booking for one place to the next or a corporation that wants its people to be driven from work to the airport to a restaurant or whatever it is. Literally the only thing that has changed is that now they have a phone in their car and they are connected to a customer by an App. That's it, that's all that is different. And so we find it hard to understand what needs to be banned about that.
But it is true that in this territory, the Delhi government has certain jurisdiction and the relevant authority has said with immediate effect that they are banning Uber and this was done 24 hours ago. Yesterday they put out an unequivocal statement. And today people are still able to use the Uber platform to book cabs and Uber continues to operate. So isn't that non-compliance?
There is a lot of conversation about how technology and regulations should operate. We are talking about regulations from 1985 and from the 1800s as the basis for how this industry should work. There is a real opportunity to look at the regulations in this area and sort of refresh them for what's working. What you have with this model of Uber and frankly several of our competitors is a service that has been operating for years in Delhi and cities all over India that supports on an aggregate hundreds of thousands of jobs. Drivers who have been able to make a better living because of they are more efficient using technology and where millions of people around India collectively use get around. So why are we having this conversation at this time when we should be focused on the victim and healing the community. Why are we having a conversation about banning the service. Secondly, why are we having a conversation about banning something that is clearly good and clearly working. That's the question that we have.
But do you agree that as we speak Uber is in non-compliance with the order issued by Delhi govt yesterday?
You know, if you open the app you will see drivers online.
And if you open the app, rides can be executed right now.
I've been sitting in this meeting so I don't know what's happening right now, but if you open the app, I would expect to see cars online.
So Uber has done nothing to stop its service in Delhi?
Uber is again… there are still driver-partners online.
So you agree that in this case this order they issued yesterday has not been complied with at the time we speak.
Look I think there is a real opportunity for a conversation around this topic, right? If you look at the highest levels of government there are people calling for the same thing. So rather than focussing on what's banned and what's not banned, lets take the opportunity to renew focus on this industry.
So it's one thing to say we need to have this conversation, but aren't you at this point disrespecting the jurisdiction of the Delhi government?
Ya honestly I think for us we place a lot of value in the trust our partners have provided for us, right? We are talking thousands of people that feed their families because of the work they get through Uber. And that's just Uber. There are some other platforms out here where this ban applies to, and there are thousands of drivers in each of them. We are talking about tens of thousands of people in Delhi at a time when the community is grieving and questioning about things and how the city can improve. We are talking about just putting tens of thousands of people out of work, right? And that's something that we find really difficult to reconcile. And you know we are going to continue to support our partner-drivers during this time…
For us that element of safety is what is most important and supporting our partners and their earnings and their ability to feed their families—honestly I think that is more important.
Even if it means you are disrespecting the local jurisdiction?
I find it really important to make sure that thousands of people who rely on Uber to feed their families continue to have that opportunity.
But as you mentioned a little while earlier, these are drivers who did make a living before Uber came into their lives.
Look it's different to drive on the Uber platform, right? The drivers tell us how it has changed their lives. Some our programs have really allowed them to really change their status.
How different is the documents required by drivers or the driver recruitment process different from the process you follow in the rest of the world particularly in your home country, the United States?
We have different models in different places and regulations are different. We tend to look at what is required in the market and make sure we get that right. If the government of Delhi tells me that a driver should have a license, and is able to go out and take bookings and provide commercial services, for us that means that as long as the cars meet some additional standards that we might have, as long as they pass some tests we may have, they should be able to be part of our system. One of the things that we are working to do as a company honestly is how can we raise these standards. You know we do some other checks like verification checks, background checks..
But in India you rely on documents that are provided to you by the drivers.
We rely on the licenses that the driver already has. In order to get that license there are a number of checks and the documents are verified by the government. So if you have that license, fundamentally some of those checks have happened. I saw the stats that 30 percentage of driver licenses are fake—its a challenging environment to try to figure out how you go above and beyond that check and improve the safety standards on our platform.
Again, we believe that within the environment of what is out there out right now we are certainly compliant and in some ways going above and beyond what is expected by the government.
What does Uber do that's extra?
Every driver who we have is paid is paid electronically. That means that every driver we have has a bank account, which means they have a bank account which has a different KYC process a bank has gone through, and that's exclusively the only way that you can get paid on Uber. There's no cash transactions. We don't pay the drivers in cash so you know when the driver wants to get paid he has to give us valid bank account information. Of course there are addresses that match up across all those documents for them to get that bank account so that's a check right.
Do you check with the address in the bank account if it's the same as that on the driver's license?
The thing is to be set up with the bank account, there's certain information that the driver has to provide to us to set up the payment to go to the bank. So that is yet another check on top of the documents they would have to have.
Is it true that the driver involved in this case did not have a PSV badge?
For the type of license that drivers work with Uber and many other app-based companies, their license type does not require a PSV.
It seems as if the government just woke up to the existence of the entire app-based cab aggregator industry. What they seem to be saying is that this industry is not covered under any law and so it's not permitted.
I would say it is allowed. There are two pieces to what happens when you're using Uber. You're using an app to connect to a driver instead of calling him on the phone. So I struggle to see why that is bad or needs to be regulated in a different way just because I transacted my bank on an app versus calling them—it's the same thing.
And secondly I'm connecting with a licensed driver who the government has already allowed to be a taxi driver. Those are the only two things that happen. In either scenario, it's the same driver that you're connecting with—the government has already said this person is safe and qualified to be on the roads.
So whether you use Uber or whether you call them over the phone, it's the same thing right. And that's our view towards regulation.
The regulatory point that the city government has been emphasizing is that the vehicles with All India Tourist Permits are not allowed to carry on point-to-point trips within cities. Do you think Uber and similar app-based aggregators are in violation of this norm?
My understanding is that all India permit means that they can do trips anywhere the country.
In the US, the checks are more stringent than here. Why does Uber have a less stringent system in India specially since you know that the reliability of documents here tends to be much lower?
We've different models. If you look at models in US that we started with in the market there, it was working with all commercial licensed vehicles... It was a similar way where we sort of relied on verifications from the government there.
We can see this terrible incident that happened here on Friday—a terrible crime. The technology and data helped bring the driver to justice very quickly. But we can totally do more.
It seems like you go much further in the United States by way of background checks. Has been a failure on the company to take corrective steps?
I don't know if it was necessarily a failure. We can do a lot of things much better. You got better technology to add safety on top of that. We can totally do more in this market. It's not easy. The information isn't as good. There are no plug and play solutions. Just because something is not easy doesn't mean it's not worth doing, right? I think that we're really commmitted to doing that.
We now know that the driver was a repeat offender. You are saying the quality of info was not good, and you had no way of knowing. There are thousands of drivers currently on your network who have furnished documents with the same level of reliability. Are you planning to do something now to institute an additional check?
That's the right question to ask and that's the kind of question we're thinking about ourselves… how do we do that? We're aware that the data has challenges, we've all seen the news over the last couple of days—what would a check have caught? Obviously I don't know, I have not been watching all the news but I am not even sure what the past was here right. It's tough to check that…
And some of that we can do on our own, but there's got to be a dialogue, it's got to be a partnership and that starts with a collaborative environment, one where the value of technology is recognized and that's the relationship we want to have with the government here in Delhi and that's where we should start here.
But now it's no longer just the government of Delhi – this morning the Union Home Ministry put out an advisory to all state governments saying that Uber and all other similar app-based services that don't have a taxi license should all be completely banned. So if states decide to implement it, the story at least in the near term is over for Uber in India. How do you respond to the Home Ministry's advice?
I also read that the transport minister saying said that's not the answer. And I read that Mumbai said they're not going to ban any services. So I think it's far from certain what the outcome is going to be here. I am an optimist and I think there is a lot of people out there who believe that technology or these types of services are a big solution to a lot of these challenges.
I think if you look back and ask—is transportation better and safer now than it was a couple of years ago through options like Uber and some of the other companies in the space? Do drivers have more options to earn money and be an entrepreneur and is it easier to get around the city? Our answer is a really really firm yes. Our team is here to record that. They tell me that. We get a lot of people in the city who say the same thing.
Prime Minister Modi seems to have taken a personal interest in this case and he has asked for a briefing—what are the two things you would like to tell Modi so he can make the right decision about Uber?
First and foremost, we're deeply sorry and incredibly sad by the incident that happened. And our hearts go out to the victim. We think it's the right time for businesses, citizens, community and organizations and the government to come together and have a dialogue about what transportation and safety should look like in this country. And I think technology plays a big role in that. And we would love to be a part of that conversation. And talk about moving India forward from what's been a tough week for everyone.
Have you or any members of your team tried to meet with the survivor or her family or tried to initiate contact?
Yeah, so we have reached out to the requester of the trip and offered her our condolences and sympathy. It's a terrible thing to happen. We're deeply sorry that Uber was involved and if there is anything we can do to help we certainly stand ready and willing.