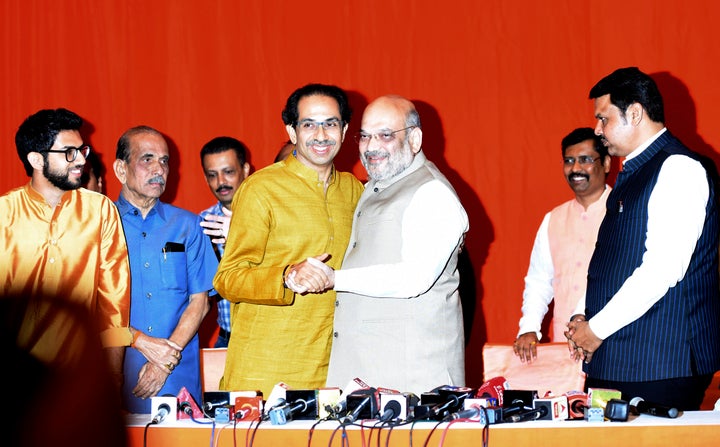 Even after becoming a part of the Devendra Fadnavis-led government in November 2014, Thackeray never held back, criticising the Maharashtra chief minister, his party and Modi almost on a daily basis through his speeches and Shiv Sena's mouthpiece Saamana.
The 58-year-old, who became party president soon after Bal Thackeray's death in 2012, has struggled to match up to his powerful father's violent rhetoric. While he managed to keep the party together, its firepower has also diminished considerably, forcing members to gripe and sulk over not being given enough importance by its larger alliance partner.
Over the past two years, the Shiv Sena chief had said multiple times that his party would contest the 2019 Lok Sabha and Maharashtra assembly elections alone. Shiv Sena ministers in Fadnavis's cabinet often told the media that their resignation letters were always in their pockets.
"Uddhav Thackeray has put even a chameleon to shame. The announcement of this alliance was an insult and humiliation of the loyal Shiv Sainiks. It is an immoral alliance"
"Elections come and go. We (BJP-Shiv Sena) have been together for over 30 years now. However, it was a little unclear in the last four years. But now we will openly display our camaraderie. It is time to forget about the past and make a new beginning for a strong Maharashtra and India. Hindus all over the country will be overjoyed by this decision," said the self-proclaimed "Vaghachi Aulad" (tiger's child).
He cited an "understanding over basic issues such as Ram temple and Ayodhya" as a reason for the alliance.
The decision has rattled Shiv Sena workers, who were gearing up to fight elections independently.
"It will be tough to explain to our core voters now. If the alliance was going to happen, Saheb (Thackeray) should not have targeted BJP so harshly all this while. But there must have been some larger considerations, which is why the alliance was formed. Saheb won't take any decision which will harm Shiv Sena and Mumbai," a Shiv Sena district president from Maharashtra told HuffPost India on condition of anonymity.
And it's not just the Shiv Sena which seems to have been forced to eat humble pie. The BJP's desperation to keep the alliance intact does not reflect well on its hopes for the election either.
"They had been consistently attacking us and even went to the extent of abusing us. The way national president (Shah) and CM went to Matoshree (Thackeray's residence) to discuss the alliance has sent a wrong message to the BJP cadre. We can't appear to be this weak but it is also a fact that we need Shiv Sena's cadre support if we have to win in Mumbai this election," a BJP leader from Nagpur said on condition of anonymity.
Maharashtra had given 42 Lok Sabha seats to the NDA in the 2014 election. That appears unlikely this year as almost every opposition party, except Prakash Ambedkar's Bharipa Bahujan Mahasangh, is likely to join forces to form a common opposition alliance.
While Thackeray may be hoping people forget his virulent criticism of the BJP for now, opposition leaders and social media users were not in the mood to let the announcement pass by without criticism.
Multiple tweets questioned Thackeray's bluster over the past couple of years, and numerous cartoons ridiculing the alliance were shared on Facebook and Twitter.
"Uddhav Thackeray has put even a chameleon to shame. The announcement of this alliance was an insult and humiliation of the loyal Shiv Sainiks. It is an immoral alliance," said Maharashtra Congress president Ashok Chavan in reaction to the news.
Shiv Sena and BJP leaders preferred to stay away from the media after the announcement. Thackeray, Shah and Fadnavis did not take any questions from the media after the press conference and most party spokespersons refused to speak publicly about it.
In the past, Thackeray has equated the BJP to Afzal Khan, a Mughal commander who arrived in Maharashtra in the 17th century to defeat Shivaji but was instead murdered by him.
Thackeray would also read from Gandhi's script occasionally, using a variation of the 'chowkidar chor hai' jibe to attack Modi in December. This was a month after he went to Ayodhya to "remind the BJP of its promise to construct the Ram Temple".