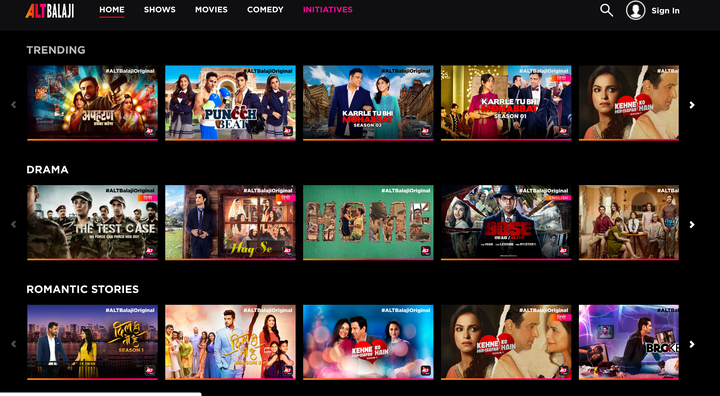 ALTBalaji, Ekta Kapoor's streaming platform which is a weird hybrid between Pornhub and the Sanskaar-hub that her mega serials are, put up a bunch of posters in the bathroom stalls of select few PVRs in Delhi NCR and Mumbai. In big, bold letters, the posters say: "Are you sure no one is watching you right now?"
What is more likely to get a woman to watch an erotic thriller on their website than the suggestion that she is being watched while taking a whiz, right?
This following poster was photographed at PVR's women's washroom in MGF Metropolitan mall in Gurugram.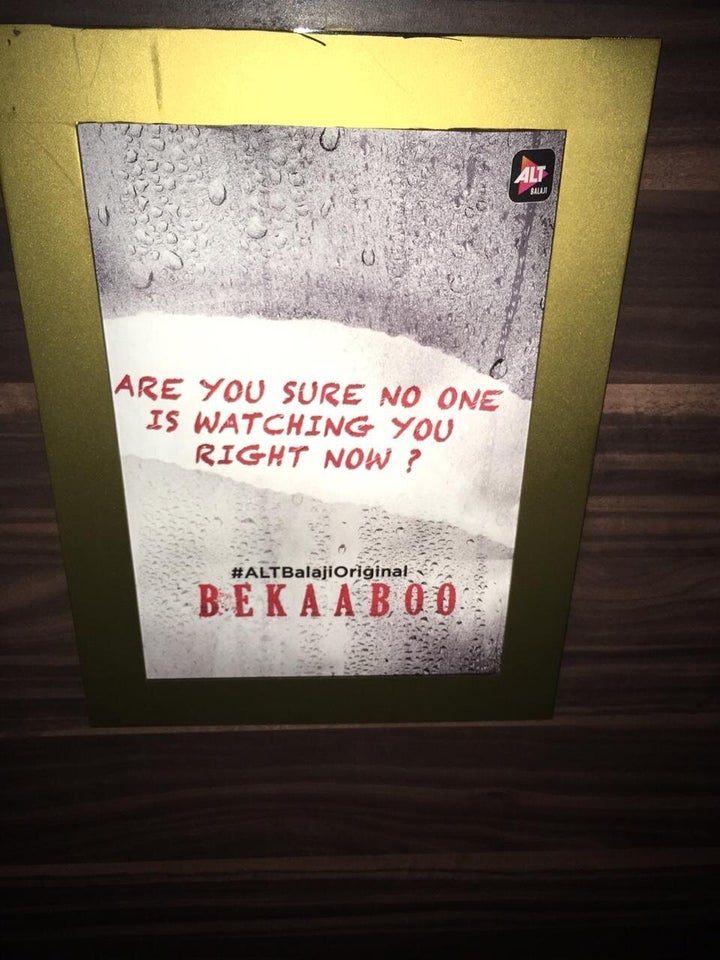 The poster is part of the promotional campaign for Bekaaboo, a new show on the streaming platform.
The ad immediately makes me uncomfortable and indignant, even before I can determine why it rubs me the wrong way. ALT Balaji, the thing is, we're never sure no one is watching us without our knowledge or consent. This extremely grave matter – the omnipresent threat to the safety of women, especially in Gurgaon, one of the most notorious cities for crimes against women – was turned into a selling point, a gimmick, for an erotic-drama show. The ads' House of Horrors-esque font and placement only adds to the frivolity in their treatment of the issues of stalking and harassment - a serious crime under The Criminal Law (Amendment) Act, 2013.
However, according to Divya Dixit, senior vice president and marketing lead at ALTBalaji, the campaign's purpose was to inspire curiosity amongst its patrons by "spooking them briefly."
"The whole show is about a "woman" who is constantly watching the male lead – hence, the line on the ad. We have also stated that it is an ad campaign for ALTBalaji and Bekaaboo, so that provides context. It was created to intrigue audiences and get them curious about the show. We consulted our legal team and even got clearance from PVR without any trouble. We haven't received any complaints about this ad either," she told HuffPost India.
""It was created to intrigue audiences and get them curious about the show. We consulted our legal team and even got clearance from PVR without any trouble.""
Though Dixit insisted that the AltBalaji logo provides context, the nature and placement of the poster is could be deeply triggering to a lot of people, especially women, most of whom have had to worry about being secretly filmed by friends, sexual partners or even at random accommodations while travelling. Mental health experts have equated being the victim of nonconsensual pornography to sexual assault.
These ads do not exist in a vacuum, and could potentially be consumed by two kinds of people – victims and perpetrators. While the poster in itself is unimaginative and would be completely missable in a more public space, but placing them in the intimate space that is a toilet stall deliberately plays on feelings of vulnerability. Devoid of a call to action, or even context about the plot of the show, unsuspecting former victims could be needlessly triggered - and plain heartbroken - at the casual mention of stalking just to "spook and create intrigue" about a drama series.
Shweta Srinivasan, a therapist, mental health advocate, and the co-Founder of TheMindClan.com explains that her first instinct upon seeing the ad was "a feeling of uneasiness that escalated to mild panic, and an immediate transportation to a bad relationship experience (she) had had".
"One does enough and more work on taking care of their mental health after the trauma, establishing a sense of safety for themselves, and managing triggers that one may not have control over such as sights, sounds, smells, or certain dates. Ads like these are triggers that can be prevented. We do not need another artificial trigger to be managed," she explained.
Triggers could potentially invoke overwhelming sadness, anxiety, panic or even 'flashbacks,' which often cause people to lose track of their surroundings and re-experience a traumatic event. At the very least, a trigger warning should have been added, to give people the space to think about whether they want to look at content like this, let alone go through the aftermath of feeling triggered.
To make matters worse, the Diagnostics and Statistical Manual of Mental Disorders IV has found that voyeurism is one of the most common fetishes globally, making it doubly tricky to crack down on. According to the statistics collated and presented by Minister of State for Home, Hansraj Ahir to the Lok Sabha in 2017, more than 18,000 cases of stalking and harassment were registered between 2015 and 2017 in New Delhi alone.
AltBalaji's handling of issues like rape and harassment in its content has been mostly disturbing and occasionally plain horrifying, and this poster is completely in line with the problematic nature of its shows.
However, Dixit added that Bekaaboo should be consumed purely for entertainment. "The show is fiction, and ALTBalaji and our outdoor marketing campaign has no stance on the matter," she said. "No stance," she emphasised.
Shows like 13 Reasons Why that had also come under fire for content that was triggering, took responsibility after the backlash it received for its maiden season, by releasing toolkits for dealing with suicidal thoughts, bullying, sexual assault, etc. for educators, parents, students and professionals on how to discuss these topics with others after watching the show. Surely with the budgets at their disposal, ALTBalaji could have taken the awareness route to publicise the show, as well. An educational campaign asking the targets of this menace to be alert and the miscreants to beware could perhaps have been a more well-thought out method to illustrate the themes of the show, rather than this ominous reminder recklessly brandished for cheap thrills.
Popular in the Community