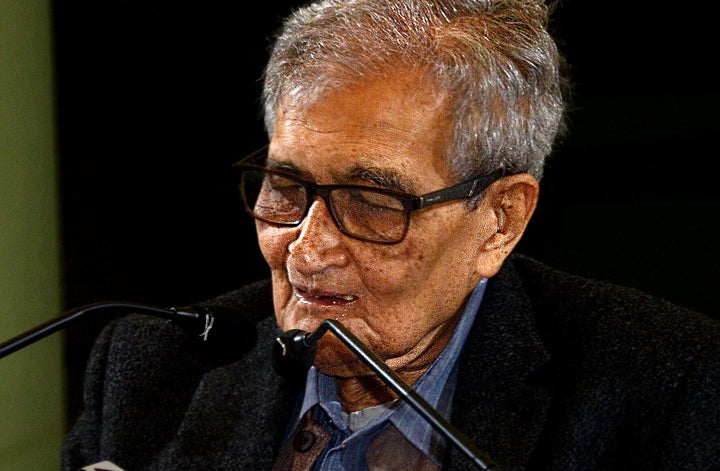 In the interview, Sen spoke to Isaac Chotiner about the current state of the Indian democracy, and how not all is lost yet.
When asked about Modi's connection to the 2002 Gujarat riots that killed over a thousand people, and still getting elected, Sen said, "One of his big successes has been to get the court to squash the case against him and the Home Minister, Amit Shah, in the Gujarat killings of 2002."
Sen said because of this, not many Indians believe that Modi had a part to play in the riots.
Sen who has been a harsh critic of the current BJP government also said that while Modi was a dynamic politician, he did not have the "breadth of vision" about the country.
"Modi doesn't have the breadth of vision about India—multireligious, multiethnic India. He has been, from his childhood, relating to the R.S.S. and the propaganda of that perspective," Sen said.
However, Sen highlighted that the BJP was also a party that was backed by the business community and managed to find more money than any other political party in the run-up to the 2019 Lok Sabha elections.
Sen said that while the Indian Constitution was "well based on analysis of the Constituent Assembly", it overlooked the fact that a political group with much power, like the BJP, could manipulate the situation easily.
"They won an election with a massive majority, but, again, you have to look at the issues I have written about, even in the context in America. The electoral system has its flaws. That massive majority he (Modi) had was based on less than forty per cent of the vote," he added.
In the run-up to the 2019 elections, Sen's comments on the slogan 'Jai Shri Ram' had invited backlash from the BJP.
"Jai Sri Ram slogan is not associated with the Bengali culture," he had said, adding that even Ram Navami is "gaining popularity" nowadays and he had "never heard of it before".
"I asked my four-year-old grandchild who is your favourite deity? She replied that it is Maa Durga. Maa Durga is so much omnipresent in our lives... What I feel is slogans like Jai Sri Ram are used as pretexts to beat up people," the economist had said.
Bengal BJP chief Dilip Ghosh had hit out at Sen saying, "He stays abroad and he should stay there... Jai Shri Ram is chanted in every village – now entire Bengal says it."