Emmanuel Macron has described the blazes as an international crisis, and said the leaders of the G7 group of nations should hold urgent discussions about them during their summit in France this weekend.
In reply, the Brazilian government has claimed it is the victim of an international smear campaign and even said non-governmental organisations (NGOs) have started the fires deliberately.
What's happening in the Amazon?
Wildfires in the Amazon are a natural occurrence during the dry season, but incidents have surged 83 percent so far this year compared with the same period a year earlier, government figures show.
There's no understating the vastness of the current situation – data released this week revealed there have been 75,000 fires in the Amazon rainforest since January this year.
The fires are visible in satellite images taken from space and show Roraima, a state in the north of Brazil, covered in dark smoke.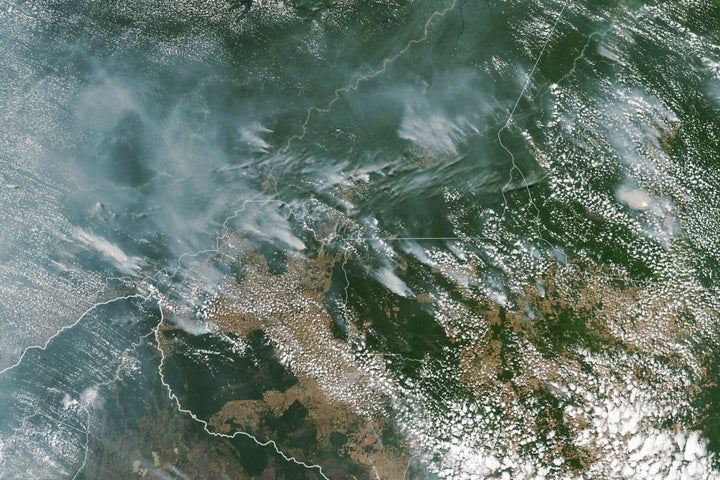 Gabriel Albuquerque, a pilot in Rondonia state's capital city of Porto Velho, said that in four years of flying his small propeller plane it has never been this bad.
"It is the first time that I've ever seen it like this", he told Reuters earlier this week.
How did the rainforest fires start?
This is the question at the heart of the current debate and the answer depends on who you ask.
Environmentalists have blamed the sharp rise on farmers setting the forest alight to clear land for pasture.
Although not government policy, Brazilian President Jair Bolsonaro has said his country should open the Amazon up to business interests, to allow mining, agricultural and logging companies to exploit its natural resources.
Federal prosecutors in Brazil are investigating an ad they said was published in a local newspaper encouraging farmers to participate in a "Fire Day", in which they would burn large areas of forest "to show Bolsonaro their willingness to work".
Bolsonaro hit back by claiming – without evidence – that NGOs were burning down the Amazon rainforest to hurt his government and get revenge for cuts to their funding imposed by his government.
In a Facebook Live broadcast on Wednesday morning, he said "everything indicates" that NGOs were going to the Amazon to "set fire" to the forest.
When asked if he had evidence to back up his claims, he said he had "no written plan", adding "that's not how it's done".
Earlier this month, Norway and Germany suspended funding for projects to curb deforestation in Brazil after becoming alarmed by changes to the way projects were selected under Bolsonaro.
On Thursday Bolsonaro appeared to relent slightly and admitted farmers could be illegally setting the rainforest ablaze but told foreign powers not to interfere.
What has Macron said?
The French president has lead international calls for action, saying "our house is burning" in a tweet posted on Thursday.
Macron also said the fires should be discussed at the G7 summit that will begin on Saturday in Biarritz, France.
The Group of Seven rich countries does not include Brazil.
The sentiment was echoed by United Nations Secretary General António Guterres who said: "The Amazon must be defended."
Bolsonaro fired back with his own tweet, writing: "I regret that Macron seeks to make personal political gains in an internal matter for Brazil and other Amazonian countries. The sensationalist tone he used does nothing to solve the problem."
Why is it a big deal?
Brazil contains about 60% of the Amazon rainforest, whose degradation could have severe consequences for global climate and rainfall.
Scientists warned last year that this was a distinct possibility if Bolsonaro won last year's election and pursued his promised agenda.
Is this a rare example of an international dispute not involving Donald Trump?
To fill this gap, farmers in Central America have been incentivised to clear areas of rainforest to produce more of the crop.
In March experts warned this could destroy 13 million hectares of rainforest – an area the size of Greece.
What have we said about it?
A Downing Street spokesperson said the PM is "deeply concerned" by the fires in the Amazon and called for "international action to protect the world's rainforests".
They added: "The UK will continue to support projects in Brazil to do this, and the Prime Minister will use the G7 to call for a renewed focus on protecting nature and tackling climate change together."