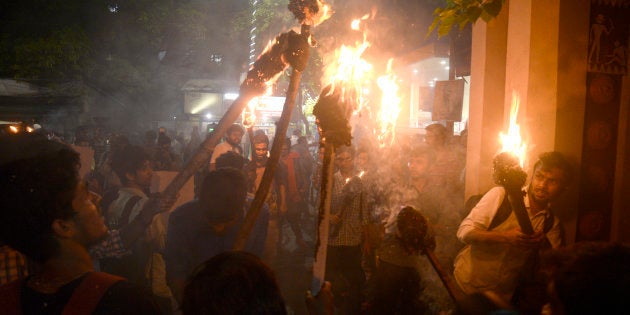 Hours after West Bengal Chief Minister Mamata Banerjee announced a judicial probe into the communal clashes in the state's Basirhat area, reports suggest that Muslim neighbours are now pooling in money to help their Hindu neighbours whose shops and businesses were destroyed during rioting.
This comes even as social media is rife with fake videos and images being circulated showing that Hindus were being targeted by the Muslims. But the reality seems to be a bit different.
The Indian Express quoted a local businessman of Basirhat's Trimohini crossing as saying, "Even after the demolition of the Babri mosque, our town remained peaceful. What happened since Tuesday was not right. Some outsiders and some of our local boys are to blame. But now we are pooling money for our Hindu neighbours. We want them to forget the losses and start afresh."
Violence broke out in Basirhat, in West Bengal's North 24-Parganas bordering Bangladesh, after a blasphemous Facebook post by a Class 11 student. Peace is slowly returning to the area even as security forces remain vigilant and internet services remain cut off.
But as rumours of great Hindu-Muslim enmity took centre stage, a local Binay Pal says that he escaped a mob because of his childhood friend Ershad.
Pal tells The Indian Express, "Everyone told me to leave my home and flee to save myself. Hundreds of people were swarming the street in front of my house. I called up Ershad, who told me to stay put and rushed to my house. He stayed with us and ensured that we were safe."
The report said that joint groups of Hindus and Muslims were also going to keep vigil at night to ensure there is no further flare up.
PTI had reported on Saturday that shops had reopened and vehicles were seen plying in violence-hit areas.
This was even as Chief Minister Mamata Banerjee said that outsiders were involved in the violence and that the Modi government was destroying the federal structure of the nation.
She said, "How can some people from across the border intrude and start disruptions here? Who is in charge of border security, the Centre or the state? Once again I am saying, it is the ploy of the BJP to disturb the peace of the state."
She also said that action will be taken against two national TV channels for showing fake footage, claiming they were from Basirhat.
As pointed out by Altnews.in, several images are being circulated on social media with people claiming that they were from Basirhat.
One of the images doing the rounds was that of a man trying to disrobe a woman, and people had been claiming that it was how Hindu women were being treated in West Bengal. In reality, it was a scene from the Bhojpuri film 'Aurat Khilona Nahi'.
NDTV reported the Kolkata Police as saying that one person had been arrested for circulating the fake image.
And even as the West Bengal police condemned sharing of such fake videos and warned of action, more such fake images were being shared.
As recently as on Saturday, BJP's Nupur Sharma shared a photo on Twitter that called for protests against the 'lawlessness' in Bengal. The image used in the tweet seems to be from the Gujarat riots, a photo taken by Manish Sharma of the Associated Press.
In order to ensure peace, the West Bengal police even started the hashtag #letsstayunited and asked people to stay away from rumour mongering.