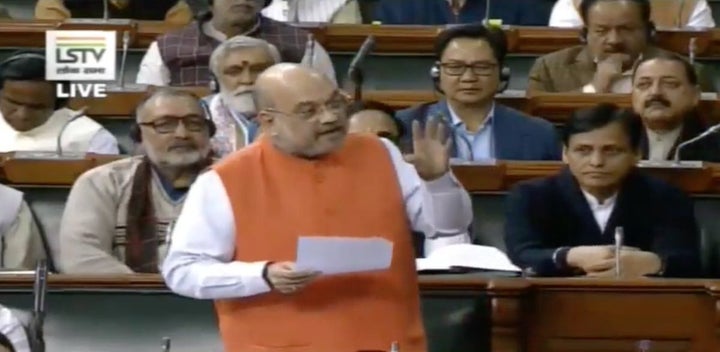 As Union Minister Amit Shah introduced the Citizenship (Amendment) Bill, 2019 in the Parliament, Opposition parties were immediately up in arms and asked the government to withdraw the bill.
Parties, including Congress and BSP, had said they will oppose the bill "tooth and nail" because it is against the Constitution and its secular ethos.
According to the proposed legislation, members of Hindu, Sikh, Buddhist, Jain, Parsi and Christian communities, who have come from Pakistan, Bangladesh and Afghanistan, and facing religious persecution there will not be treated as illegal immigrants but given Indian citizenship.
Introducing the bill, Shah said, "This bill is not even .001% against minorities in the country."
The Lok Sabha voted in favour of the introduction.
What Amit Shah said
The Home Minister said that the bill is not against any article of the Constitution. He added, "We need to look at the Constitution of these three countries (Afghanistan, Bangladesh and Pakistan) in detail if we have to understand this Bill."
Article 2 states in The Constitution of Afghanistan, he said, that Islam is the religion of the country and there are similar provisions in the Constitutions of Pakistan and Bangladesh.
Shah also said that religious atrocities have happened against Hindus, Sikhs, Christians, Parsis, Buddhists, Jains and other minorities in these three countries.
He also said that the government is "not taking away rights from Muslims", but aims to provide citizenship to religiously persecuted minorities "who have come to India".
The Union Minister said that because "Muslims are in majority in these three countries", so applying for citizenship on "grounds of religious persecution is out of the question".
If a Muslim from these three countries applies for citizenship, it will be considered with an open mind. "The person, however, won't get benefit of this amendment as the person has not faced religious persecution", ANI quoted him as saying.
What Opposition said
Congress's Adhir Ranjan Chowdhury called it "nothing but a targeted legislation against minority people". Party leader Shashi Tharoor called it "an assault on the foundational values of our republic".
Tharoor had on Monday also submitted a notice in the Lok Sabha to oppose the Citizenship (Amendment) Bill at the introduction stage, saying it "violates" the fundamental right to equality.
Trinamool Congress's Saugata Roy also opposed the introduction of the bill and said that if any community is left out of law, "it is violative of Article 14 of the Constitution of India".
The Lok Sabha voted to allow the introduction of the bill, 293 ayes against 82 noes.