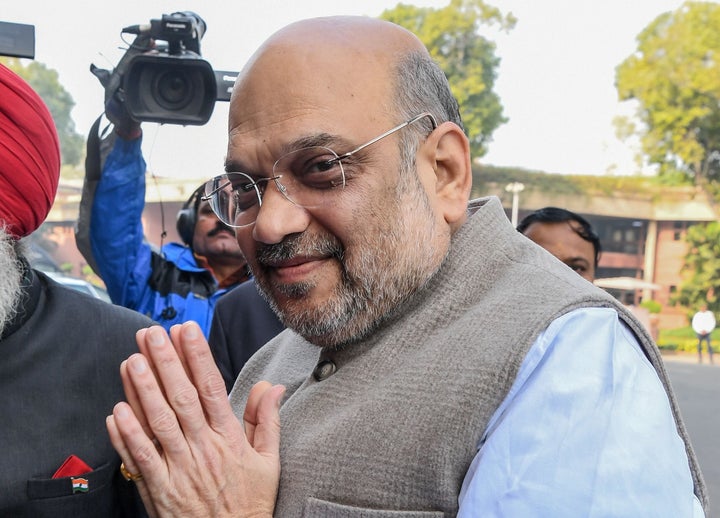 Since the abrogation of Article 370 on 5 August, the Narendra Modi government has taken great pains to show that everything is "normal" in Jammu and Kashmir. Union Ministers have repeatedly said the situation in Kashmir is "normal" (see here and here) and Home Minister Amit Shah reiterated the government's stand on Tuesday.
In the Lok Sabha, the home minister said that the situation in Kashmir is "completely normal" and "not even one bullet was fired".
After Congress leader Adhir Ranjan Chowdhury asked the government when political leaders like Farooq Abdullah would be released, Shah said a decision on releasing detained political leaders in Jammu and Kashmir will be taken by the local administration. He added that Centre will not interfere in the matter.
Is the situation "normal" though?
Huffpost India's Betwa Sharma had reported in September how the Modi government was staging "normalcy" with threats and intimidation.
"A school bus operator said the administration forced him to run empty buses for three weeks until the mounting losses meant the buses couldn't run anymore. A shopkeeper said he was one of 20 store-owners jailed by the police for refusing to stay open during business hours. The state's farmers are yet to participate in a much-touted Central government scheme to procure Kashmir's famed apple crop."
Shah, in the Lok Sabha, also said that 99.5% of students sat for exams in Jammu and Kashmir. Meanwhile, The Wire reported on Tuesday that students are struggling to fill forms for entrance exams because of the internet ban.
The government, according to the report, has provided internet facilities in every district deputy commissioner's office, and students have been advised to submit their forms from there. The report said that in many villages in Pulwama, government officers also have to do their work at the deputy commissioner's office
There is, therefore, a long line of students waiting outside the deputy commissioner's office and most of them go back home disappointed, the report added.
The Hindu reported on how the internet blackout is forcing young entrepreneurs out of the Valley. "Start-ups, which saw a rosy future, are now heading into a grey zone of despair in the absence of Internet for over 120 days now."
In the last four months, the report cited official figures to say that the uncertainty has resulted in over 80% job losses among start ups which rely on the internet in Kashmir.
Majid Maqbool had also written for Huffpost India in November how the shutting down of both broadband and mobile internet has crippled Kashmir's Information Technology (IT) businesses and internet dependent startups
Jammu and Kashmir Lieutenant Governor GC Murmu said last week that internet services would be restored in Kashmir in phases once the situation turns "more normal".
However, he gave no timeline for restoration of internet services.
"We are reviewing it (internet ban) and as it (situation) becomes more normal, we will do it (restore) phase-wise. We have already discussed it with our administration and we are taking it up," Murmu was quoted as saying by PTI.
Though most restrictions have been lifted, the clampdown on internet services across all platforms and prepaid mobile phone still remains.
Postpaid cellphones and landlines are working in the Valley. Officials, according to PTI, allowed service providers to start SMS service messages in the Valley on Tuesday.
Mobile subscribers in the Kashmir Valley will now be able to receive SMS messages generated from machines, PTI quoted officials as saying.
Meanwhile, Kashmir's economy has also suffered losses of Rs 15,000 crore since 5 August, Kashmir Chamber of Commerce and Industry said.
More than the losses to the economy, job loss due to clampdown on internet services, protests and strikes was more worrying,Kashmir Chamber of Commerce and Industry (KCCI) president Sheikh Ashiq Hussain told PTI.