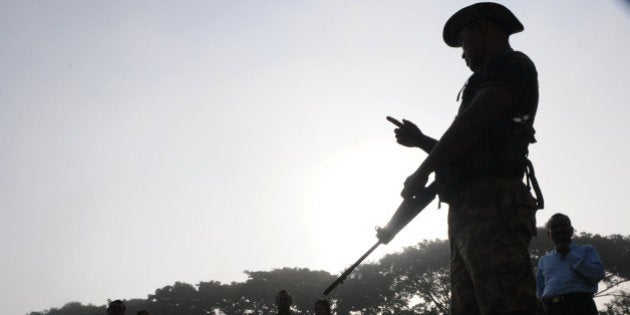 CHENNAI -- Police in Chhattisgarh face mounting criticism for delays in registering complaints of rape during operations against Maoist rebels, with Amnesty International India demanding an independent probe into police inaction.
One of India's poorest regions, Chhattisgarh has seen major security operations to flush out Maoist rebels who say they are fighting for the rights of poor farmers and landless labourers to land and a greater claim on mineral wealth.
According to Amnesty's India office, 13 women from the Adivasi group said they were raped and sexually assaulted by police and security forces during anti-Maoist raids in Nendra village between January 11 and 14.
"Two men caught hold of me and dragged me inside my house. They took off my clothes, tore my blouse and pressed my breasts," one woman told the human rights group.
"One policeman raped me and said, 'We will burn down your houses. If it wasn't daytime, we would have killed you.'"
Despite changes to India's anti-rape laws, which make it mandatory for police to file a case as soon as a sexual violence complaint is brought to them, it took a week for the first information report (FIR) or official complaint to be recorded, a lawyer for the women said.
"Instead of helping the women, the police have made it difficult for them at every step," human rights lawyer Shalini Gera told the Thomson Reuters Foundation.
"And we feel even the filing of the FIR is just a bureaucratic step and the investigation will not be started any time soon, since there is no indication on when the statements of the complainants will be recorded."
Rape victims in India have to contend with an archaic, poorly funded and insensitive criminal justice system, campaigners say.
Those brave enough to go to the police face numerous challenges such as hostile police officers, unsympathetic forensic examinations, a lack of counselling, shoddy police investigations and weak prosecutions in the courts, they say.
The tribal women, who left their children and homes to camp at the district headquarters in Bijapur to ensure their complaint was heard, travelled back to their forest homes after medical tests were done last week.
Official statements from the women are required for the probe to proceed.
"The team investigating the case must also be sensitive towards the affected women, and ensure that their statements are recorded in a manner that takes their safety and convenience into account," said Gopika Bakshi, women's rights campaigner at Amnesty International India.
In emailed comments to the Thomson Reuters Foundation, Bakshi called for a swift, thorough investigation into the rape allegations. Critics say police have dragged their feet over similar reports of sexual violence in the region last year.
"Now that the FIR has been registered in the Nendra case, the Chhattisgarh police must ensure an independent and impartial investigation, since the alleged perpetrators include police officials," she said.
Bijapur Police Superintendant K L Dhruv said the investigation would begin once the basic paperwork was completed.
"How soon it is wrapped up depends on the investigating officer," Dhruv told the Thomson Reuters Foundation.