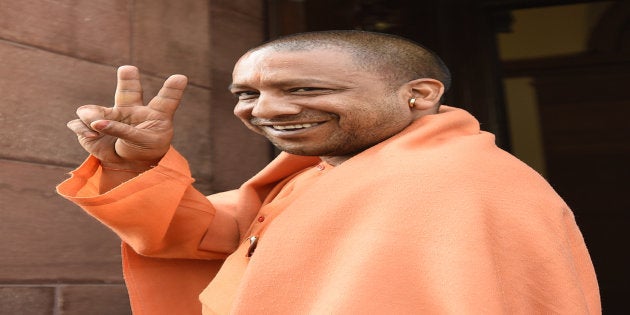 A day after Yogi Adityanath took oath as the Chief Minister of Uttar Pradesh, Amnesty International India has demanded that he should publicly withdraw the communal remarks he has made against Muslims in the past.
In a statement, Aakar Patel, Executive Director, Amnesty International India said, "Adityanath has been one of Uttar Pradesh's most polarising politicians, given to hateful rhetoric that incites discrimination and hostility against minority groups, particularly Muslims."
"As chief minister of India's most populous state, he and his party have an obligation to ensure that his positions do not become government policy. It is therefore imperative that he retracts any statements which may provide a license for others to abuse human rights," Patel added.
Adityanath's accession to power in one of the most important states of India was received with great shock by many because he is known to have been a polarising figure.
Him being chosen as the chief minister by the BJP came as a surprise as the BJP has so far maintained that they stand for development irrespective of caste, creed and religion. But this is not something that Adityanath himself exemplifies. In the past he has made several statements against Muslims and on the controversial Ram Mandir issue.
During campaigning ahead of the Uttar Pradesh elections he had said, "In eastern UP, if a Hindu is safe, so is a Muslim," he said. He also said, "Love jihad was then an issue and it is still an issue."
In 2015 in Varanasi, he had said, "Has it happened anywhere in the world that Gauri and Ganesh are placed inside a mosque? Every time a Hindu visits the Vishwanath temple, the Gyanvapi mosque taunts us. If given a chance, we will install statues of Goddess Gauri, Ganesh and Nandi in every mosque."
He had in the past promised that he would turn Uttar Pradesh and India into a 'Hindu Rashtra'. "I will stop till I turn Uttar Pradesh and India into a Hindu Rashtra."
Commenting on the new UP CM's history of polarisation, Patel said, "Adityanath's toxic ideas must not become part of his governance. By demonizing Muslims, he has increased religious divisions and put ordinary people at risk of discrimination, hostility and violence. As the head of the Uttar Pradesh government, he must disown his poisonous statements, and ensure that his administration respects the rights of people of all faiths."
Popular in the Community