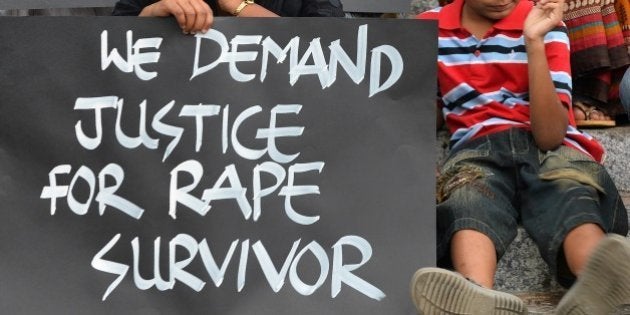 NEW DELHI -- The Supreme Court today made an excellent ruling--mediation, compromise or settlement should not be encouraged in cases of rape or attempted rape. The ruling is timely. Just last week, the Madras high court outraged the country when it granted bail to a rape convict so he could try mediation and settlement with the victim.
The apex court verdict today was not linked to the Madras high court move, but came while hearing an appeal in a separate rape case involving a minor in Madhya Pradesh. But parts of the judgment contains a recurring and troubling theme of the mainstream discourse around rape in India--the patriarchal tendency to link the crime to a woman's honour and dignity.
These are crimes against the body of a woman which is her own temple. These are offences which suffocate the breath of life and sully the reputation. And reputation, needless to emphasise, is the richest jewel one can conceive of in life. No one would allow it to be extinguished. When a human frame is defiled, the "purest treasure", is lost. Dignity of a woman is a part of her non-perishable and immortal self and no one should ever think of painting it in clay. There cannot be a compromise or settlement as it would be against her honour which matters 12 the most. It is sacrosanct.
Shyam Narain v. State (NCT of Delhi), a 2013 judgment cited by the Supreme Court, reads:
No member of society can afford to conceive the idea that he can create a hollow in the honour of a woman. Such thinking is not only lamentable but also deplorable. It would not be an exaggeration to say that the thought of sullying the physical frame of a woman is the demolition of the accepted civilised norm i.e. physical morality."
The issue is one of consent, irrespective of whether it is a man or woman. It's not about the "body being a temple", said senior advocate Indira Jaising. "These judges just don't get it. Dignity is a gender neutral concept. Why does it only come up when a woman is raped," she said. "This is very disturbing."
Women's rights advocates HuffPost spoke with said they found the framing problematic. How does such a framework treat the "dignity" of a man or a transgender who is raped, and what about the "dignity" of a woman who is not a virgin or has consensual sex? Is the "dignity" of a woman not "sullied" when she is raped by her husband?
"Even those in the higher judiciary are overhearing us but they are not understanding us," noted human rights lawyer Vrinda Grover told HuffPost India. "The discourse has to be about consent and sexual autonomy, not dignity, chastity and honour."
Grover said that linking honour to rape has also hindered Indian courts from recognising marital rape as a crime because the questions of dignity and chastity did not arise when a wife is assaulted by her husband. The lawyer also pointed out that the definition of rape was no longer restricted to peno-vaginal penetration which begged the question whether a woman's "honour" was destroyed by other forms of sexual assault.
Another troubling aspect of linking honour to woman's reputation is that it puts the onus of protecting her honour on the woman, said Ranjana Kumari, who heads the Centre for Social Research. She also becomes the repository of family honour.
"Rape is a crime of violence and patriarchy. It has nothing do with honour. But these cultural considerations are still behind the judgments," she said.
The consequence of this discourse, Kumari says, is that stripping a woman of that "honour" becomes a form of punishment. "So rape becomes a form of punishment. Upper caste men will use it agains Dalit women. Rape becomes weapon during war," she said.