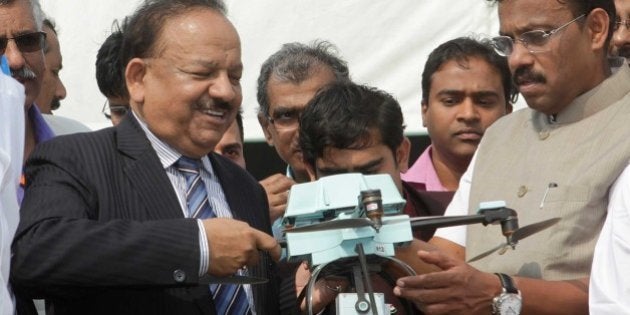 The second day of the Indian Science Congress hosted at Mumbai University here today saw a lecture examining ancient aviation technology in the Vedas. And claims were made by a union minister that the Pythagoras theorem was actually discovered in India. Such claims had no scientific backing whatsoever.
Captain Anand Bodas, a retired pilot, was presenting a paper on 'Ancient Indian Aviation Technology', and claimed that the science of building and flying a plane was recorded by Maharshi Bharadwaj in Brihad Vimana Shastra, written between 6000 BC and 7000 BC, several millennia before the Wright Brothers built a plane. "Maharshi Bharadwaj said air planes were used to travel from one city to another, from one country to another and from one planet to another."
Scholars at the Indian Institute of Science in Bangalore have debunked this text. They say it was actually written between 1900 and 1922. So much for Bodas' exaggerated claims.
He didn't stop there. "History merely notes that the Wright brothers first flew in 1904," he said. Bharadwaj, who authored the book Vimana Samhita, had written about various types of metal alloys used to build an aeroplane. "Now we have to import aeroplane alloys. The young generation should study the alloys mentioned in his book and make them here," Bodas said.
He also spoke of jumbo planes which flew in ancient India. "The basic structure was of 60 by 60 feet and in some cases, over 200 feet. They were jumbo planes," he said. He also claimed, again without any scientific evidence, that ancient planes had several engines. "The ancient planes had 40 small engines. Today's aviation does not know even of flexible exhaust system," he said.
The ancient Indian radar system was called rooparkanrahasya. "In this system, the shape of the aeroplane was presented to the observer, instead of the mere blimp that is seen on modern radar systems," he said. Bharadwaj's book, Captain Bodas said, even mentioned a diet for pilots — milk of buffalo, cow and sheep. Pilots of ancient India's planes had to wear clothes made out of vegetation grown underwater, Bodas said.
Indian Science Congress Association (ISCA) which hosts the annual event, is a premier scientific organisation of India with a membership strength of more than 30,000 scientists. It was founded in 1914 with the objective to advance and promote the cause of science in India.
Science wasn't in evidence when Union minister of science and technology, Dr Harsh Vardhan said, "Our scientists discovered the Pythagoras theorem but we very sophisticatedly gave its credit to the Greeks. We all know we knew 'beej ganit' much before the Arabs, but very selflessly allowed it to be called algebra."
Mathematics experts said they were not very convinced by Vardhan's view. "We know Indians have contributed to mathematics to a great extent. However, I was surprised to hear what he said. Maybe the way he thinks about mathematics is different than what we academicians do," said a mathematics professor from Mumbai University, who was present at the inaugural function.
Congress MP Shashi Tharoor, a former United Nations Under-Secretary General, on Sunday supported science and technology minister Harsh Vardhan's remarks.
To mock the credulous exaggerations of the Hindutva brigade, you don't need to debunk the genuine accomplishments of ancient Indian science!

— Shashi Tharoor (@ShashiTharoor) January 4, 2015
Tharoor was removed last year as a Congress spokesperson for praising PM Modi for his 'Swachh Bharat' campaign.
Popular in the Community