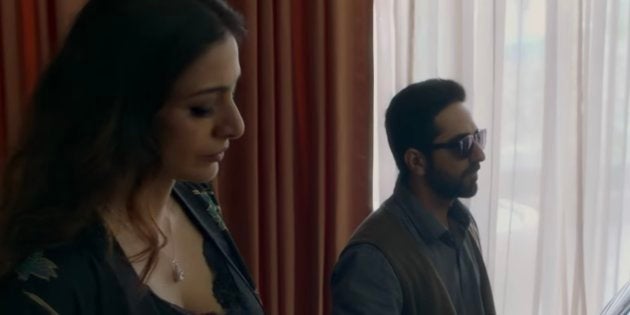 In many of his movies, Danish director Nicolas Winding Refn (The Neon Demon, Drive) uses sudden bursts of violence in scenes that are otherwise soothing. The violence disrupts the preceding calmness, immersing the viewer in a world that looks familiar but isn't exactly recognisable.
In Sriram Raghavan's pulsating AndhaDhun, there's a scene where Ayushmann Khurrana is playing a cheerful melody on the piano when, out of nowhere, we see a dead body lying in the room. It takes a moment to fully process the polarising frame but when you do, you know you are in a movie where the revelations will be dropped without any build-up. In fact, the terror lies in the tranquillity.
It would be futile to describe the plot of AndhaDhun. A blind pianist witnesses a murder and the more he tries to get away, the more embroiled he gets. After the first big reveal, which happens at a police station, the film takes the viewer inside a rabbit hole, a world that's murky, unforgiving, shocking and morally repugnant.
But more than the plot, which is compelling and pays generous homages to subversive cinema (many Hitchcockian motifs to spot), it's the characters and narrative style of AndhaDhun that take you on a wild trip.
Raghavan, who's known to reference movies within his movies, does the same with aplomb here. He has the most fun with Anil Dhawan, a real-life '70s star who plays a '70s star named Pramod Sinha with actual movie posters of his past work lining his room. His idea of retaining his youthful stardom is marrying a woman much younger than him. And such is the genius of Raghavan's vision that in scenes involving Dhawan's character, he shifts his directorial tone and adapts to a kitschy '80s-style aesthetic. The moment Dhawan withdraws from the scene, the movie's tonality switches back to contemporary pulp. To witness this clever interplay of form and substance is a cinephile's delight.
Raghavan also invokes clever visual motifs and references many black-and-white elements in a film dominated by grey shades. There's the black-and-white cat, the piano keys, the cat on top of the piano keys. A shot of Khurrana playing the piano quickly cuts to a man walking into a kitchen wearing an apron that has black-and-white stripes.
While Refn's movies indulge in a lyrical form of violence, Raghavan ventures into camp and pulp territory with AndhaDhun, with deranged doctors, crazy cops, a sweeping background score and a delightful, subversive femme fatale in Tabu.
Tabu owns every scene that she's in in this film. The command she carries in her delivery gives her character a sense of intimidating authority while also revealing her problematic complexities. She, like every character in the film (other than Radhika Apte), is driven by a lust for greed.
Which is also the underlying theme of AndhaDhun—the all-consuming power of greed and the moral bankruptcy it eventually leads to. The film is stacked with people who come from different classes—rickshawallahs to millionaires are united by greed and a desire for upward social mobility.
It seems that Raghavan also wants to say something about how socioeconomic privilege affects our reaction to grief. In the movie, he shows us a stark contrast between how two characters, from different classes, react to the deaths of their respective partners.
While Apte remains the film's moral compass, Khurrana, in his quest for artistic greatness, loses his sense of self as he gets sucked into a dizzying maze of backstabbing and blackmailing. He's outstanding as the gifted pianist who can see his dreams but is blinded by ambition. A layered, no-holds-barred performance worth applauding.
As the film begins winding down, keeping a track of the characters' motivations feels a bit laborious, but a scene involving a tussle between a cop and his wife, shot with artistic brilliance by the film's DoP (K.U Mohanan), quickly revives the proceedings.
It would be unfair to not credit Pooja Ladha Surti, Raghavan's frequent collaborator who co-writes and edits most of his movies. AndhaDhun's crisp editing consistently builds up and releases tension with clockwork precision. AndhaDhun is a film worth watching and then rewatching, as one may miss several references on the first viewing.
From Stree to Manmarziyaan to Manto, the past few weeks have turned out to be spectacular for Hindi cinema. AndhaDhun continues this winning streak.
Raghavan, however, saves the best shot for the end. You might just need Cobb's totem to figure that one out. Keep your eyes wide open.