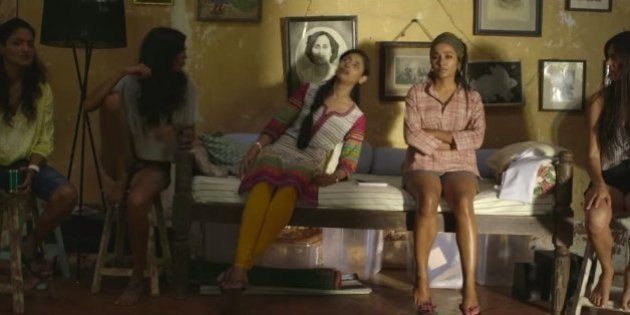 At the intermission point of Angry Indian Goddesses, I was kinda done with it. So far, about one hour in, all the 'female buddy film' — not an entirely accurate description, by the way — had done was hurl stereotype after stereotype at the screen, stopping occasionally only to swat logic aside as though it were a particularly enthusiastic mosquito.
Not that there wasn't enough to love, of course. The film's biggest strength is its engaging ensemble of seven actresses, comprising Sandhya Mridul, Sarah-Jane Dias, Anushka Manchanda, Amrit Maghera, Pavleen Gujral, Rajshri Deshpande, and Tannishtha Chatterjee. They're all pretty fantastic to watch (with standout perfs from Chatterjee, Dias, Mridul, and Manchanda) and I guess it helps that they're all also rather (conveniently) easy on the eye. Sorry, Realistic Body Standards, you were never invited to this party.
Speaking of partying, we see a lot of that. The 'goddesses' drink, smoke (joints are rolled too, but only off-screen), dance, laugh, cry, and introspect. They're in Goa, in a crumbling-but-beautiful Portuguese bungalow that belongs to Frieda, a photographer (Dias). She's getting married, so she's called six of her closest friends, who've all dropped whatever they were doing in Mumbai and Delhi and come by to chill for an indefinite amount of time.
Seriously, there's a wedding on the cards but no prep, aside from the presence of a beautiful dress. Frieda refuses to reveal whom she's getting married to until the latter half of the film — by which time nearly a week has passed — and somehow, these largely ambitious, young urban women don't really seem to mind, aside from the occasional question that is quickly ignored. One, Suranjana (Mridul), is a high-flying corporate exec who spends much of her time trying to get a cellphone signal and smoking cigarettes. She's in the midst of brokering an important deal and has even brought her 6-year-old daughter with her on this trip. You'd think a woman like her would put her foot down and say, "Okay, Frieda, this quality girl-time has been super-fun, but holy shit, tell me whom you're getting married to and when because I seriously need to book return tickets."
All the women in this film represent a fairly wide spectrum of women in a largely urban Indian context. Madhureeta aka Mad (Manchanda) is a musician whose latest album isn't working (which probably has very little to do with her being a woman — just audiences and record labels with mediocre taste); Pamela aka Pammi (Gujral) is a typical Delhi Punju trophy wife who gave up working after getting married; Joanna (Maghera), Frieda's cousin, is a London-born Anglo-Indian girl trying to make it in Bollywood (*cough* Hazel Keech *cough*); Nargis (Chatterjee) is a fiery social activist; and Lakshmi (Deshpande), who has a thing for discounted sunglasses, works as Frieda's domestic help.
All of these women come with their own baggage, and Angry Indian Goddesses is at its best when it simply allows its cast to be itself (which it literally is, since a large portion of the script is improvised). However, director Pan Nalin and his editor Shreyas Beltangdy seem to be in a constant hurry to cut away from one shot to another. Several scenes in which the women are discussing various (interesting) things, come off as incoherent episodes of 'Women Saying Things', as though you're scrolling really quickly through a Twitter timeline. Other scenes, such as one in which Joanna shows Suranjana what the latter's daughter has been up to while they've all been partying, are so obviously scripted and in-your-face that they feel like they're from a different film.
But yes, when the women are allowed to be in their element, there are some great lines and moments of female bonding. I'd have liked to watch a movie that was only about that, within a more believable set-up. But Angry Indian Goddesses has more ambition than that, and this is a rare instance in which that is a bad thing. Soon enough, you realise that the film is actually on a relentless quest to tick boxes off. Unhappy marriage? Check. Not being taken seriously at work? Check. Being leered at, all the time, everywhere you go? Check, check, and check.
Then, in the second half, many things come tumbling out of the closet. The film acquires a darker tone, adding conflicts that the film's four screenwriters must've thought as mandatory to up the drama, and later resolving them rather neatly. A gun appears, as does the ever-dependable Adil Hussain, in the form of a chauvinistic police officer. By the time the climax rolls around, it feels as though we're watching a subversive, feminist version of a Chandra Barot potboiler from the '70s (not that that's a bad thing — as a standalone idea, i.e.).
Hussain plays one of the few token male characters in this movie, by the way, which otherwise only features an often-shirtless Anuj Chaudhry as The Hunk Next Door, whom the girls ogle at unabashedly. There's a bunch of leery Goan pricks who harass the women at one point in distinctly North Indian accents. Oh, there's also a cameo by Arjun Mathur as Mad's concerned musician boyfriend Zain, who travels to Goa to track her down when she misses a recording and switches her phone off after the first two days. He's nice and likeable and everything, but despite everything, they don't even ask him to stay a single night, and he's never heard from again. Why? I dunno, maybe this is Nalin's deliberate way of inverting the status quo in Indian cinema. Or maybe it's because boys are stupid; throw rocks at them.
Angry Indian Goddesses arrives with audience awards from Toronto and Rome, and it's easy to see why an international audience would appreciate this film. It presents India's gender issues on a platter to them, which is congruent with what they read; it's the same reason acclaimed films set in Africa often happen to be about genocide and extreme poverty.
On a superficial level, I'd say Angry Indian Goddesses is worth a watch for what it tries to achieve, and for the spirited performances from its winsome cast. But it aims too far and too high for entirely the wrong things and, in the process, forgets what it originally intended to be.
P.S.: What the Censor Board has done with this film is an absolute travesty. Entire conversations are punctuated with random silences (the women drop f-bombs quite liberally throughout the movie) and, for some maddeningly inexplicable reason, images of Durga and Kali have been blurred out. Even Hindu goddesses can threaten Indian culture, it seems.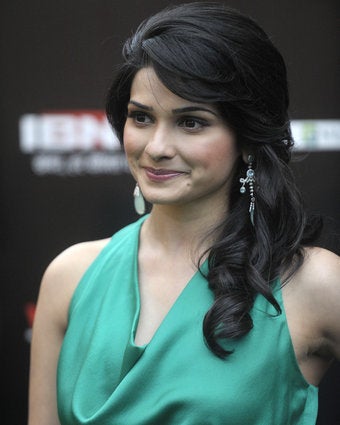 Indian Actresses With Great Style
Popular in the Community