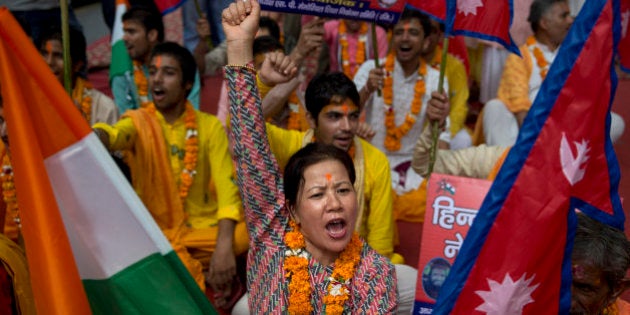 Nepal's cable federation said it would suspend Indian television channels and protesters marched in Kathmandu carrying an effigy of India's prime minister on Monday, accusing their neighbour of imposing an economic blockade and meddling in internal politics.
Tension between the South Asian nations has spiked since Nepal adopted a new constitution last week, upsetting southern minority groups who fear being marginalised in a new federal structure.
More than 40 people have been killed in protests in the Himalayan republic since August. Indian oil trucks stopped crossing into Nepal because of protests in the south, prompting authorities to try to limit the use of cars and save fuel.
Nepal is almost totally dependent on India for overland supplies following earthquakes in the spring that killed nearly 9,000 people and blocked crossings from China.
India has been critical of Kathmandu for rushing through the constitution, despite opposition from minorities living close to the Indian border.
On Monday, a few trucks carrying fuel, vegetables and building materials started to cross the border into Nepal but hundreds more were waiting on the Indian side, a customs official in Nepal said.
The Federation of Nepal Cable Television planned to suspend broadcasting of Indian channels in Nepal from 10 a.m. on Tuesday, Sunil Kumar Lama, the organization's general secretary, said on Monday.
"This is to protest against the blockade," Lama said. He declined to say how long the suspension would last.
Earlier in the day, protesters in central Kathmandu carried an effigy of Indian Prime Minister Narendra Modi and shouted: "Down with Indian expansionism! Down with Modi!" before police scattered them and confiscated the effigy.
"We are asking India 'Please, please open up the border and stop interfering in Nepal's internal issues'," said nursing student Amrita Baral, who was among 130 protesters in a second march headed for the Indian Embassy in Kathmandu.
A representative of India's Ministry of External Affairs declined to comment on the new protests.
Nepal's largest trading partner, India strongly denies a trade blockade, saying its trucks have been hampered from entering Nepal firstly due to security concerns and later because protesters were blocking the roads.
A Foreign Ministry spokeswoman said Nepal had asked China to hasten the re-opening of the two border crossings closed since the earthquakes struck.
Nepal started rationing fuel for vehicles on Sunday, said Nepal Oil Corp spokesman Deepak Baral, after trade ground to a halt at crossing points on the India-Nepal border.
Hundreds of trucks carrying food and fuel lined up on the Indian side, while opposition protesters on the Nepal side sat on the road to block their path.
Some trucks started to move across the Sunauli-Bhairahawa border crossing on Monday, a customs official in Nepal said, but more than 1,000 trucks were still waiting in India.
"(Indian customs officials) are telling me, 'We're giving permission, there's no problem,' but we are still seeing a huge decrease in the number of trucks passing through," said Lawanya Kumar Dhakal, Bhairahawa's chief customs official.
(Additional reporting by Krista Mahr and Rupam Jain Nair in New Delhi; Writing by Krista Mahr; Editing by Janet Lawrence)



Popular in the Community