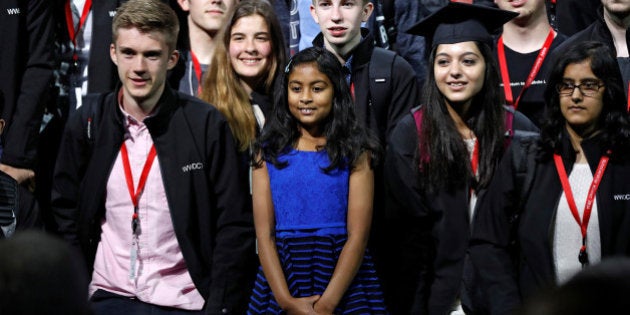 By any reckoning, being invited by Apple to attend their World Wide Developers Conference or WWDC, is a big recognition. But being a WWDC invitee at the tender age of 9 is just plain amazing. The just concluded WWDC's youngest attendee was an Australian girl of Indian origin named Anvitha Vijay. She impressed everyone at the conference so much that Apple CEO Tim Cook, and senior vice president of software, Craig Federighi, met her.
Vijay began on her app development journey at the age of just 7. She has never had any formal training and says that after watching videos on YouTube, she began developing apps on her own. Her first app was called GoalsHi, and it was meant to motivate children in the classroom. The app saw downloads that numbered in a few hundreds, and won a concept award of $10000.
Vijay went on to develop an app called Smartkins Animals to help her sister learn about the wildlife. The app shows many animals in a rapid succession that aids in quicker grasping. She also developed another version of the app, called Smartkins Colors, to teach kids about colours.
In an interview with FastCompany, she said that attending the WWDC and meeting Cook was a great experience. And, she now has Federighi's number in case she needs any help.
"What I saw here today was wonderful. The invisible ink and autotype are my favorite features that were announced. I also liked live photos which I can share with my family and friends," she said.
Since Apple developer license can only be granted at the age of 13, Vijay used her mother's Apple ID to register. Later she was granted her own ID as part of a scholarship program. Vijay, who wants to be an innovator when she grows up, feels that coding should be taught right from school level.
The biggest tech companies in the world are encouraging children to learn how to code. Apple released an app called Swift Playground to initiate coding basics for kids in a simple manner. Last month, Cook also advocated teaching programming at an early age. The founders of Facebook, Google, Microsoft and many other tech giants have invested in an initiative called Code.org towards this goal.
Here in India, 13-year-old Akshat Mittal developed a website called oddeven.com and then sold the wesbite to Orahi.com. Mittal now has a place on the Orahi board and plans to develop an anti-corruption app.