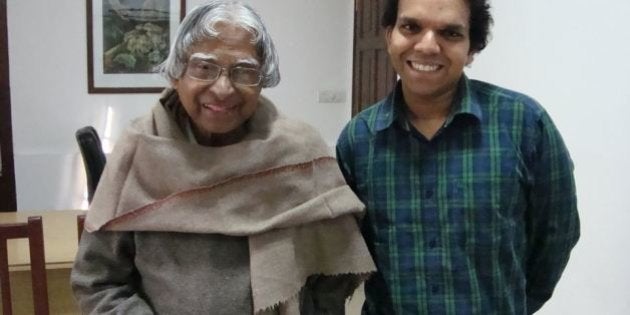 On Monday Twitter and Facebook was flooded with posts from users reminscing about former Indian President APJ Abdul Kalam who passed away at the age of 83 in Shillong after a cardiac arrest during a lecture at the Indian Institute of Management.
Srijan Pal Singh, an adviser to Kalam, was on the stage with him in Shillong when Kalam collapsed and was a witness to his final moments.
A gold medalist from IIM, Ahmedabad, Singh would accompany Kalam everywhere during his lecture tours. On Monday too, he was with Kalam as he travelled from Delhi to IIM, Shillong, where he was to give a lecture on 'Livable Planet Earth'.
In a touching post on Facebook that last night, Singh documented his memories and interactions with Kalam over the past few weeks.
Kalam was reportedly very worried about the loss of life in the terror strike in Punjab's Gurdaspur and said, "it seems the man made forces are as big a threat to the livability of earth as pollution."
"Thirty years, at this rate, maybe", he said. "You guys must do something about it… it is going to be your future world," Kalam had told Singh.
Kalam was also worried because of the continued disruption in Parliament last week. He told Singh, "I have seen two different governments in my tenure. I have seen more after that. This disruption just keeps happening. It is not right. I really need to find out a way to ensure that the parliament works on developmental politics (sic)."
He then asked Singh to prepare a surprise assignment for the students at IIM Shillong, which he would give them only at the end of the lecture. He wanted the students to suggest three innovative ways to make the Parliament more productive and vibrant. Then, after a while he said, "But how can ask them to give solutions if I don't have any myself (sic)?"
"Why is the security guard standing? He will get tired."
It was not for nothing that Kalam earned the respect and love of an entire nation.
"We were in a convoy of 6-7 cars. Dr. Kalam and I were in the second car. Ahead us was an open gypsy with three soldiers in it. Two of them were sitting on either side and one lean guy was standing atop, holding his gun."
One hour into the road journey, Dr Kalam was worried about the soldier who was standing. "Why is he standing? He will get tired. This is like punishment. Can you ask a wireless message to be given that he may sit?," he asked Singh.
Even as Singh tried to convince him saying that he may have been instructed to stand for better security, Dr Kalam refused to relent.
"For the next 1.5 hours of the journey, he reminded me thrice to see if I can hand signal him to sit down. Finally, realizing there is little we can do – he told me, "I want to meet him and thank him".
Later, when they landed in IIM Shillong, Singh found the security guard.
Kalam greeted him, shook his hand, and thanked him. Then he asked, "Are you tired? Would you like something to eat? I am sorry you had to stand so long because of me".
Moved beyond words at Kalam's compassion, the young and lean guard said "Sir, aapke liye to 6 ghante bhi khade rahenge" (for you I would stand even for six hours).
Singh said that Kalam was enthusiastic about the lecture and did not want to keep the students waiting.
"I quickly set up his mike, briefed on final lecture and took position on the computers. As I pinned his mike, he smiled and said, 'Funny guy! Are you doing well?'
"'Funny guy', when said by Kalam could mean a variety of things, depending on the tone and your own assessment. It could mean, you have done well, you have messed up something, you should listen to him or just that you have been plain naïve or he was just being jovial. Over six years I had learnt to interpret Funny Guy like the back of my palm. This time it was the last case," he wrote.
These were Kalam's last words. Two minutes into the speech, Kalam paused after completing one sentence. "I looked at him, he fell down," Singh wrote.
"We picked him up. As the doctor rushed, we tried whatever we could. I will never forget the look in his three-quarter closed eyes and I held his head with one hand and tried reviving with whatever I could. His hands clenched, curled onto my finger. There was stillness on his face and those wise eyes were motionlessly radiating wisdom. He never said a word. He did not show pain, only purpose was visible," Singh wrote.
The doctors indicated that Kalam was unresponsive. "I touched his feet, one last time. Adieu old friend! Grand mentor!," Singh wrote.
"Today, I look back – he took the final journey, teaching, what he always wanted to be remembered doing. And, till his final moment he was standing, working and lecturing. He left us, as a great teacher, standing tall," Singh wrote.
Read Singh's Facebook post here:
A few hours after Kalam's death, Singh, who will now handle his Twitter account, changed the name of and bio of the handle from 'APJ Abdul Kalam' to 'A Teacher Forever'.



Popular in the Community