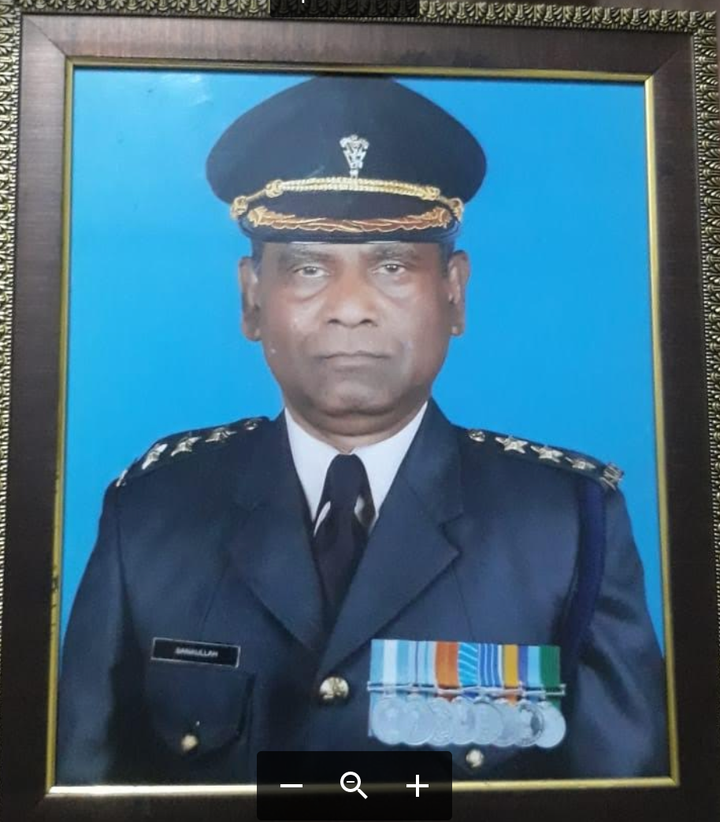 CHANDIGARH — The arrest of 57-year-old Mohammad Sanaullah, a Guwahati-based retired Subedar who served for over 30 years in the Indian army, made headlines as his case became a reminder of the bizarre process underway in Assam to root out so-called outsiders.
Sanaullah had been appointed Sub Inspector in a border police unit just a month ago, after due verification by the Assam police. On Wednesday, he was arrested under the Foreigners Act, 1946 and sent to a detention centre for foreigners or illegal migrants.
As per the Foreigner's Tribunal order dated 23 May, Sanaullah failed to prove that he is an Indian citizen by birth and hence declared a 'foreigner'. He has been categorised as someone who belonged to Bangladesh and entered Assam illegally after March 24, 1971— the cut-off date for citizenship as per the Assam Accord of 1985.
Sanaullah's family, on the other hand, has accused the Tribunal of forcing him to sign blank papers to record his date of joining the army and later comparing it with the voter's list of 1989, where his name was wrongly listed as Marjyo Ullah. Even though Sanaullah got this corrected immediately afterwards, the Tribunal refused to accept the recent voter list as an evidence.
The Tribunal identified him as a labourer who originally hails from Kashipur village in Dhaka, Bangladesh.
"Tribunal's decision was based on fake witnesses whom the family has been unable to trace till date"
According to Sanaullah's family, the police took his statement on two different occasions but the service records produced by Sanaullah show he was on duty in Manipur during both those both times as part of Operation HIFAZAT.
While pronouncing the order, a Tribunal member asked why Sanaullah's name was not recorded in the 1986 voters list as he was 20 years old then.
"As per the statement given to the Tribunal, Sanaullah mentioned his date of joining the Indian army as 1987 but the clerical staff recording it in shorthand mentioned it as 1978. Sanaullah was asked to sign a blank paper so that the statement can be typed later. Though we informed the Tribunal about the typing error, it refused to acknowledge the error committed by its clerical staff," said Azmal Haque, Sanaullah's cousin, who also retired as a subedar.
Later, while pronouncing the order, the Tribunal observed that since Sanaullah was born in 1978, he could not have joined the armed forces in 1987 as he would have been only 11 years by then.
"If I consider 1967 as the correct date of joining then why his name was not enrolled in the voters list of 1986 as already by then he has attained the age of 20 years," asked Pompa Chakravarthy, Member of the Tribunal.
The Tribunal also raised objection to the property mutated in his name by his father Mohammad Ali in 1977, as it could not have been done in the name of a 10-year-old child.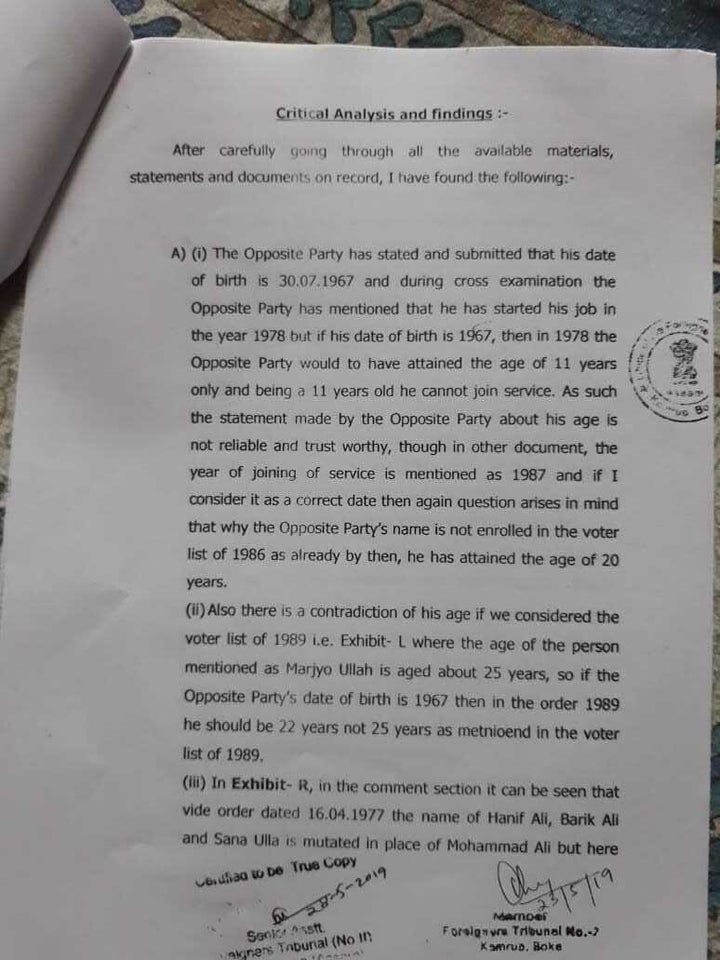 Among other objections, the Tribunal also questioned the age of Sanaullah's sister Daliman Nessa.
"The question is if the father had expired in 1973, i.e 46 years ago, how come the younger sister is 40 years ago? ," asked the Tribunal.
It also asked why only Sanaullah had been on the voter's list of 2005 and 2010 and not any other member of his family.
Even though Abu Bakkar Siddique, the present Assistant Headmaster of a government aided school in Champapura High School appeared in support of Sanaullah and stated that he personally knew him, the Tribunal refused to accept his claim as he did not recognise Sanaullah's father and did not produce his identity card.
Family cries foul, says fake witnesses planted
Azmal Haque told HuffPost India that the Tribunal's decision was based on fake witnesses whom the family has been unable to trace till date.
"We are searching for Amjad Ali who claimed to be a resident of our village and said he did not recognise Sanaullah. There is no one by the name Amjad Ali residing in our village. Another witness Shahbuddin said he did not appear (before the tribunal) and give a statement against my brother," said Haque.
The statement submitted by the police to the Tribunal says that during their investigation Sanaullah claimed he hailed from Kashipur village in Bangladesh and entered Indian territory with his father Mohammad Ali.
Haque also claimed that over 500 retired and serving personnel of the armed forces were presently facing trials under the Foreigners' Act by various tribunals across Assam. There are many soldiers among the over 40 lakh people excluded from the NRC list released on 30 July 2018.
The Assam Accord of 1985
The Assam Accord was signed with the Rajiv Gandhi government by student leaders and representatives of civil society bodies and a few political parties hailing from the majority Assamese community to end the six-year-long anti-foreigner agitation in the state.
The Boko Tribunal, which has the jurisdiction of Sanaullah's native village Kalahikash, is one of the 100 tribunals functioning in Assam, set up under the Foreigner' Act, 1946 to sieve through cases in which the state has questioned the citizenship of lakhs of residents.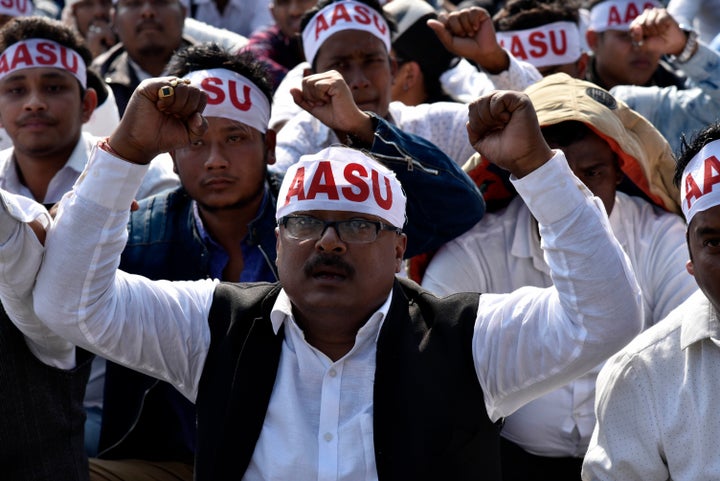 Will Sanaullah be sent to Bangladesh?
On May 10, Supreme Court of India passed an order to allow the conditional release of people declared foreigners and held in Assam's detention centres for over three years .
First, each detainee will have to provide surely of Rs 1 lakh each from two Indian citizens which will be forfeited if the detainee goes missing.
Secondly, they have to provide a permanent address which can be found after their release. Third, they will have to provide their biometric details and report every week to a police station specified by the foreigners' tribunals – quasi-judicial bodies set up to decide on questions of citizenship in Assam.
lastly, they have to update their new address as and when required to the relevant police station.