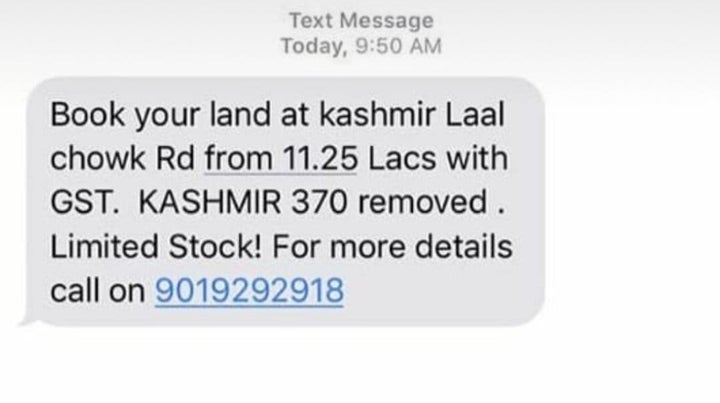 If there is anything that can beat the present government's penchant for disruption, it has to be the fake news factory of the country. No soon than Article 370 was scrapped, a sms offering land for sale in Kashmir at a price as low as Rs 11.25 lakhs started doing the rounds.
The SMS was shared, both exhorting people to buy land in Kashmir and berating the state of affairs in India.
When we called the number, it turned out to be the customer care number of Eden Realty, a major real estate group based out of Kolkata. The real estate company was found in 2003 and is headed by IIT Kharagpur graduate Sachidananda Rai.
According to its website, the group has collaborated with the West Bengal government on various projects including the building of a refugee rehabilitation center. In a joint venture with the government of West Bengal, the group is building Bonorini, a rehabilitation center for refugees. It has also built skywalks, solar plants and is behind housing projects across West Bengal.
The only locations listed under its current projects are areas in Kolkata and towns around the city — Bonhoogly, EM Bypass, Joka, Serampore.
A representative of the company said that they were not offering any land for development and sale in Kashmir. "There is no such offering and definitely not at that price. Anyone with some understanding of real estate can say the price is too low," the representative who refused to be named told HuffPost India.
She added that she did not know how this sms went 'viral' and said that the issue will be fixed soon. She also said they have been flooded with calls since the SMS started doing the rounds.