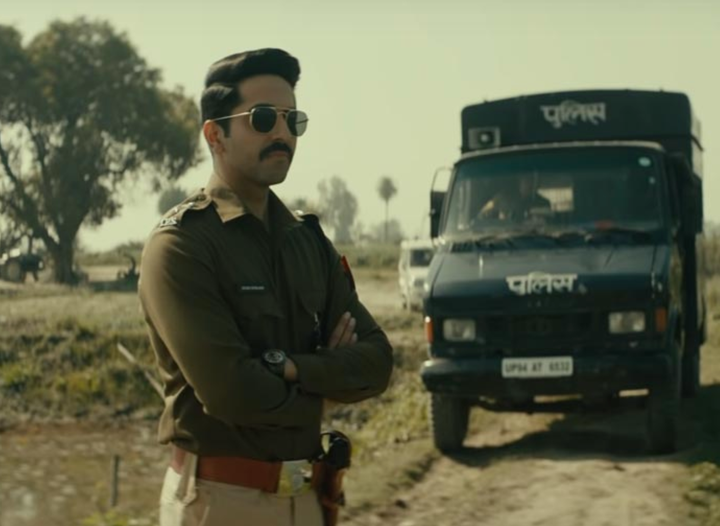 "The White Savior Industrial Complex is not about justice," Teju Cole, a Nigerian-American writer and art historian once noted. "It is about having a big emotional experience that validates privilege."
In Anubhav Sinha's Article 15, a foreign-travelled Brahmin policeman played by Ayushmann Khurrana, is plucked from Delhi and parachuted into a nondescript hamlet in Uttar Pradesh, a posting he describes as a "punishment."
Soon after his arrival, Khurrana's character Ayan Ranjan's liberal views on caste —of which he has only a cursory understanding — suddenly find tangible manifestation in a violent crime in which two Dalit girls are gangraped and murdered.
In the course of the film, Ranjan dives deep into the swamp of North India's caste terrorism, wards off pressure from Ministers and central agencies, shakes the apathy of his colleagues and subordinates, confronts his own blindspots, strengthens his relationship with his girlfriend, and comes out having completed the arc of The Hero's Journey—a quintessential cinematic template.
By the time Ranjan rescues a missing Dalit woman and carries her in his strong, Brahmin arms, the audience is primed for director Anubhav Sinha's camera as it lionises the conscientious cop for, well, doing his job at great personal risks.
In a nutshell, Article 15 seeks to address a societal crisis but ends up reinforcing many of the same ideas it seeks to challenge. The status quo remains mildly shaken but not bestirred: the Dalit must be both, brutalised by, and rescued by, the Brahmin.
At a cultural moment when there's much political interest in, and conversation about, caste and marginalised communities, Article 15 captures dominant caste apathy and indifference, but also offsets it by showing Ranjan, an extension of the privileged cinegoer, as the emancipator.
The film may be sincere in its intent of mainstreaming conversations around discrimination, but raises complicated questions about the ownership of stories and who has the right to tell those stories.
There are no easy answers, but there are patterns that inform us about how lived experiences percolate into fictional accounts and embed them with nuance. The difference in directorial gaze is visible in the narrative devices adopted by Nagraj Manjule, a Dalit filmmaker, in his film Sairat, and its Hindi remake, Dhadak, directed by Shashank Khaitan, who is Bania caste. This difference is also visible in the energy in Neeraj Ghaywan's Masaan, a film that portrays marginalised communities with a sensitivity that can be traced to its maker's intimate familiarity with the subject.
Does this mean a non-Dalit filmmaker cannot tell stories of Dalit oppression, or straight people cannot write queer narratives? Yet again, there are no easy answers.
Art must dismantle boundaries and craft a shared language of empathy, but this notion is harder to uphold in Bollywood: an industry dominated by dominant caste men who ensure that marginalised voices remain marginalised, while mining the collective traumas of these same communities for scripts.
Bollywood isn't a level playing field where everyone is free to tell the stories of their choice, it is a select club of a few people who decide whose stories are worth telling. Platforming a story would be enough if the participation of the very people whose story is being told wasn't a concern. But it is and it is an unresolved concern. As Teju Cole writes, "There is the idea that those who are being helped ought to be consulted over the matters that concern them."
Khuranna's character in the film, Ayan Ranjan, in many ways, is Anubhav Sinha's alter ego. And Sinha makes sincere attempts to contain his saviour complex by writing the character as an ally whose socioeconomic privilege insulates him from the horrors of caste and who wants to do something about it.
But ultimately, Article 15 succumbs to the temptation to give Ranjan the big emotional experience that validates his privilege while the Dalit woman, Gaura — played by Sayani Gupta — folds her hands in reverence. All of a sudden, Ranjan is transformed from privileged ally to emancipator, and Gaura does something she hasn't done before in the film — she bows a little.
For someone rooting for the film to win, this negates everything. But from Sinha's lens of privilege, this is perhaps a logical progression to the story: the world is wronged, and righted, by savarna men, while everyone else exists in the shadow of their benevolence.
Which raises a difficult question: If a Dalit filmmaker told this story, would he choose the policeman, under whose hands the community faces systematic brutalization, as the deliverer of justice, as a sympathteic emancipator?
For all its flaws, Article 15 employs a self-critical gaze, especially in its treatment of the all-pervasiveness of casteist attitudes.
The police station Ranjan works at is dominated by upper-caste men, with a few exceptions. Sinha and his screenwriter Gaurav Solanki craft scenes that make it clear how insidiously and explicitly institutionalised oppression works. It's in the arrogant gait of Bhramadatt (Manoj Pahwa), a character who's nicer to dogs than he is to his Dalit colleague.
That colleague, on the other hand, is always aware of where he comes from, the confidence afforded by his uniform constantly at battle with self-persecution. Is he speaking too much, is his tone too rude, should he leave the room when the Brahmin cop speaks in English?
Sinha's critique of Brahminical supremacy is unsparing. He preempts some arguments about representation by addressing them within the film's universe.
In one of the most powerful scenes in the film, an underground Dalit leader Nishad, played by a phenomenal Mohammed Zeeshan Ayyub, gets into a discussion with his old friend, an upper-caste cop. Their argument reveals Article 15 as a film interested in the psychological exploration of the specifics of oppression, rather than the broad strokes of discrimination.
As Nishad sits on the floor, the cop towers above him, painfully aware of his own complicity in enabling the oppression he was trying to deny.
As the film winds to a close, and justice — or at least the illusion of justice — is restored, there's a scene where Khuranna stands tall and claps as his subordinates sit and give him adulatory glances.
As you leave the theatre, that's the moment that sticks. Who was he really clapping for?
"The white savior," Cole notes, "supports brutal policies in the morning, founds charities in the afternoon, and receives awards in the evening."
Popular in the Community