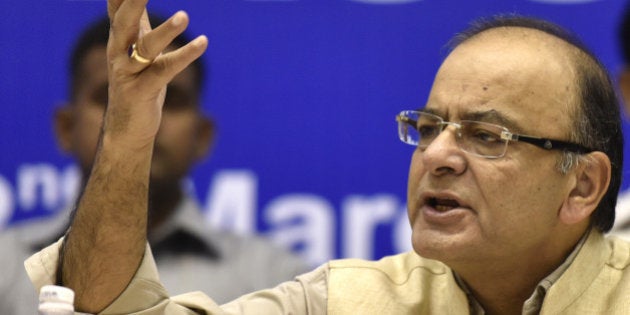 When Kanhaiya Kumar was released on bail after two weeks at the Tihar jail, the first thing he did was to go back to the place where it all began -- the churning campus of the prestigious Jawaharlal Nehru University. In a heartfelt speech, Kanhaiya said, "We are not seeking 'azaadi' (freedom) from India. We want 'azaadi' within India."
Kumar's speech gripped a nation, even overshadowing Prime Minister Narendra Modi's address in Parliament. On Sunday, Finance Minister Arun Jaitley said the BJP was engaged in an "ideological battle" with the JNUSU president, and that the student leader's posturing after his release from jail was a "victory" for the party.
"We have won. Those who were once shouting slogans for dividing the country are now raising slogans of Jai Hind and waving the Tricolour after their release from jail," Jaitley said in his address at the Bharatiya Janata Yuva Morcha national convention.
"Some people want to hold an event to commemorate Yakub Memon and some to commemorate Afzal Guru. Slogans were raised for breaking up the country," he added.
Kanhaiya was arrested on February 12 on sedition charges after anti-national slogans were allegedly raised at an event in the JNU campus held in memory of Parliament attack convict Afzal Guru. He was later sent to judicial custody for two weeks.
However, Jaitley's victory proclamation seems premature.
Kanhaiya, as evident in his speech, stood his ground. If one is to compare the two speeches-- the one before he was arrested and the one after--there's only one conclusion: Kanhaiya didn't back out.
In the speech before his arrest, Kanhaiya was unabashedly critical of the Modi government. But we hear him repeatedly swearing faith in the constitution.
Taking a dig at the Congress, Jaitley also said it was the misfortune of this country that Congress leaders "went to these people to express sympathy".
"The Congress had always been against those wanting to break up the country through the last 100 years of struggle between nationalist and anti-national forces, Jaitley said in his attack against Rahul Gandhi.
The BJP leader also cited several instances from history to prove that it is the "historical tradition" of communist forces to "divide the country" by speaking against the country's interest.
"Whenever this country faced any challenge, the basic confrontation has been between nationalist forces and communist ideology. When Gandhiji was leading the freedom struggle, then the communist leaders of this country said that Gandhiji represented feudalist forces. When Gandhiji raised the slogan of Quit India, the communist party of that time completely opposed the freedom struggle. When Independence came, their ideology was that we don't believe in democracy. Hence, communist ideology was that we will divide the country by violence and seize (power)," he said.
The JNU row is not a victory for the government, but probably a valuable lesson for it.