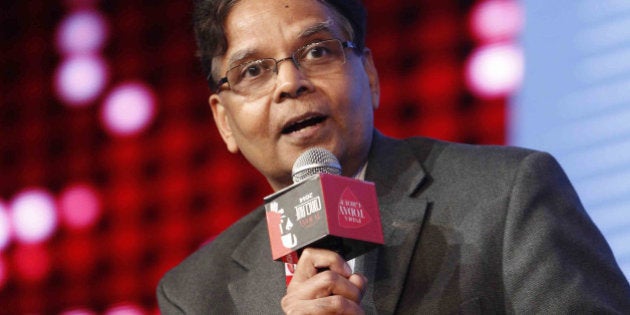 Columbia University economics professor Arvind Panagariya has been named the vice-chairman of Niti Aayog, the body that will replace the erstwhile planning commission. Economist Bibek Debroy and former Defence Research and Development Organization chairman V.K. Saraswat will be permanent members.
Union ministers Rajnath Singh, Arun Jaitley, Suresh Prabhu and Radha Mohan Singh will be ex-officio members, while Nitin Gadkari, Thawar Chand Gehlot and Smriti Irani will be special invitees, the government said in a statement.
The naming of Panagariya and Debroy to the new body signals the policy direction the Modi government intends to take. Both are well-known economists and advocates of free markets, light-touch regulation, choice and competition.
After the October appointment of Arvind Subramanian to the post of chief economic advisor to the government, these are the most significant addition to the government's brains trust.
They will likely champion the government's much-awaited reforms push, and will give inputs for finance minister Arun Jaitley's first full budget, which is due in February and carries the burden of high expectations.
He tweeted sportingly about it.
Am with doctor. No snide comments please. Appointment was fixed earlier. Hence incommunicado. While waiting, thinking of 7 answers.

— Bibek Debroy (@bibekdebroy) January 5, 2015
While former planning commission deputy chairman Montek Singh Ahluwalia had been chief economist at the International Monetary Fund, his successor Panagariya has held the same job at the Asian Development Bank.
62-year-old Panagariya is the Jagdish Bhagwati chair professor of Economics at Columbia University. Panagariya has earlier been a Professor of Economics and Co-director, Center for International Economics, University of Maryland at College Park. Holding a Ph.D degree in Economics from Princeton University, Panagariya has also worked for the World Bank, International Monetary Fund, World Trade Organization, and the United Nations Conference on Trade and Development (UNCTAD) in various capacities.
Panagariya was one of the most high-profile supporters of the Gujarat model and Modi's candidature in the run up to 2014's general elections. In a series of newspaper op-ed pieces, he had defended the Gujarat model. It was widely expected when Modi came to power that Panagariya's services might be enlisted by the government.
And while many of Modi's supporters among public intellectuals have recently sounded very concerned, Panagariya has been far more optimistic, although to be fair, his commentary is mostly limited to the economy.
His most recent column for Business Standard still sounds notes of optimism. He was mildly critical of the government's first budget, but now he will have an opportunity to shape its direction.
Debroy is among the best-known public intellectuals in India, having spent years as an academic and columnist. He is a polymath with interest in economics, law and regulation, among others. He is also a sanskrit scholar, currently working on a 10-part translation of the epic Mahabharata.
He is currently a professor at the Delhi think tank Centre for Policy Research.
Popular in the Community