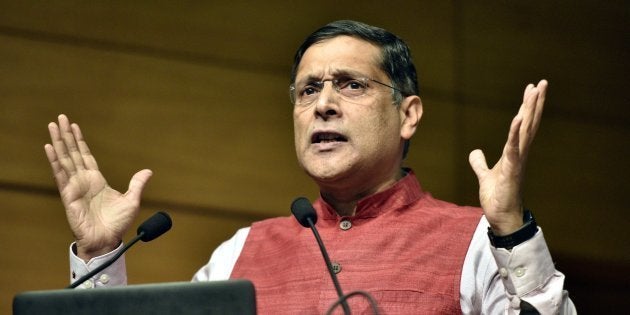 Former Chief Economic Advisor (CEA) Arvind Subramanian's upcoming book has already managed to garner a lot of media attention for calling demonetisation "a massive, draconian, monetary shock".
Subramanian, according to IANS, also says that he does not have a strongly-backed empirical view on the measure apart from the fact that the welfare costs, especially on the informal sector, were substantial.
In his upcoming book Of Counsel: The Challenges of the Modi-Jaitley Economy, Subramanian says, "The real GDP growth was affected by the demonetisation. Growth had been slowing even before, but after demonetisation, the slide accelerated."
The former CEA, according to IANS, also says in the book that he does not think anyone disputes that demonetisation slowed growth. Rather, the debate has been about the size of the effect, he adds.
This drew attention not just from the media, but also political parties, who took the chance to launch a scathing attack on the Narendra Modi government over demonetisation.
Congress said that Subramanian "finally reveals his true feelings about the destruction by demonetisation. Obviously criticising a decision by the supreme leader while in government would have been completely outside the realm of possibility".
Congress president Rahul Gandhi said demonetisation, like Rafale, was a crime against India and a huge scam. He also asked why Subramanian did not resign if he disagreed so much.
Apart from the Congress, Communist Party of India-Marxist (CPI-M) and the Trinamool Congress also took a dig at the government over the note ban.
Subramanian's previous statements on demonetisation
When he was the Chief Economic Adviser, Subramanian had preferred not to tell people what he actually thought of demonetisation. In an interview he gave Hindustan Times just before he left his post and returned to the US, he said, "That's something I will let others answer. I would not like to comment on it," in reply to a question on whether he thought the note ban was a mistake.
According to DNA, he never openly supported the exercise, but made a promise in 2017 that he would write a memoir in which he would disclose his views on demonetisation.
In 2017, PTI had quoted him as saying that demonetisation can be called successful only if the amount of currency in circulation comes down over time and there is an increase in tax compliance. Later, he had said that demonetisation only made a temporary impact on the economy but it should get better as remonetisation progresses.