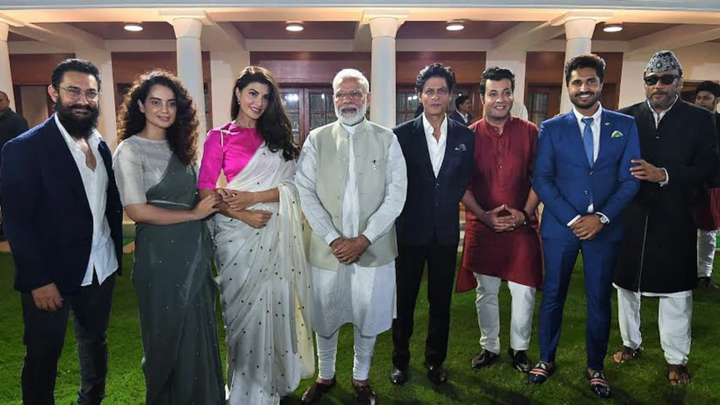 In an interview with The Guardian last year, Steven Spielberg revealed that he put his ambitious science fiction thriller, Ready Player One, on hold to make the relatively smaller film called The Post. Starring Meryl Streep and Tom Hanks, The Post documented The Washington Post's dogged determination to publish the Pentagon Papers, which would expose the shocking scale of the Nixon administration's cover-up about Vietnam and the extent the then US president went to get the story killed.
Spielberg said that he felt some urgency to make The Post because of the Donald Trump administration, headed by another Republican president perennially at war with the press and who mainstreamed the term #FakeNews. In contrast, while India's political scenario also seems ripe for inspiring filmmakers, most people in Bollywood seem happy to conduct business as usual.
If anything, Bollywood has been happy to hobnob with the Modi government, and turn out a slew of films praising the government's schemes. That's why it hit home hard for liberals when even actors such as Shah Rukh Khan and Aamir Khan, both of whom had spoken up about a rising culture of intolerance, succumbed to the lure of selfies with the Prime Minister.
This seemingly organic (it isn't) love affair between artists and politicians is deeply unsettling but it's the reality in which we live now: our actors and filmmakers, just like the media, don't want to shake the establishment, they're too busy issuing valuable character certificates to its key players.
From Toilet: Ek Prem Katha and Uri to the more unsubtle Prime Minister Narendra Modi, even the movies, barring a few exceptions, are essentially government pamphlets masquerading as cinema.
Which is why it was refreshing to see that 6 of the 13 short films screened in the Dimensions Mumbai category of the ongoing Jio MAMI Mumbai Film Festival dealt with subjects that have been alarmingly normalised. These were films directed mostly by students, as the category only allows applications from those between 18-25 years.
In Himanshu Nimbhorkar's 19 (1) (a), a young man speaks about the fear that has been subliminally instilled amongst people about speaking their mind. The film eventually concludes with a news report about a journalist's murder. After the screening, when the soft-spoken director of the film was asked if freedom of expression was under threat, he simply said, "How's there even a debate about this?" citing the example of Gauri Lankesh, a fierce critic of Hindu fundamentalism, who was murdered in September 2017.
In another film, titled Hey Ram!, a Hindu auto rickshaw driver's faith in his religion is challenged when a mob of men violently accost the Muslim passenger he's ferrying. The mob force the man, Farhan, to chant, 'Jai Shree Ram,' before letting him go.
If real-life reports were anything to go by, Farhan would have been lucky to escape in one piece.
"I decided to make this film after reading several news reports," said Yashwardhan Goswami, the director of Hey Ram!. "One night, while going home in an auto, I wondered—what if this happened to me? It scared me and I wanted to say something about it."
In Shubham Sanap's well-shot Attention, a group of men charge at an elderly school peon after he fails to stand up for the national anthem at a function. That he is prevented by ill health reasons is nobody's concern. Once again, a story that seems straight out of newspaper headlines.
Bombay 2024 (which is closer than it sounds) chronicles the story of three masked men who try to engage with and debate about rising radicalism, mob lynchings, and the censorship of thought that has engulfed Bombay in the near future. But they do so with their faces covered, as expressing their thoughts freely could cost them their lives. With a neat little twist in the end, the film doesn't feel like it belongs in the near future but the immediate present, where stories of people being arrested for Facebook posts and Twitter updates aren't uncommon.
"It's a global trend right now," director Aettreya Sen said. "Right-wing populism is on the rise and we're surely moving away from being a secular country. It's happening," the 25-year-old said.
Filmmaker Aryan Singh, a student at Whistling Woods, showed two films this year, both to do with the rise of the far-right in India. In Var Vadhu, a couple breaking up in a park is forced by members of a Hindu nationalist group to marry each other while in Vividh Bharti Ft. Rashtravaad and a Few Mobile Recordings, a right-wing student activist and his friends try to eject a Kashmiri student from their hostel after seeing an online post by him that offends them.
"Any form of expression is a reaction to everything that's going on around you. It's my way to critique and register dissent," Singh told HuffPost India.
Most of these films have modest production values, scratchy sound quality and are shot in an amateur manner. This isn't because of lack of skill or talent as much as it's due lack of resources. Most films have been self-financed and almost all directors said that they followed the 'Beg, Borrow, Steal,' formula, given that they're yet to become full-time professionals. However, none of that mattered, as the ideas were all there.
Does Singh, the young filmmaker, feel that as the stakes get higher, he'll eventually have to compromise on his ideals?
"I hope that doesn't happen," he says, cautiously. "In the West, they're a lot more free to make whatever they want. Here, that's not the case. For me, it was Anurag Kashyap's Mukkabaaz that worked as an inspiration. If he can do it on that scale, I'm sure some of us can do it as well, when we get there."