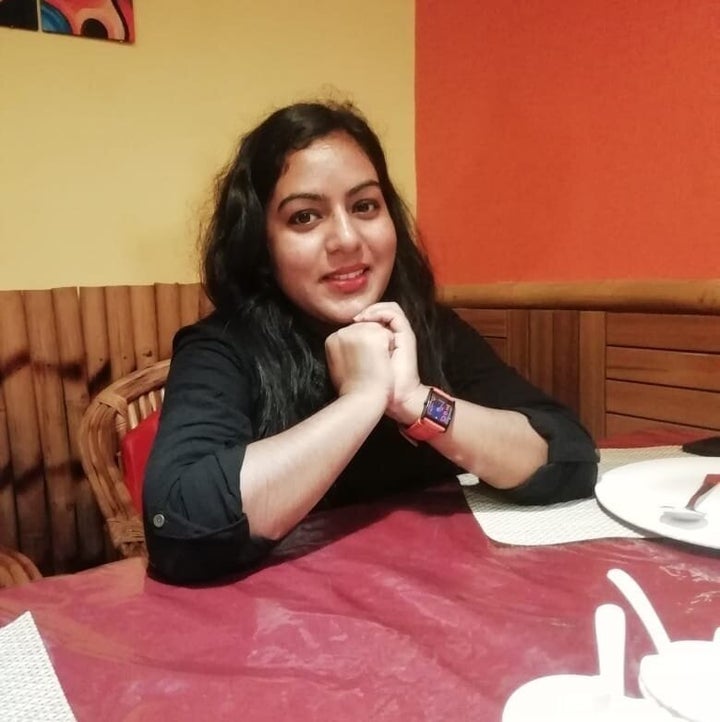 NEW DELHI — Noor Jaman, the 55-year-old headmaster of a school in Sontoli village, Assam took a few minutes to process the fact that his 27-year-old daughter's photo was being beamed on the television screen, while an agitated anchor accused her of being a "Pakistan-loving" "deshdrohi". It was Independence Day; Jaman switched channels, only to find another photo of his daughter Rehana Sultana, a research scholar at Gauhati University, on the corner of the screen. Meanwhile, a reporter breathlessly implied that she had links with Pakistan, and was trying to foment riots in Assam.
This was Sultana's worst fear, a close acquaintance of hers told HuffPost India.
"When her father rushed to her room in their house in Selesuti village in Assam's Kamrup district, shouting and shaking, she asked him to switch the television off," the acquaintance said. He, however, was still unaware that there was a police complaint against her daughter as well.
"Today, we are also participating in Pakistan's joy by gorging on beef! What I eat, depends on the interest of my taste buds! However, don't make yourselves the subject of controversy simply by talking about the taboo subject of 'beef'."
This was patently false. Sultana had posted the status two years ago in June 2017, after India lost a cricket match to Pakistan in the final of that year's ICC Champions Trophy. People familiar with the incident from two years ago told HuffPost India that Sultana had been posting about the match while she was watching and when India's defeat seemed imminent, she had even posted a status expressing how disappointed she was and wanted to switch off the TV and not continue watching the match.
After India lost, she put up this status as a sarcastic comment on the growing intolerance around the eating of beef in many parts of India.
A few minutes later, she deleted the post, and put up a long explanation and apology, after her friends told her that post could be taken out of context.
Nonetheless, the post came back to haunt her two years later. In August 2019, sentiments against Bengali-origin Muslims in Assam had reached a fever pitch as the deadline for the National Register of Citizens grew close. So when InsideNE raked up Sultana's now-deleted Facebook post, and faked its date and context; the web portal's editorial quickly went viral.
Hours later, a sub-inspector at the Jalukbari police station in Assam wrote to his superior claiming Sultana's post (which no longer existed) "may disturb the peace and tranquillity, hurt religious sentiment and cause communal clash".
By the end of the day, a case was registered against Sultana under Section 153 of the Indian Penal Code for attacks on a race or religion and Section 67 of the IT Act for obscenity. Lawyers familiar with Sultana's case told HuffPost India that the court instructed the police to not take her into custody. However, her acquaintances said the threat of imminent arrest hung over her for over two months until she finally got bail on October 23, 2019.
An article on InsideNE quotes the in-charge of the Jalukbari police station saying: "I personally went to her house to enquire about her whereabouts, but it seems like she has faded into the shadows; she is nowhere to be found. However, efforts are still on to locate her. She will be arrested once her location can be ascertained." The article also quotes Guwahati police commissioner Deepak Kumar saying Sultana would be arrested soon.
"Though the judges had instructed the police to not take her into custody, her family had said that 8-9 policemen and women had turned up at her village looking for her," Sultana's friend said. Sultana was not at home.
Sultana declined to comment on this story.
'PRO-PAKISTAN POST'
Sultana is a familiar face in Guwahati; well known in activist circles for her work amongst poor and disenfranchised Muslims living in Assam's 'chars' (temporary river islands).
Over the past year, she focussed much of her energy on helping Assam's most marginalised residents cope with the NRC's byzantine application processes. In an earlier interview with HuffPost India, Sultana had said that the poor and uneducated residents of chars could neither follow most instructions in forms and government documents, nor fill up forms, visit government offices to source proper papers and document them. She and other activists helped them do that.
She often used her Facebook account as a platform to raise awareness, and request for funds to support poor Bengali origin Muslims. A few days before the editorial was published she had been trying to collect funds for poor Muslims who had been summoned for the NRC's re-verification process on very short notices. She also collected donations and relief material for NRC applications who had met with accidents on their way to Seva Kendras.
Many pro-NRC campaigners were critical of her work and frequently circulated screenshots of the now-deleted post (from two years ago) to discredit her.
The day the editorial was published, Sultana was out distributing Eid care packages comprising basic supplies like sugar and soap to the families of accident victims because they couldn't afford them. She had also been posting photos of her visits and the victims on social media.
"This post is raising several questions: Who is this girl? What is her relation with India's arch-rival Pakistan?" the editorial said. "Why is she posting about her personal food preference in social media? When she tries to identify her with her food preference how can she warn others," the InsideNE article said.
The editorial went on to suggest that Sultana was a threat to national security, especially after the abrogation of article 370. "What is even more shocking is that this Ph.D scholar from Assam is apparently supporting Pakistan at a time when the neighbouring country's tension with India are at an all-time high in the wake of the abrogation of Article 370
"This is testimony to the fact that despite the local authorities' claim of cracking down against 'cyber criminals' and 'social media offenders', communal hardliners tend to get a free pass, more often than not. Another question that arises from this entire episode is that, does this not pose a threat to national security?"
Afrida Hussain, the editor of InsideNE, told HuffPost India that the article — that falsely accuses Sultana of posting the status on Bakr-Eid to foment communal tensions — still exists on the website.
"Yes, we have not taken it down," she said, adding that she carried the piece because she felt it was important to call out posts like Sultana's, who — in Hussain's eyes — make the Muslim community look bad. She also confirmed that the piece had gone 'viral'.
Hussain confirmed to HuffPost India that InsideNE did not reach out to Sultana before publishing their claims. She said Sultana had contacted them after the article was published, and had pointed out errors in the piece.
"I had asked her to write to us with her explanation, but she did not," Hussain said.
Three months on, the article has still not been edited, updated or corrected. Following a brief conversation, HuffPost India also sent Hussain a detailed questionnaire about the editorial process involved in publication of the 'viral' piece and the consequent follow-ups, but she has not responded yet. This article will be updated once she replies.
When HuffPost India pointed out that the post was live for just a few minutes two years ago and soon deleted, Hussain said, "You should not post such things at all, why should you post such things. If you make a mistake even once, people will obviously take screenshots and circulate this when it suits their purpose."
Assamese Muslims, Hussain said, had a 'unique' identity, whereas Sultana was involved with the Miya poetry which spoke about the alleged trials faced by poor Bengali-origin Muslims in Assam. Prior to this, Sultana and a group of other poets who wrote poetry in the Miya dialect had been slapped with multiple FIRs accusing them of disturbing peace.
"This is creating communal tension. We do not want that. We are now running a campaign against the Citizenship Amendment Bill so that real Assamese Muslims are not excluded from the NRC or are victimised in Assam," she said.
The editorial still claims, "The attempt to divide the people along religious lines on a pious occasion such as Eid, that too on the basis of food, can be seen as nothing but to instigate the people and turn Hindus and Muslims against each other."
SHAME AND FEAR
Various other news outlets, people familiar with the issue told HuffPost India, also made Sultana's old post a "breaking news" issue for days. InsideNE, posted 3 follow-up pieces.
They even demanded a comment from Gauhati University for a subsequent post. "At a time when communal strife is tearing the nation apart, some rabble-rousers continue to add fuel to the fire on social media platforms," the InsideNE article said, with no trace of irony.
"The multiple mass shootings across the United States, many of which were allegedly triggered by 'hate' spread on the internet, are testimony to the extent of hate and vitriol that can be spread through social media. Rehna Sultana, a Gauhati University P.hD scholar, born in Hajo of Assam, has also often been accused of inciting 'hate' on social media."
While Gauhati University declined to comment on Sultana's specific post, and said they didn't "encourage anti-India sentiments", various student leaders were quoted on the piece dissing Sultana.
"We are saddened because her name is associated with the University. How can she teach with such an anti-nationalist mentality?", a student leader called Nayan Jyoti Goi, "I, on behalf of the community, condemn her, and we are all utterly and thoroughly ashamed. An Assamese scholar should not be giving such opinions on social media. She has been causing trouble for some time, and urge her to be more careful in the future since she was born in this nation."
For now, Sultana has finally been granted bail, but her friends point out that the case against her is far from closed. The implications of the case on her career and prospects of finding employment aside, her friends pointed out that her family members in her village has found themselves completely unprepared at the face of this action against her. "Imagine police coming to look for a girl in a village. And explaining them a Facebook post and the case against them. They just assume that she is up to something criminal and shameful. Her father too had a difficult time fielding questions the village where his school is. Word had travelled that the police came to arrest the headmaster's daughter," the person said.
Popular in the Community