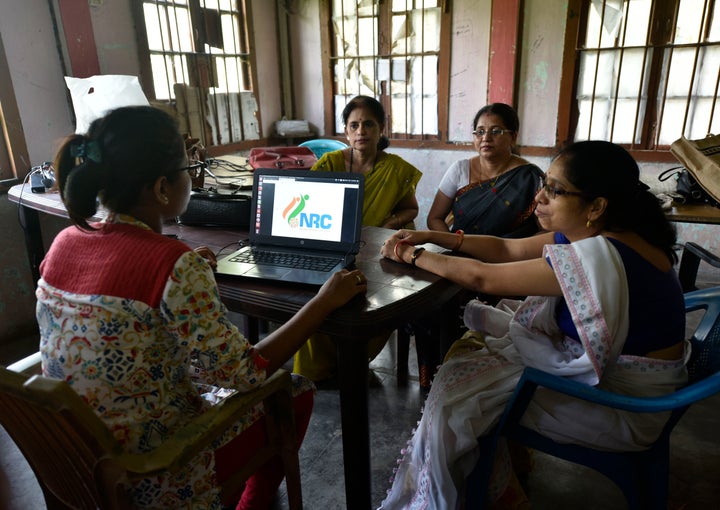 On Saturday, 31 August 2019, millions of people in Assam will find out whether they are in the final NRC list or not. Those lucky enough to make it to the list will be counted as "genuine Indian citizens", while the unlucky ones will get 10 more months to prove their citizenship before Foreigner Tribunals before being sent to detention centres.
The current process, which is being overseen by the Supreme Court, is an updation of the NRC first created in 1951. This time, people have been asked to prove that they, or their ancestors, were already living in Assam on 24 March 1971—a day before Bangladesh declared independence from Pakistan.
The draft NRC list, published in July last year, excluded over 40 lakh people, who then spent a year trying to cobble together documents to prove that they belonged to the state. As the painful, error-prone process winds up, there are still no clear answers to many questions, including what will happen after 10 months to the people left off the list.
Over the past year, HuffPost India has documented the upheavals caused by the NRC process, and the pain and suffering of the people caught in between.
Here's a reading list of our stories.
1. NRC Sketchbook: Ahead Of Deadline, One Final Rush For Inclusion In Assam: In her latest dispatch for HuffPost India, graphic novelist Parismita Singh maps the panic set off earlier this month after people in lower Assam—some of whom were in the draft NRC list last year—received summons for NRC verification, despite having faced several hearings already. While a network or organisations and activists stepped in to help, many vulnerable people with little money to reach their hearings in far-off places were further traumatized when their speeding vehicles got into accidents.
"But even in such dire times, the travails of these riverine people does not make for a narrative only of suffering and victimhood. It is also one of resilience."
2. One Parent In Jail, The Other Enslaved By Debt: The Lost Children Of Assam's NRC: HuffPost India's Piyasree Dasgupta's ground report detailed Assam's bid to root out foreigners has forced thousands of people into modern-day slavery. In a desperate attempt to pay the mounting legal fees to release their loved ones from incarceration, many have taken loans at cut-throat interest rates and ultimately pledged to work in fields for free. Many activists fear that like the foreigner tribunal process, the NRC will also turn into a witch-hunt aimed at the most vulnerable.
Ashraful Hossein, a social activist, told HuffPost India that he suspects that the people who will be left out of the NRC will create a vast, impoverished, easily exploited workforce who had been stripped of all constitutional rights.
3. Jailed At 6 For No Crime, Assam's 'Foreigner' Hunt Destroyed This Girl's Life: When the Biswas family returned to their home in Mayang after spending nine years in separate detention centres—6-year-old Kalpana and 2-year-old Archana were with their mother, while their father was in another camp—they found that everything had changed beyond recognition. The sleepy market which housed Dilip's bustling snack shop now had brightly lit shops, the roof of their house had given way in places and worst of all, Archana, now 11, refuses to speak to her father.
"I don't know him," she murmured, when asked about her father.
Kalpana, now 15, doesn't know how to read and write, as she couldn't study after reaching the camp.
The Biswas family was carted off to the camps after their village headman took revenge after an argument by alleging they were Bangladeshis.
Piyasree's terrifying story of the Biswas family's ordeal—and the foreigner tribunal process—offers a glimpse of what most likely awaits those left out of the NRC.
4. This Muslim Woman Was Hit With 4 FIRs, Rape Threats For Writing Poetry In Her Mother Tongue: When Rehana Sultana wrote her first poem in the 'miya' dialect, which she spoke at home, she felt shaken and raw. When she uploaded the poem on Facebook, she received many appreciative messages thanking her for writing it. Three years later, Sultana and her fellow miya poets are dealing with police FIRs and a barrage of threats and abuses, because their work is seen as a threat to the Assamese subnationalist project. The accusations against the poets—who have reclaimed the word 'miya', long used as a pejorative to refer to Bengal or Bangladesh-origin migrant Muslims in Assam—include promoting disharmony in Assam through their work. Through Rehana's story, Piyasree illustrated the larger cultural and political conflict over identity had intensified as the NRC deadline loomed over Assam.
'Mother, you hate me, because even though

I was born in your lap, I am that 'cursed Miya'.'
5. All Your Aadhaar Fears Are Coming True In Assam: HuffPost India found in July that the UIDAI was providing technical support to the Assam government to build a biometric database of residents excluded from the NRC. A review of documents showed that the sensitive biometric data of about 40 lakh individuals would be collected by the UIDAI, but remain under the control of the state's Home and Political Department, confirming fears that the infrastructure put in place to build India's controversial Aadhaar database was being leveraged by the country's security apparatus to put thousands of people under surveillance.
6. Assam NRC: Who Will Judge The Judges?: Parismita, in her NRC Sketchbook, pointed out how the Supreme Court's supervision of the NRC process—which gave many hope that the harassment by border police and Foreigner Tribunals would stop—was the elephant in the room no one was talking about. Reports of Chief Justice Ranjan Gogoi's involvement in the NRC hearings, she wrote, "gives us the impression of a man on a mission". When activist Harsh Mander tried to draw the court's attention to the inhuman conditions in Assam's detention camps, the court seemed more interested in asking why there weren't more people in these camps. After Gogoi's taunts at the government, more than 100 people were rounded up as foreigners and sent off to detention camps. Mander also filed an affidavit seeking Gogoi's recusal from hearing the case, due to his 'subconscious bias', but not only did that not happen, the court also removed Mander's name from the petition.
7. Lakhs Of The Most Marginalised Women In Assam's River Islands Risk Becoming Stateless: In August 2018, Rohini Mohan wrote about the particularl vulnerability of women in Assam's Char. One of these women is Rabiya. Owning no land, having never gone to school, having delivered all her children at home and not the hospital, and dependent on her son's ration card, Rabiya had barely interacted with the Indian government. For her, being Indian meant did not mean a right to electricity, healthcare or schools. It meant "flood relief" and "no attacks". Lakhs of women like Rabiya have had to rely solely on Panchayat certificates to prove they're Indian – however, officials tend to discount the document if the woman is a Bengali Muslim. "Verification without proper guidelines created a space for discrimination," said academic Parvin Sultana.
"Some people say they will send us to Bangladesh. Why? I am from here."