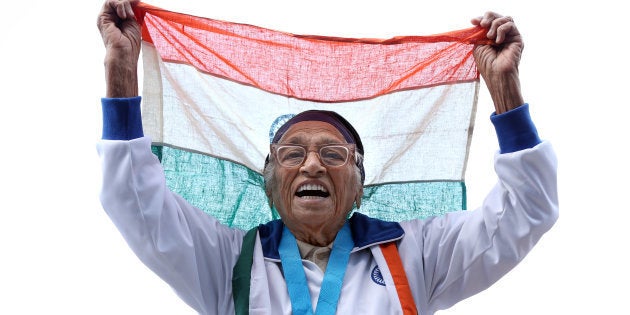 Man Kaur, a 101-year-old great-grandmother from Chandigarh, has won the 100-metre-run gold medal at the World Masters Games in New Zealand. This is the 17th gold medal for Kaur, who took to athletics at the ripe age of 93.
Kaur was the oldest competitor at the World Masters Games, an international sporting event that is open to athletes above the age of 25. The only competitor in her category, Kaur crossed the line in 1 minute and 14.58 seconds. She's not resting on her laurels yet though. She plans to compete in other events at the tournament, including the 200-metre race, shot put and javelin throw in the 100-plus category.
"Winning makes her happy," Kaur's 78-year-old son Gurdev Singh had told the Associated Presslast August, when Kaur won a gold medal. It was Singh who encouraged his mother to take up athletics in 2009, after he saw a 90-year-old woman competing at the World Masters Meet in Canada. She was 93 at the time and had no previous experience in sports.
"I was hesitant at first... but later on, I started enjoying running," Kaur told the Hindustan Times. Over the past eight years, she has competed in several international athletics events with her son and won 17 gold medals. She attributes her longevity to exercise and a good diet.
Kaur is in no hurry to retire. "I'm going to run again, I'm not going to give up. I will participate, there's no full stop," she told AFP after her win.