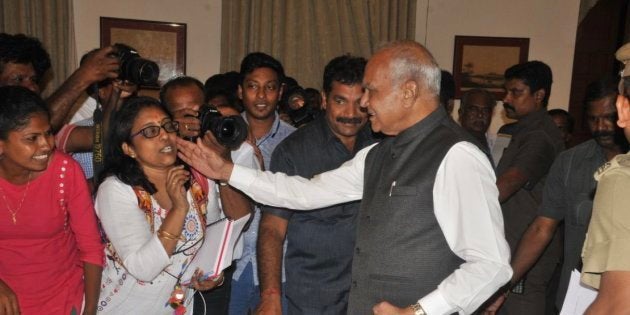 In a press conference on Tuesday evening, Tamil Nadu governor Banwarilal Purohit rebutted allegations that a sexual harassment scandal, at Madurai Kamaraj University (MKU), occurred with his knowledge.
When Lakshmi Subramanian, a senior journalist with The Week magazine in Chennai, asked him a question about the state of universities in Tamil Nadu, Purohit patted her on the cheek instead of answering her question.
"I want to say, yes I am agitated. Many may ask me to dismiss the entire episode saying, 'may be, this was a pat of appreciation' or 'a grandfatherly gesture'. But to me, Banwarilal Purohit is the governor of a state, and I am a journalist whose responsibility is to ask the right questions. I expect answers, not a pat on my cheek.

An act like this moments after he dismissed a barrage of questions about allegations of sexual misconduct against him, to me, is unprofessional behaviour. And, it is completely uncalled for to touch a stranger—a woman—without her consent."
Purohit has now apologised in a letter to Subramanian saying he had considered her question to be a good one and her patted her on her cheek as "as an act of appreciation".
Subranian said in a tweet that while she accepted the apology, she was not convinced.
Purohit had called the press conference to deny allegations that Professor Nirmala Devi, an assistant professor at MKU, had coerced students into providing sexual favours to professors in return for money and marks. In an audio clip circulating on Whatsapp, a voice attributed to Devi claims to "know" Purohit.
Journalists in Tamil Nadu have condemned Purohit's conduct and have demanded an apology.
"The manner in which the Tamil Nadu Governor behaved with a lady journalist at a press meet on 17-04-2018 is condemnable," reads a statement by the Centre of Media Persons for Change, a journalist's union. "This act brings shame to himself and to his position."
In a letter addressed to his office, journalists have drawn attention to the the Tamil Nadu Prohibition of Harassment of Women Act, 1998, which defines harassment as "any indecent conduct or act by a man which causes or is likely to cause intimidation, fear, shame or embarrassment, including abusing or causing hurt or nuisance or assault or use of force."
The offence is cognisable and non-bailable.
Purohit's remarks are part of a pattern. On March 15, Tamil Nadu's state Minister for Health, C. Vijayabaskar told a reporter that she was "very beautiful today" and that she "looked very good with spectacles on" when she interviewed him.
Vijayabaskar tendered an apology the following day, stating that all women journalists were his "sisters" and that he had made the sexist remarks simply to fend off her questions.
Journalists in Chennai are angry at the actions of the Governor as it comes on the back of the State Health Minister's sexist remarks.
"Violating a woman journalist's personal space does not reflect the dignity or the respect which should be shown to any human being."
"This patronising attitude by the Governor is shocking," said Priyamvadha, Deputy Editor with Today TV. "This sends out a wrong message that a woman journalist cannot pose tough questions. A pat of the cheeks and running away is a mockery because the Governor and journalists are on an equal platform."
"I wonder if he would have behaved in such a manner and evaded a question from a senior male journalist," Priyamvadha said, "I hope he knows that the law clearly calls this as harassment. We need an unconditional apology from the Governor. Previously a Tamil Nadu minister behaved in a similar fashion with a woman journalist. We want them to realise that in the changing global scenario those in power cannot set bad examples."
Rajya Sabha MP and Dravida Munnetra Kazhagam (DMK) leader MK Kanimozhi condemned the Governor in a tweet.
"Even if the intention is above suspicion, a person who holds a public office has to understand that there is a decorum to it and violating a woman journalist's personal space does not reflect the dignity or the respect which should be shown to any human being."
Editor's note: This copy has been updated to include Governor Banwarilal Purohit's apology.
Popular in the Community