New Delhi — Senior Bharatiya Janata Party leader Atal Bihari Vajpayee, who was presented the Bharat Ratna on Friday at his residence by President Pranab Mukherjee, was seen in public after many months, looking frail but wearing his trademark crisp, white kurta he used to be seen in while he was Prime Minister.
The consummate politician and orator suffered a stroke in 2009 and is mostly confined to his Krishna Menon Marg bungalow. Journalist Akshaya Mukul who visited Vajpayee a year ago, wrote the 90-year-old former Prime Minister is incapacitated by the stroke.
"He cannot grasp either the small print or the big picture of what's happening within the party he nurtured," Mukul wrote. Vajpayee has very few visitors these days, wrote Mukul, adding that LK Advani is among the handful who stay in touch.
Seen as a moderate in the BJP, Vajpayee's eyes were closed behind dark glasses, with a shawl lightly draped over his shoulder and covering one arm, in the photo tweeted by Rashtrapati Bhavan.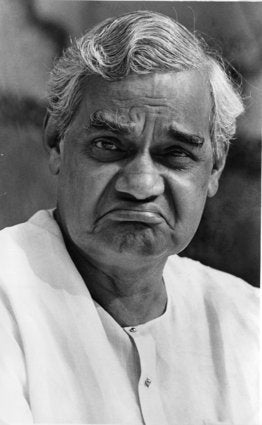 Atal Bihari Vajpayee's Life In Pictures