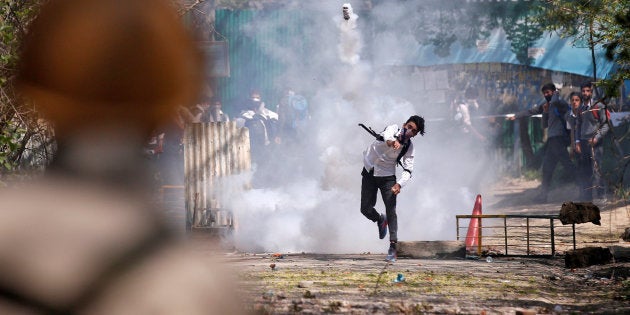 India's Attorney General Mukul Rohatgi yesterday joined voices with a section of celebrities, journalists and social media users to justify the use of a human shield by the army in Jammu and Kashmir, a practice internationally looked upon as a war crime and an unacceptable violation of human rights, saying that "peculiar situations require peculiar measures", according to several media reports.
"If you talk about this specific case (of a man being tied to an army jeep's bonnet as it made its way through Kashmir's Budgam district), several hundred people surrounded the polling booth which had about twenty people. These were officials from Election Commission, J&K Police and other security personnel. If hundreds of people surround a polling booth, God knows what will happen," Rohatgi was quoted as saying by India Today.
The attorney general said "the move was the best way to defuse the situation." A video that showed 24-year old shawl weaver Farooq Ahmad Dar strapped to the front of the army vehicle has sparked massive protests in the valley against the Indian armed forces, despite the army assuring that action will be taken against the guilty and Jammu and Kashmir government lodging an FIR against the 53 RR for the violation.
Rohatgi said the armed forces were working under tremendous pressure, and the Major who took the call to use Dar as a human shield should be praised and not criticised, according to Hindustan Times. Recently a video that showed paramilitary personnel walking past abusive Kashmiri locals, earned the forces great praise for showing restraint.
Army spokesman Lieutenant Colonel Rajesh Kalia said the video's authenticity was being ascertained, Reuters reported.
Reuters reports: Police fired tear gas to scatter students in Srinagar, the latest outbreak of protests since demonstrations last week after a botched by-election in which at least eight people were killed. Some colleges were forced to close.
Over the weekend two more videos circulated on social media showing workers of the ruling political party in Jammu and Kashmir renouncing mainstream politics, one of them beside a man wielding a gun.
Another video, allegedly showing the killing of a 17-year old by paramilitary officers during the April 9 by-election, has also stirred anger. Reuters could not confirm the veracity of the videos.
"Look at the fate of the stone-pelter," a soldier is heard saying over a loudspeaker in the video while Dar is tied to the vehicle. "This is a phenomenon that has been going on for the last 27 years," Khurram Parvez, a leading Kashmiri human rights activist jailed last year, told Reuters.
"This is not the first human shield case. What is different now is that this case has been documented, thanks to social media."
Dar's treatment was "unlawful and unacceptable" rights group Amnesty International said in a statement.
Meanwhile, the Centre has instructed the armed forces to use "non-penetrative" plastic bullets during crowd control, after widescale criticism of pellet guns that have maimed and blinded many.
As many as 60 students, including young women, were injured when they clashed with the police and paramilitary forces yesterday. Colleges, universities and other higher education institutes will remain closed today.
IANS reports: All examinations scheduled for today have also been postponed, an official said. Internet facilities were also suspended yesterday to prevent uploading of pictures from the protests by youths on the social media. Protesting against the assault on students in Pulwama, students across the Kashmir Valley on Monday took to the streets and clashed with the security forces.
The clashes occurred at eight places, turning the streets outside colleges into battlefields, witnesses and officials said. It was the biggest wave of student protests in the troubled valley.
Students of S.P. College blocked Maulana Azad Road in Srinagar against the army's action on students at Pulwama in south Kashmir on Saturday that injured more than two dozen students.
The army had entered the Degree College Pulwama then, leading to pitched battles with students who stoned the security vehicles. On Monday, the students rained a barrage of stones on security forces and police. The Station House Officer of Kothibagh police station was injured.
The security forces used tear gas and batons to disperse the students, who kept regrouping to engage the security forces. Students of colleges of Pulwama and Shopian in south Kashmir and Srinagar's Amar Singh College and Women's College M.A. Road shouted slogans in solidarity with the students of Pulwama.
Students from Kashmir University and Central University of Kashmir in Srinagar staged peaceful protests. In north Kashmir, students poured out of the Sopore Degree College in large numbers and shouted slogans against the assault on students. Some students resorted to stone pelting, leading to clashes with security forces.
Popular in the Community