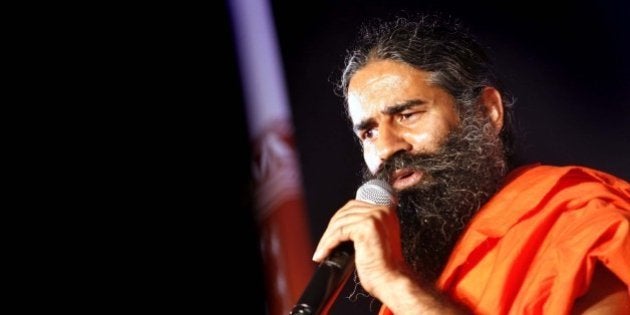 You may not have thought this was possible, but Baba Ramdev could have been the recipient of the Nobel Prize. Only, his skin colour held the not-so-noble Nobel Prize givers back. Also, the image of Baba Ramdev you have in your mind is just an optical illusion. It may not seem so in your eyes, but he is actually 'black'.
Baba Ramdev has now claimed that he was denied the Nobel Prize because he was 'black'.
That apart, he seems to have not heard of the several black political and cultural icons who have been awarded the Nobel Prize in the past.
In an interview given to news channel ETV, Baba Ramdev said that he would have received the Nobel Prize by now if it wasn't for his skin colour.
"If I would have been a fair-skinned person, the Nobel Prize would have been awarded to me by now for my work in the field of yoga. But it has been denied to me because I am black", Baba Ramdev said.
According to an Indiatimes report, Baba Ramdev was speaking at a yoga event in Ranchi, Jharkhand, in presence of the state chief minister.
Naturally, Twitter is having a gala time.
Baba Ramdev has alleged that racism is the reason he has never got a Nobel Prize

— Swachh Politics (@SwachhPolitics) November 7, 2015
Very soon Baba Ramdev is going to declare Nobel Prize as unsafe for consumption and will start making it at Patanjali.

— Mihir Bijur (@MihirBijur) November 7, 2015
I don't support Baba Ramdev in any of his patal initiatives. He will make his own Nobel prize, which every year will give Nobel to BRD only.

— actindia India No.1 (@actindia) November 7, 2015
Is a pity about Baba RamDev not getting the Nobel Prize. Maybe the govt can help though? They have a lot of awards to spare.

— Naomi Datta (@nowme_datta) November 7, 2015
So Baba Ramdev Ji almost won the Nobel Prize! Hmmm, that makes all of us 7.2 billion people of the world front-runners for the next one.

— Sanjay Jha (@JhaSanjay) November 7, 2015
Baba Ramdev deserves the Nobel Prize for launching Patanjali Maggi noodles with Churan masala in a short span of time.

— :Prachi L (@Prachi_licious) November 7, 2015



Popular in the Community