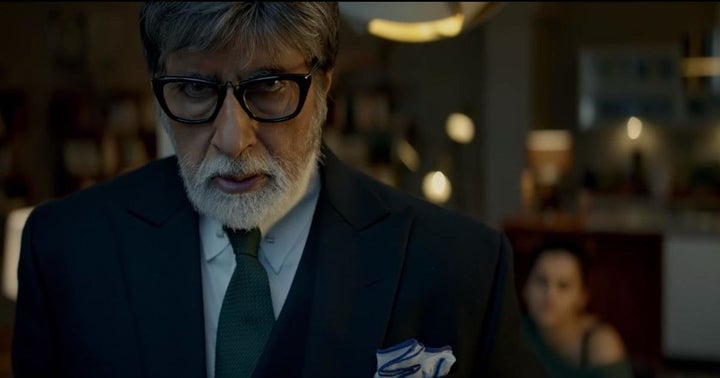 Sujoy Ghosh, whose breakthrough hit, the Vidya Balan-starrer Kahaani cemented his position as a master storyteller, is back in peak form with Badla, an edge-of-the-seat revenge drama starring Amitabh Bachchan and Taapsee Pannu.
As any specific detail about the plot would potentially hint at spoilers, here's what can be told about the story: newly successful businesswoman Naina Sethi finds herself embroiled in a murder case after she's found to be the only person next to a crime scene. Sethi pleads innocence and ropes in star lawyer Badal Gupta (whose first name is an anagram of the film's title) to wriggle her out of the life-damaging situation.
In Badla, Ghosh lays out a neatly intriguing premise.
Pannu and Bachchan meet at the former's residence where Bachchan expertly eggs his client to reveal the last detail - he cannot defend her truth unless he knows it in its entirety. Pannu, initially skeptical, begins to tell her story and that's the catch. It's her story, told from her perspective. Bachchan's job ― he's a retired advocate who hasn't ever lost a case and has come out of the slumber one last time ― is to vet her story and tighten all the loopholes.
Ghosh and editor Monisha R. Baldawa use flashbacks seamlessly to jump back into the past and the present as the filmmaker pieces together a narrative that gets increasingly complex, deliciously messy.
More and more characters are introduced, like the parents of a character that has disappeared (Amirta Singh, Tanveer Ghani) and Pannu must ensure she isn't getting further embroiled in a crime she hasn't committed in the first place.
Guilt is easy to prove, it's the innocence that takes a lifetime to establish.
Ghosh, a fascinating storyteller, keeps the proceedings consistently tense, as the versions take a Rashomon-esque turn, with the viewer second-guessing and questioning the truth being fed.
Avik Mukhopadhyay shoots the English countryside with melancholic hues, painting his frames with bleak, overcast skies that further heighten the character's moral ambiguity while the background score remains appropriately understated without getting overdramatic.
A remake of the Spanish thriller, Contratiempo (it's available on Netflix), Badla is taut, thrilling, and clever, although it could've done with a slightly shorter running time.
After a point, the twists, which drop every few minutes, do start feeling a bit contrived, although a delicious turn and an unexpected move, keeps one consistently enthralled.
This is a film that is as performance-driven as it's plot-driven and the film's two primary characters - Bachchan and Pannu ― are incredible as one team that's, weirdly, in opposition of each other.
Although consistently well-performed, it's Amrita Singh who is the real winner in the drama. Singh, who has always excelled in every role, reveals remarkable control over her craft as she shifts between a grieving mother and a deeply vengeful woman.
Intellectually stimulating, Badla is a finely-crafted thriller, one that's both, uneasily tense and deliciously entertaining. It also keeps drawing in parallels with Mahabharata, a great storytelling device, where the filmmaker is constantly dropping clues to the audience.
The trick is to decode them before the film does it for us.
Popular in the Community