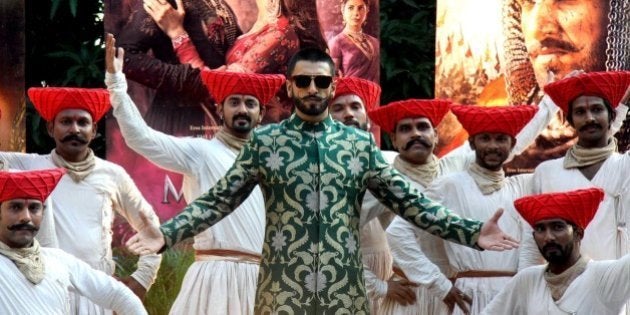 BENGALURU -- Every time Mahendra Peshwa thinks of the lyrics of the song 'Malhari' from Sanjay Leela Bhansali's upcoming historic drama Bajirao Mastani, he shudders.
"It is unimaginable to think that Thorle Bajirao would use words such as 'Dushman ki waat lavli'," he says, his voice dripping with contempt.
In a phone interview with HuffPost India, 52-year-old Mahendra, the ninth descendant of Bajirao Peshwa, told us about why members of his entire family are disappointed with whatever little they've seen of Bhansali's upcoming epic, releasing on 18 December.
"I understand filmmakers taking cinematic liberties, but what I don't understand is the inefficient research leading to gross historical inaccuracies," said Pune-based Mahendra who works as a consulting engineer and contractor.
Last week, his uncle, 78-year-old Udaysinh Peshwa, the eighth descendant of Bajirao Peshwa had held a press conference and claimed that the promos and songs from Bhansali's yet-to-be-released film were 'misleading'.
"We haven't seen the movie yet but the promos are very misleading. For example, the song 'Pinga' features Mastani and Kashibai dancing together. That is impossible, and has never happened in history," he said, according to PTI.
Kashibai and Mastani were Bajirao's wives.
Awais Bahadur, heir of Mastani, also said that the makers did not consult the family before making the film.
"Has there ever been a king in India who made his wives dance in his court? They should've consulted us before making the film. We don't want to ban it, show us the film, remove all the objectionable shots and then release it," Bahadur told PTI.
"Wives in the Peshwa family never showed skin. Especially Bajirao's first wife Kashibai, who had been married to him for almost 10 years before he met Mastani, had never been seen without the traditional nauvari sari draped in a way that showed no skin, with the shela covering both her shoulders," said Mahendra.
"In the song 'Pinga', you can see them dressed like they are dancing to the tunes of a lavani (a Marathi dance form mostly focussed on erotic sentiments and double entendre)... You can call it an item song only," he said, scoffing.
Mahendra added that, according to history, Kashibai and Mastani have supposed to have met only once -- that too during a formal visit to the temple.
One of the other inaccuracies that Mahendra observed in the official trailer of Bajirao Mastani was the fact that Kashibai and Radhabai (Bajirao's mother) are shown giggling and laughing together.
"Radhabai was a very serious, strict woman. She was brave, ran the entire Peshwa household by herself and was known to keep everyone on a tight reign. In fact, it is said in our family that even her daughter-in-laws had to make an appointment to see her," Mahendra explained.
He was also horrified by the fact that Radhabai, who was a widow, was shown in a white sari with her bare bald head.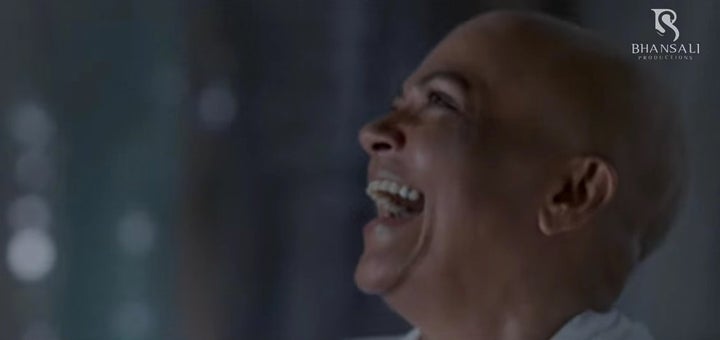 Tanvi Azmi as Radhabai, Bajirao's mother
"Widows in those days wore only red. They took the pallu of the sari in such a way that not an inch of their bald head would be seen by anyone," Mahendra said.
It was a customary Hindu tradition in Maharashtra and other parts of India for women to shave their heads completely after the deaths of their husbands.
Mahendra, who, along with his family had visited the sets of Bhansali's film said that one of the things that him and his family were content about, was showing the strength of Bajirao Peshwa's character in a colourful manner, albeit with the help of special effects.
"Well, to say that I visited the 'grand sets' would be a bit too much, because all we saw was tents and other make-shift stuff in Goregaon Film City [in Mumbai]. But we are at least pleased with the grandiose nature of the film. We must give Bhansali that," Mahendra said.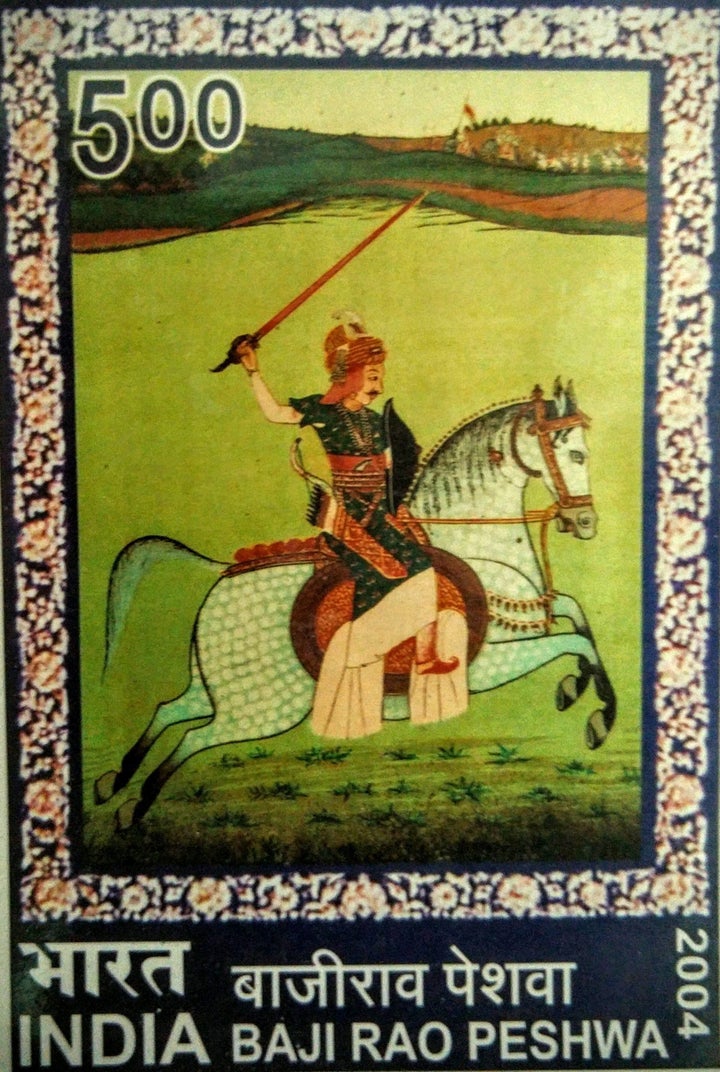 An Indian postage stamp depicting the image of Bajirao Peshwa
Mahendra also added that him and his family had a little chat with Prakash Kapadia, who has written the screenplay for Bajirao Mastani.
"He had assured us that the storyline of the film was in keeping with the historical facts, but now we know better," he said.
In fact, according to a PTI report, social activist Hemant Patil, president of Bharat Against Corruption, has approached the Bombay High Court seeking stay on the release of the movie until the two songs -- 'Pinga' and 'Malhari' -- are censored. According to Patil, the picturisation of both songs distort facts and history.
"The filmmaker has tweaked facts under the pretext of artistic licence. There are various historic evidence as well as several letters from the descendants of Peshwas which prove misrepresentation in the name of creativity," claims the petition.
But Mahendra was sceptical enough to know better.
"Of course, a disclaimer will be added at the beginning of the movie, and all our questions, objections and problems with the storyline will go down the drain," he said.
Mahendra also wondered why any legal permission wasn't required from the heirs of great characters such as Thorle Bajirao to adapt their histories in any artistic format.
Speaking to HuffPost India, retired District and Sessions Judge Jagadish Shanbhag said, "It is because they are now national personalities. Their lives and stories have become a part of the Indian culture. That's why one can make films or write books on great people such as Mahatma Gandhi and Shivaji Maharaj without needing a permission from their heirs."
But Shanbhag also added that the prerogative of suing the filmmakers -- if facts are distorted or presented in an offensive manner -- always remains with the families.
The movie, based on the Marathi book Rau, has been directed by Bhansali and stars Ranveer Singh as Bajirao, Priyanka Chopra as Kashibai, and Deepika Padukone as Mastani. It is slated for release on 18 December.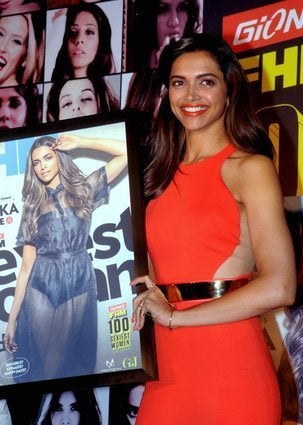 Deepika Padukone's Best Style Moments
Popular in the Community