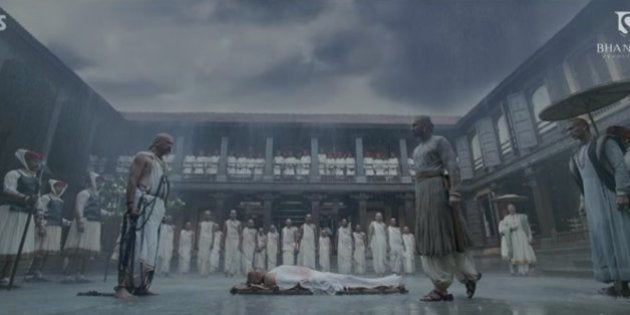 When everything is loud, nothing is loud.
I can't remember where I've read (or heard) this before, but to me, it's one of the most vital guiding principles for good sound design — which, in turn, is an aspect of film whose contribution to the impact a film has on a viewer is often grossly underestimated. Sanjay Leela Bhansali, a veteran filmmaker who once studied at India's best film school, must surely be aware of this.
Which is why it's strange how he pretends he doesn't in his latest mega-budget outing, Bajirao Mastani, which eschews silence for most of its running time like a corrupt builder avoids the income tax department. Sanchit Balhara's background score is nicely orchestrated, but dominates the film's soundscape along with badly mixed-in battle sound FX a little too strongly. If you feel strangely exhausted when you walk out of this movie, you know what's to blame.
A two-and-a-half-hour costume drama dedicated to the apocryphal love story between the great Maratha general Peshwa Bajirao (Ranveer Singh) and the Rajput-Muslim warrior princess Mastani (Deepika Padukone), Bajirao Mastani is a loud, clunky melodrama that is largely interested in providing derivative cinematic thrills whilst pretending to be lyrical and meditative. That said, however, it is also often visually-arresting (aside from when it isn't — more on that later) and romantic enough to sustain interest.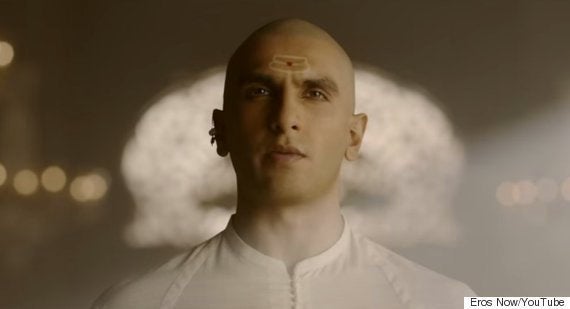 Ranveer Singh as Peshwa Bajirao in a still from the movie
A disclaimer in the beginning absolves the film of historical accuracy — something that the Peshwa's living descendants have objected to — and it's the right choice: let the film about what is already fable-like be a fable, after all. What Bhansali attempts here, then, is a quintessentially Indian tale — that makes admittedly thoughtful and still-relevant observations on Hindu-Muslim relations — by way of modern graphic-novel-based cinema.
Bhansali's famed opulence is visible in every frame of this film. You can see it in the depiction of Pune's Shaniwar Wada, which looks like it could be the setting for a wuxia film. You can see it in the chandeliers, sheer curtains, necklaces, sarees, jewellery, and every other minute detail that Sudeep Chatterjee's camera can fit within a frame. Yes, when we're indoors, everything does look like a set, but it's possible to cast that feeling aside and admire the sheer work that seems to have gone into it.
The problems occur in the film's exterior shots. Beautifully-graded-and-composed shots give way to often-awkward green-screen work and obvious light sources, breaking the movie's spell rather rudely. An epic battle sequence in the beginning would've been more rousing if the lighting hadn't looked as fake. Some of the CGI work is competent; but then, there are scenes that look so embarrassingly bad that you wonder why a supposed control freak like Bhansali would keep them in the final cut.
The story hangs upon the love triangle that also involves Bajirao's wife, Kashibai (played by Priyanka Chopra), who suffers the ignominy of him bringing home another wife (who is part Muslim, to boot, a fact that greatly angers Bajirao's widowed mother — played superbly by Tanvi Azmi). Her moral righteousness is up against Bajirao-Mastani's powerful chemistry (what great fortune to be able to get B-town's hottest real-life couple to play these roles). However, unlike in Bhansali's last film Goliyon Ki Raasleela Ram-Leela (2013), where Singh and Padukone displayed smouldering sensuality, the love between the two is depicted here in a genteel manner.
Bajirao Mastani is a loud, clunky melodrama that is largely interested in providing derivative cinematic thrills whilst pretending to be lyrical and meditative. That said, however, it is also often visually-arresting and romantic enough to sustain interest.
The writing by Prakash Kapadia, whose screenplay is based on Nagnath S Inamdar's Marathi novel Rau, is one of the film's weaker links. After Bajirao accepts Mastani as his second wife, the story essentially takes us through years of the two of them dealing with his family's non-acceptance of the relationship. He is initially consumed by dreams of leading the Maratha Empire to victory over the Delhi Sultanate and rule the entire country; yet, according to the film, he abandons all of that rather conveniently once Mastani comes into his life — strange and not justified well enough by the script, given that they're both shown to be exceptionally hot-blooded warriors. The passage of time is told to us through dialogue — never shown, never felt. Speaking of dialogues, they're somewhat painfully formal throughout, in keeping with the strictest tradition of period films. However, it's during other stray moments, such as one in which Kashibai and Bajirao's mother share a bittersweet laugh, that the writing displays more spark.
Bhansali's Bajirao is shown to be a great and astute warrior a la Amarendra Bahubali. Singh plays him with the same kind of manic energy he is known for in real life, only bottled-up and occasionally allowed to explode in fire-hydrant-like bursts. Employing a competent-enough Marathi accent, the young star delivers a showy-but-undeniably-impressive performance, allowing his inherent eccentricity to seep into his character. It's safe to say that no other mainstream Bollywood actor could've done justice to the role as well as he has.
Mastani is played with stupendous elegance and wide-eyed idealism by Padukone, who it seems can do little wrong at this point in her career. She is captivating, with a highlight being the detachedly ferocious manner in which she fights attackers off with a sword in one hand while the other protects her young son, who is clutching her tightly in fear. At the same time, she shines in Bhansali's most obvious tribute to K Asif's Mughal-E-Azam (1960): the song 'Deewani Mastani', a beautifully-shot, wonderfully composed song that is easily one of the film's highlights.
Another highlight is the song 'Pinga' — mercilessly criticised by a colleague for being all-over-the-place historically — which offers viewers the joyous spectacle of Chopra and Padukone matching steps a la 'Dola Re Dola' from Bhansali's own Devdas (2002). It's a fantastic moment for Chopra, who holds her ground admirably against the other two, despite being saddled with a one-note character.
Sadly, despite getting enough things right to pass muster, Bajirao Mastani nearly comes undone in its waning moments, choosing to culminate with an overwrought climax sequence ruined further by lacklustre CGI — imagine that scene without sound and it could be a Depeche Mode music video from the '80s. At this point, it seems apparent that Bhansali is throwing everything at his disposal on screen, perhaps worried that the moment won't be 'big' enough.
Had he placed more faith in his own story rather than worrying about impact, he might've made a film that lived up to his own vision. As of now, Bajirao Mastani can be considered an admirable attempt, but a shadow of the film it could've been.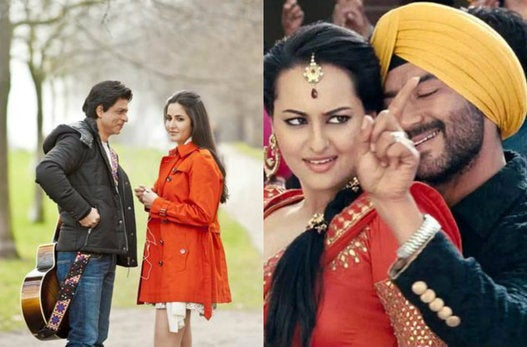 8 Epic Diwali Box-Office Clashes In Bollywood
Popular in the Community