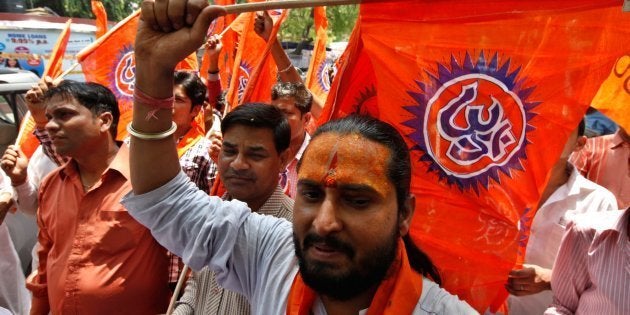 Members of the firebrand Hindutva outfit Bajrang Dal stormed into a wedding of an inter-faith couple at a district court in Meerut, Uttar Pradesh, on Wednesday. Their initial charge: the girl in question is a minor. Within hours, it was modified to accusations of 'Love Jihad' towards the bridegroom, Saddam, who is a 25-year-old labour contractor in Faridabad.
Originally a resident of Shamli, Uttar Pradesh, Saddam was charged by Balraj Doongar, the state convener of Bajrang Dal, with luring his "minor" girlfriend away, though 21-year-old Krishna, for whose protection all this was done, had a different story to tell.
A resident of Greater Noida and a dropout from a BTech programme, she denied that she was abducted, as her uncle had told the police in a complaint filed under Section Section 346 (wrongful confinement) of the Indian Penal Code. On the contrary, Krishna said she had decided to marry Saddam of her own accord.
Doongar, however, couldn't be satisfied with this explanation. "We are proud that we did not let a Muslim boy manipulate a Hindu girl into marrying him. We would never let Muslim boys marry Hindu girls," he told The Hindu.
The prevention of "Love Jihad", which is a derogatory term used by the right-wing to describe inter-faith marriages, is an agenda that is close to the heart of the ruling dispensation in the state. After Bajrang Dal activists clashed with the police for not siding with them, the case was handed over to the Haryana police.
The case is the second of its kind in a span of a week in Uttar Pradesh, where, in an earlier instance, an inter-faith couple were assaulted by Bajrang Dal workers in Hapur, in the western part of the state, for renting an accommodation together.
Since Yogi Adityanath was appointed the chief minister earlier this year, Uttar Pradesh has seen several measures to "protect" women, including the formation of vigilante groups called "anti-Romeo squads" that operated like moral police.
After complaints about the overreach of these groups, these were re-organised into Nari Suraksha Bal, task forces for the safety of women. But in their zeal, these custodians of law and order have gone too far and curtailed the freedom of both women and men.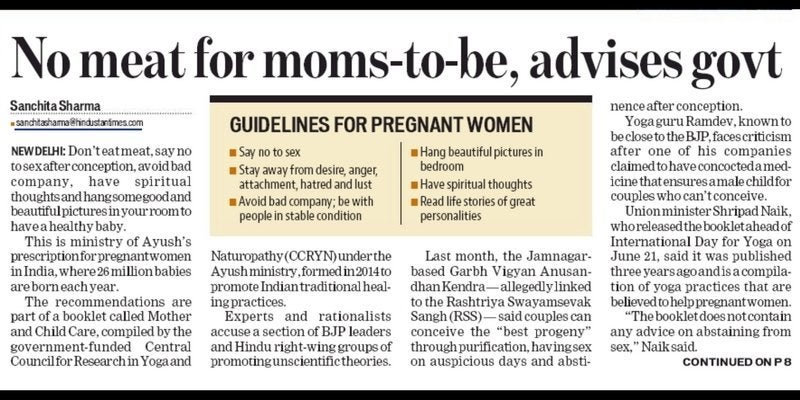 How Different Newspapers Covered The Ayush Ministry's Advice To Pregnant Women