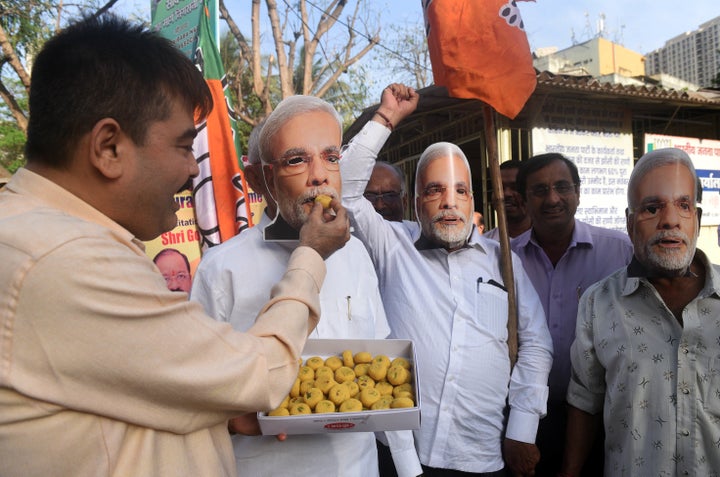 NAGPUR, Maharashtra—At 2 pm on Wednesday, former Bajrang Dal leader in Nagpur and now an assembly segment chief of the Bharatiya Janta Party's (BJP) youth wing, Adarsh Patle, was ecstatic.
"The country is in safe hands. Ram temple can be built later on but the security of the country is of more importance and Modiji has proved that he can protect the country and can give a befitting reply to Pakistan," Patle told HuffPost India at the time.
Jadhav and Patle, both agreed that their party's narrative would shift in campaign after the airstrikes. "Of course, this will be the major plank of the campaign now. It will, in fact, dominate the campaign," Patle said.
By 4 pm Jadhav was visibly dejected after seeing a picture of an Indian fighter pilot in Pakistan custody. "This should not have happened. How did they manage to capture him? They are thrashing him. These images are really disturbing," he said.
WhatsApp groups run by the BJP also witnessed similar slide from jubilation to confusion and silence in the last 48 hours. Their confusion suggests that Pakistan's relatiatory incursion, and the capture of an Indian pilot, has made the narrative around the Balakot strikes far more complicated than the BJP had first assumed.
While the 2016 strikes in Uri, to which Pakistan had no public response, provided the perfect electoral plank for Narendra Modi and the BJP, Balakot might prove harder to sell to an electorate that has grown sceptical of some of Modi's more over-blown claims.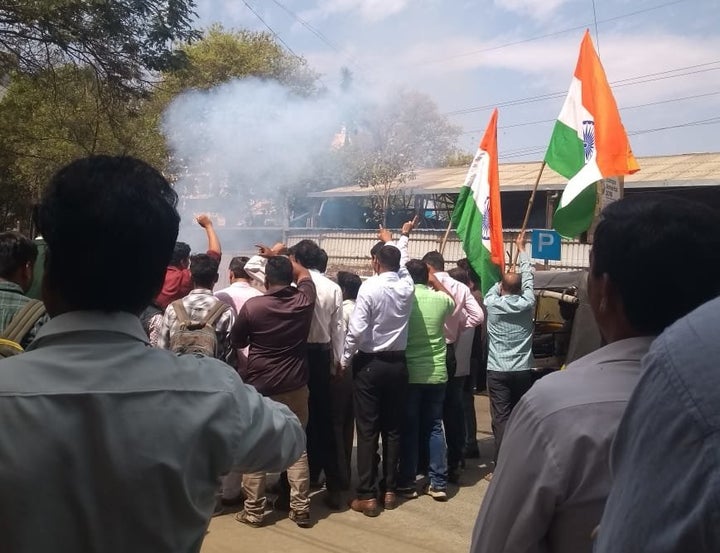 Joy to Confusion
On Tuesday, immediately after the news of airstrike by Indian Air Force planes inside Pakistan broke, BJP groups were flooded with congratulatory and jingoistic posts cursing Pakistan.
Every detail of India's airstrike was being circulated on these groups and even some journalists could be seen hailing PM Modi for "taking revenge of the Pulwama attack".
One such group, of which this reporter is also a part, had seen a flurry of posts and photos on Tuesday. The same group had only seven posts on Wednesday, most of which were details about Modi's scheduled interactive programme with BJP workers on Thursday.
On Tuesday, hundreds of workers of BJP, BJP's youth wing and other sister organisations had gathered in front of BJP's Vidarbha regional office in the Dhantoli area of Nagpur to celebrate the Balakot strike. They burst crackers, cursed Pakistan and raised slogans of "Vande Mataram" and "Bharat Mata ki jai" for over an hour.
On Wednesday morning, a former RSS pracharak told this reporter that Modi would sweep the upcoming Lok Sabha elections. "Forget about notebandi or 15 lakhs in account or GST. The theme will be patriotism now. The BJP is coming back to power once again for sure," the RSS pracharak claimed. However, by Wednesday evening this pracharak was visibly crestfallen and asked this reporter to wait for the situation to clear when he tried to reach for his comments.
Many BJP office bearers, who were circulating congratulatory messages on Tuesday and talking of teaching Pakistan a lesson, were seen appealing for calm and peace on Wednesday.
"Having a pilot in Pakistan's custody is a setback. Everyone was jubilant on Tuesday. But we will give a befitting reply to this. The Army chief is meeting the prime minister shortly. Everyone is with Modiji now. Even all the political parties are supporting him. There should be no politics on this issue. It is a matter of national security," BJP's publicity wing head in Nagpur Chandan Goswami said on Wednesday evening and added that the ministry of external affairs has appealed to every citizen to desist from making misleading statements.
Bunty Kukde, another young BJP leader from Nagpur, who was instrumental in organising celebrations at many places in Nagpur on Tuesday, tried to put up a brave face on Wednesday and expressed doubts on the reports of Pakistan capturing an Indian pilot.
"Politics aside, it was the people's will that Pakistan should be punished," Kukde said, insisting that it wasn't yet clear if an airforce pilot had indeed been captured. "How could they capture a pilot in the air? We can't say for sure if Pakistan is speaking truth or not. But if they have captured him, our government is capable to bring our pilot back."