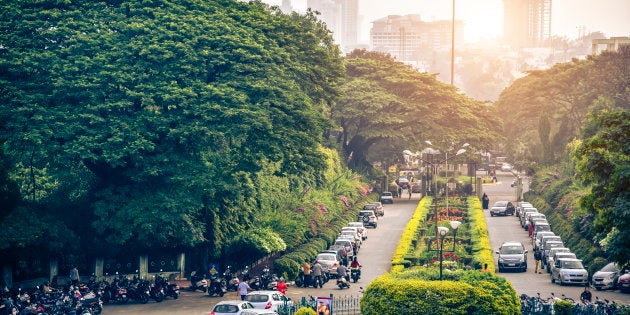 Its lakes may be frothing and scientists may have declared it nearly dead, but Bangalore has made it to the top of a global ranking of cities.
Bangalore has been ranked the world's most dynamic city on an index that captures a city's economic changes and its ability to sustain it. Hyderabad also makes it to the Top 10, ahead of London, and Chennai and Pune to the Top 20, but environmental factors push Delhi and Mumbai to the 23rd and 25th spots.
The real estate services firm JLL's annual City Momentum Index (CMI) ranks cities across the world by the speed of change of the city's economic and real estate market and the city's potential to sustain this dynamism. The index is intended to "identify change and highlight which cities or metropolitan areas may be best at positioning themselves to compete in today's ever-changing economic landscape," Jeremy Kelly, research director at JLL, wrote in a blog post for the World Economic Forum.
The index has 42 ingredients across three key areas; socio-economic factors including GDP, population, air passengers, corporate headquarters and foreign direct investment account for 40% of the ranking. Commercial real estate momentum measured through changes related to construction, rents, investment and transparency in the office, retail and hotel sectors accounts for another 30%. Innovation capacity and technological prowess, access to education and environmental quality accounts for the remaining 30% of the index.
Technology and innovation, and a city's capacity to support it, drove Bangalore to the top spot this year, a JLL press release said, and pushed India - with six cities in the top 30 - ahead of China. More than half of the top 30 are in the Asia-Pacific region.
London fell from its top spot to sixth position (full details of the rankings and the causes of changes within them were not yet available). A "shift into high-value activities" also propelled Bangalore and Hyderabad ahead of other tech hubs. Dynamic labor markets helped drive "emerging megacities,' like Delhi and Mumbai, but "this group faces significant infrastructure and quality of life issues, with high levels of inequality, congestion and pollution hindered by weak city governance," JLL said.
For the city's residents, however, "liveability", "affordability" and environmental degradation remain of serious concern. A study by researchers at the Indian Institute of Sciences had estimated that Bangalore would be "unliveable" and "dead" in five years on account of environmental degradation and poor planning. "Momentum can create challenges as well as opportunities and local populations may experience more downside than upsides," Kelly said in an email. "Bangalore – like most other emerging cities – faces big challenges in 'absorbing' rapid growth, such as urban sprawl, lack of planning oversight, environmental degradation and a lack of suitable infrastructure. These are far from unique to Bangalore – but will need to be addressed and managed if Bangalore is to transform its momentum into longer-term success," he said.