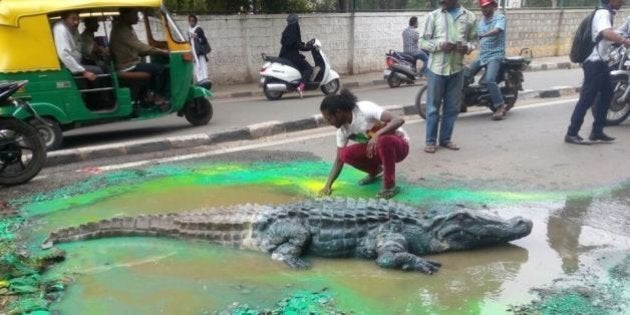 NEW DELHI — A huge, angry croc lounging in acid green water right in the middle of a busy freeway greeted startled commuters on Thursday morning in Bangalore.
Fed up with the civic authorities who failed to repair a pothole in the middle of the Sulthanpalya Main Road in north Bangalore, artist Baadal Nanjundaswamy decided intervention of the most unusual kind was needed.
Nanjundaswamy, the creator of the sculpture, turned the giant pothole into an artificial pond by planting the life sized crocodile in it. He painted area around the crocodile green to make it look like a pond.
While Nanjundaswamy made his point, the communters are thankful the animal isn't real.
The artist said that despite complaining for over a month, authorities showed no interest to fix the pothole.
"Locals have complained to the BBMP and the BWSSB to no avail. I am hoping they will take some action now," Nanjundaswamy said.
The 'crocodile' measures nine feet in length and weighs up to 20 kg. It took the artist a week to make the sculpture and cost him Rs 6000.
What wasn't done in a month, was done in just a day after the artist posted the pictures of the 'crocodile pond' on social media. The Bangalore municipal corporation covered up the pothole after the pictures went viral.