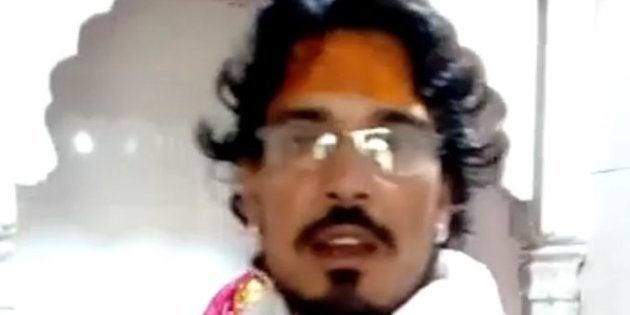 "This is a brutal crime. Prima facie it does not look like this is done by a normal human being."
This is what the Rajasthan DGP, O P Galhotra, had to say about the brutal murder of a Muslim labourer from West Bengal who was hacked with a cleaver and then set on fire in Rajasthan by a man who has now been identified as one Shambhu Lal Regar, a resident of Rajsamand, over a suspected case of 'love jihad'.
The brutality of the crime, that Regar filmed, has left many shocked.
A day after his half-charred body was found, his family wants his killer to be hanged.
"We want those who killed my husband so brutally and showed it to the world be hanged.... We do not know what love jihad is. He has grandchildren. They butchered my father like animals before setting him on fire. I want those who did that to suffer in the same manner. I have seen the video and the cries of my helpless father while he was being killed," Rejina Khatun, the daughter of 48-year-old Mohammed Afrazul, told Indian Express.
In a social media post the suspect said it was a "warning" to those who commit 'love jihad' - a term many Hindu activists use to describe marriages between Hindu women and Muslim men they claim are converting women to their faith to propagate Islam.
He is seen hacking at the labourer, as he tries to escape. When the victim falls to the ground, he pours kerosene on him and sets him on fire.
(DISTURBING VIDEO: VIEWER DISCRETION ADVISED)
Rajasthan police is investigating the case after the video went viral.
"During preliminary investigations, we have come to know that one of the videos in which Regar makes the inflammatory statements was shot in a local temple a little while after he murdered Afrazul," additional director-general of police, crime, Pankaj Kumar Singh, told the Indian Express.
Afrazul's neighbours, who are rallying around his family, told the Express the victim had no record of wrong-doing. Most villagers are still coming to terms with his horrific murder.
Rajasthan Home Minister Gulab Chand Kataria told News18 that a Special Investigation Team has been set up today to investigate the killing. Regar has been arrested.
Though police are yet to confirm the motive of the murder, the "love jihad" claim surfaced after Regar posted a video on social media justifying his action. He said he killed Afrazul to save a woman from 'love jihad'. The cause of murder could be old enmity between the two men, police have said.
The most famous case in recent times of the so-called 'love jihad' is that of Hindu woman Akhila Ashokan from Kerala whose parents moved court to annul her marriage to her Muslim husband. She took on the name of Hadiya after converting to Islam. She's been directed by the Supreme Court to stay at a hostel and complete her education.