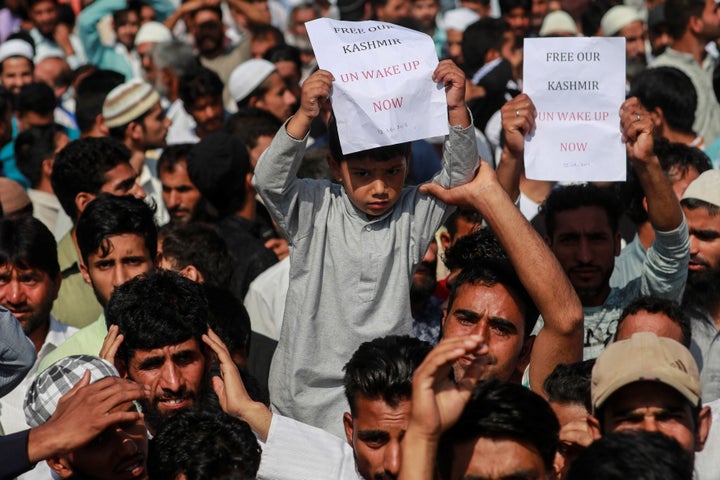 But the Modi government has been at pains to establish that the situation in Kashmir is normal, and that people are happy at the shock move to withdraw the special status accorded to the state for decades. This has taken various forms such as releasing videos of National Security Advisor Ajit Doval speaking to people who don't even recognise him and pliant TV channels undertaking campaigns to prove that that any version challenging the government's is "anti-India".
This, however, is at odds with the stories published by some Indian media organisations, as well as foreign ones such as BBC and Reuters. While BBC and Al-Jazeera have released videos of demonstrations taking place in Srinagar, the government has dismissed them as "fabricated".
What did foreign media say?
BBC, Reuters and Al-Jazeera have reported on protests erupting in Srinagar and police using tear gas and opening fire to disperse the crowd.
A Reuters report from 9 August quoted a police official and two witnesses as saying that "police used tear gas and pellets" to fight back at least 10,000 people in Srinagar protesting the scrapping of special status of Jammu and Kashmir.
This was followed by another demonstration on Sunday in Srinagar, Reuters reported. Protesters, according to the report, carried a large banner with the words "Save Article 35A".
Quoting sources, an Al-Jazeera report also said security forces have "fired tear gas and shot live rounds in the air to disperse mass protests" in Kashmir. The report said that the footage obtained by Al-Jazeera also showed demonstrators carrying black flags and placards saying "We want freedom" and "Abrogation of Article 370 is not acceptable".
BBC also put out a video on Saturday saying, "Thousands of people took to the streets in Srinagar after Friday prayers, in the largest demonstration since a lockdown was imposed".
BBC South Asia Bureaux Chief Nicola Careem tweeted:
What has the government said?
The Ministry of Home Affairs has rejected the Reuters report, calling it "fabricated and incorrect".
The Jammu and Kashmir Police also released a statement requesting people "not to believe fabricated and motivated news", while adding that "no firing incident has taken place in Kashmir over six days".
The police statement also said that the "situation is calm, people are cooperative and restrictions are being relaxed to ease the situation".
The government, according to The Economic Times, has contacted Al-Jazeera and BBC over the videos, saying that the news was "fabricated" and asking if they have any evidence to prove that the videos were real.
Reports by Safwat Zargar for HuffPost India and Siddharth Varadarajan for The Wire on the spike in victims of pellet gun injuries at the Sri Maharaja Hari Singh Hospital in Srinagar also show that the government has been using force to suppress protests.
Popular in the Community