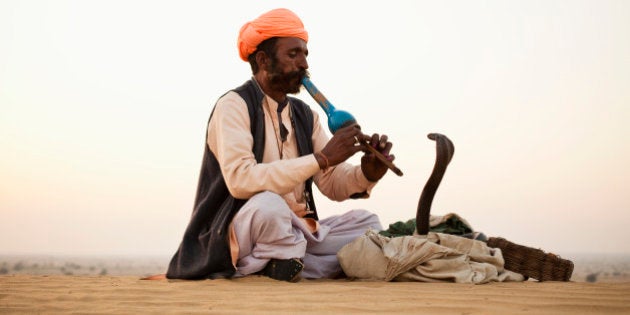 The Internet is an angry place. The BBC found that out the hard way after one of its Twitter handles posted a poorly-framed tweet about Indian snake charmers -- a profession, though obsolete now, is exhaustively referenced in the Western media to stereotype the country.
In an article in the New York Times, titled, "Clicking their way to Outrage", author Teddy Wayne writes: "You needn't Google far for recent case studies of Internet outrage. Log in to a social network and you'll find it directed at celebrities and civilians alike."
How well Indians on social media, constantly driven by a shrill cycle of pop patriotism and cause-of-the-hour evangelism, know that to be true.
When actor Aamir Khan spoke about the 'sense of insecurity' he feels in the country at the Ramnath Goenka Award ceremony last year, Indians, fuelled by a sense of betrayal, took to Twitter to express disappointment and anger. Later, when the entire video was published, Khan was heard saying that the idea of leaving India is in fact "disastrous."
Trolling, in fact, has become a way of life for the wired millions. The average social media user has a hair-trigger temper, ready to take offence at the drop of a hat.
Yesterday was not an exception when BBC's travelling unit, BBC Pop-Up, put out a poll asking Indians this question: Should India erase its snake charming culture to embrace modernity?
Should India erase its snake charming culture to embrace modernity? 🐍🏢

— BBC Pop Up (@BBCpopup) April 18, 2016
Now, there are two ways to read this tweet.
Case 1: Are the two things -- snake charming and embracing modernity -- dependent on each other? Will banning snake charming as a profession help India be more developed?
Case 2: India is a country of snake charmers.
The tweet, even though badly framed and possibly clickbaitish in its attempt to provoke the group that takes affront to any perceived slight to the motherland, did not call India a land of snake charmers, or project any such idea.
But Twitter users took the bait.
But the tweet had a context.
This is a video that the BBC team shot after meeting a village of former snake charmers who have no livelihood since the profession was banned. In the video, a snake charmer tells BBC, "If abolishing snake charmers makes India a developed nation, we are with that India. But what about our livelihood?"
Indians have been long trying to shake off the stereotype that it is a country of snake charmers, its digital and economic strides into the 21st century notwithstanding. The minuscule group of people who still pursue the obscure profession told BBC that successive governments have failed to address concerns about their livelihood.
In September 2014, Prime Minister Narendra Modi addressed a massive gathering of the Indian diaspora in New York. At a packed Madison Square Garden, he said: "Our ancestors used to play with snakes, but now we play with the mouse." That was Modi's way of talking about India's digital revolution.
So, does that mean snake charmers don't exist in the country? No, they still do and as the BBC documentary shows, they are in abject poverty.
While we slam the BBC for an 'insensitive' tweet, we cannot turn a blind eye to the reality of a section of India.
We have come a long way in our social interactions. Yet one thing is evident -- the greater our engagement, the greater our fury.
But probably, it's time to clam down. A lesson for all of us after the BBC brouhaha: Read before you tweet.