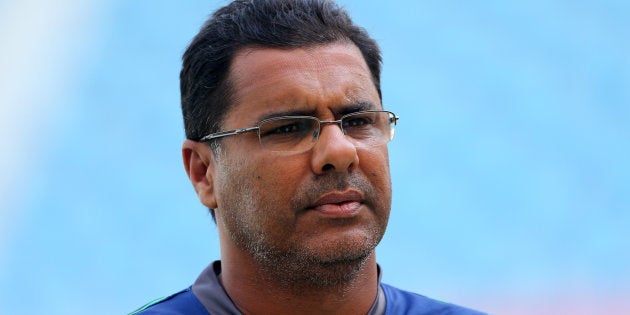 No matter how hard they train, what adversities they face, how regularly they are ignored by brands eager to promote men's cricket, if there is one thing that is a common experience for women cricketers in developing countries — it's misogyny, and often perpetrated by sportsmen themselves.
Take the example of former Pakistan coach Waqar Younis, who tweeted this out:
The ICC Women's World Cup is on and while women cricketers have been setting records and playing their best game, sports stars such as Younis have taken to Twitter to argue whether they should play lesser overs to draw more audience to their game. When called out by women for perpetuating bias, Younis said he did not mean to discriminate, and said this to justify his earlier tweet.
Understandably, women were upset AH.
And of course the men were around to "helpfully" explain to women why this sort of casual misogyny is perfectly acceptable. And this one man who is only "joking" about women spending less time on the field so they can spend more time making keema.
This is a good opportunity to learn how to make your own keema?On the plus side,you'll now it hasn't been contaminated by an annoyed female.

— Shabeena Nazir (@Shabba_Dabbs) June 29, 2017
Like this man, who needs to look up the meaning of offensive.
But the women currently play 50 overs and are doing just fine, so there isn't a need to shorten the game because they are 'delicate'.

— Shabeena Nazir (@Shabba_Dabbs) June 30, 2017
And the women brought their weapons.
Demeaning women in sports is not an uncommon phenomena. Only recently, women cricketers from Jammu and Kashmir who played an exhibition game in New Delhi were asked "which team did you support in yesterday's Champions Trophy final, India or Pakistan?"
The captain of India's women's cricket team, Mithali Raj, was asked who her favourite male cricket star was, on the eve of the Women's World Cup at a media roundtable event.
"Do you ask the same question to a male cricketer? Do you ask them who their favourite female cricketer is? I have always been asked who's your favourite cricketer but you should ask them who their favourite female cricketer is," Raj was quoted as saying by ESPNcricinfo.
Hearteningly, Australia cricketer Alyssa Healy, the niece of former Australian wicket keeper Ian Healy, took on Younis on Twitter.